Over 30 years later, the disappearance of a Centre County woman remains a mystery
A pair of black boots found in the men's bathroom was the only trace left of Brenda Condon, 28, who disappeared while working a closing shift in Centre County.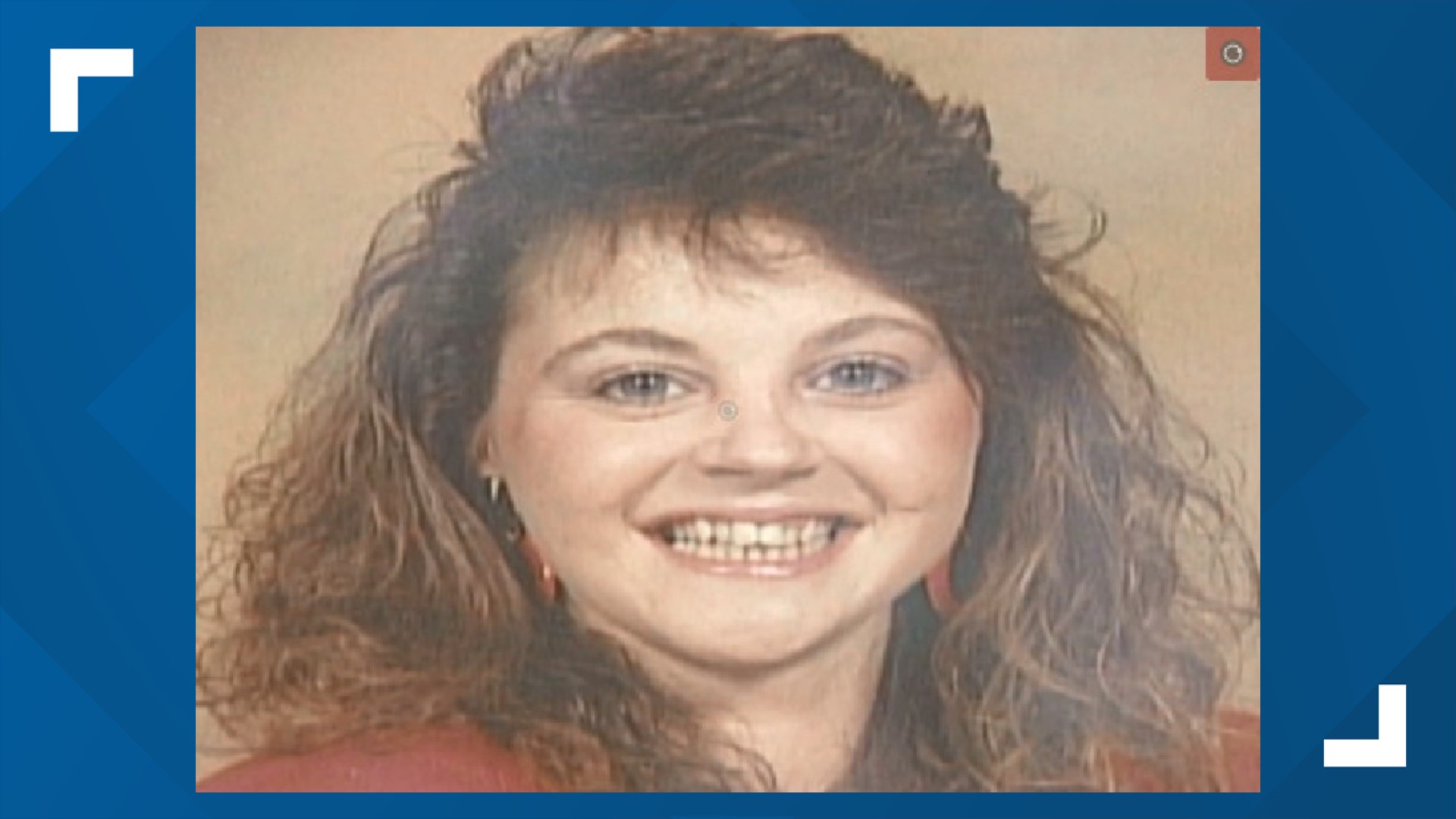 The disappearance of Brenda Condon has continued to stump investigators for 33 years.
:
The Case
Condon, 28, was working the night shift at Carl's Bad Tavern on Feb. 27, 1991. At the time of her disappearance, the tavern was located along a rural area on State Route 550, just two miles north of Bellefonte.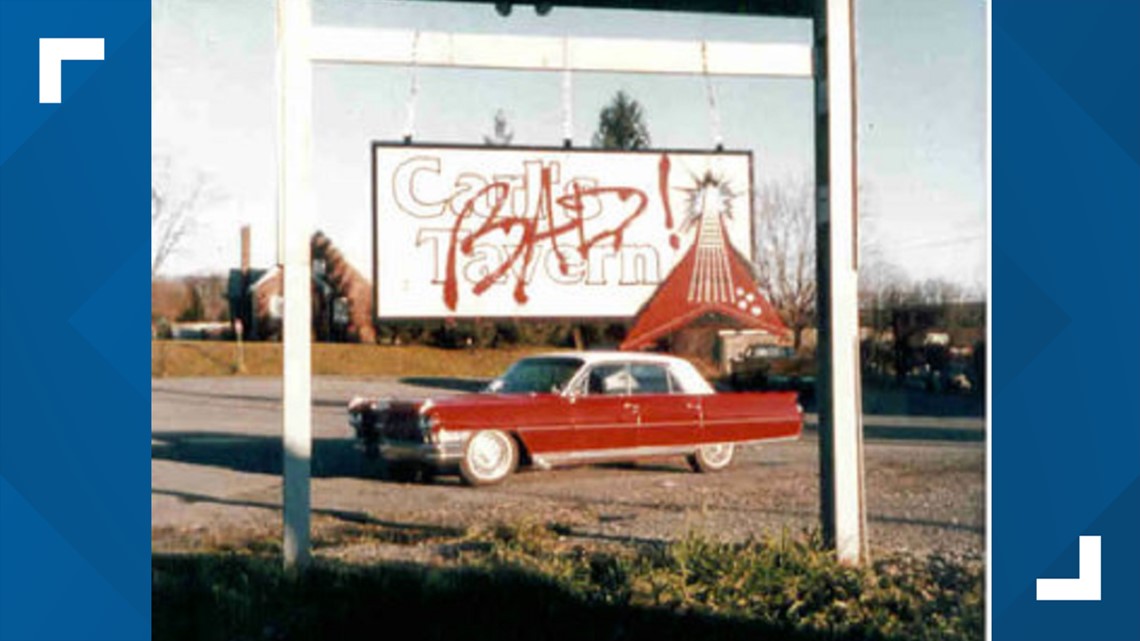 She was new at the job, working there for about two weeks. It was her second job, she also ran home cleaning service branches in State College and Williamsport.
That night, Brenda was working a double shift. She was expected to close the bar after last call, clean up, and then begin her day shift at 10 a.m. According to the schedule, Condon's second shift would have officially ended on Feb. 27 at 6 p.m.
She was reportedly last seen between the hours of 12:45 p.m. and 1:15 a.m. on Feb 27. According to witnesses, she was talking to an unknown man inside the bar. Condon was wearing a pair of black cowboy boots, a silver shirt over a black tank top, and jeans with silver studs.
When the day crew began trickling in for work the next morning, Condon's absence wasn't noticed. The shift carried on as normal. The bar was tidy, with receipts put away from the previous night and the lights off. There were no signs of a break-in or robbery.
It wasn't until Condon's relieving shift came in at 6 p.m. that crew members noticed her absence. Her gray 1986 Mercury Capri was still in the parking lot, but Condon's keys were never recovered.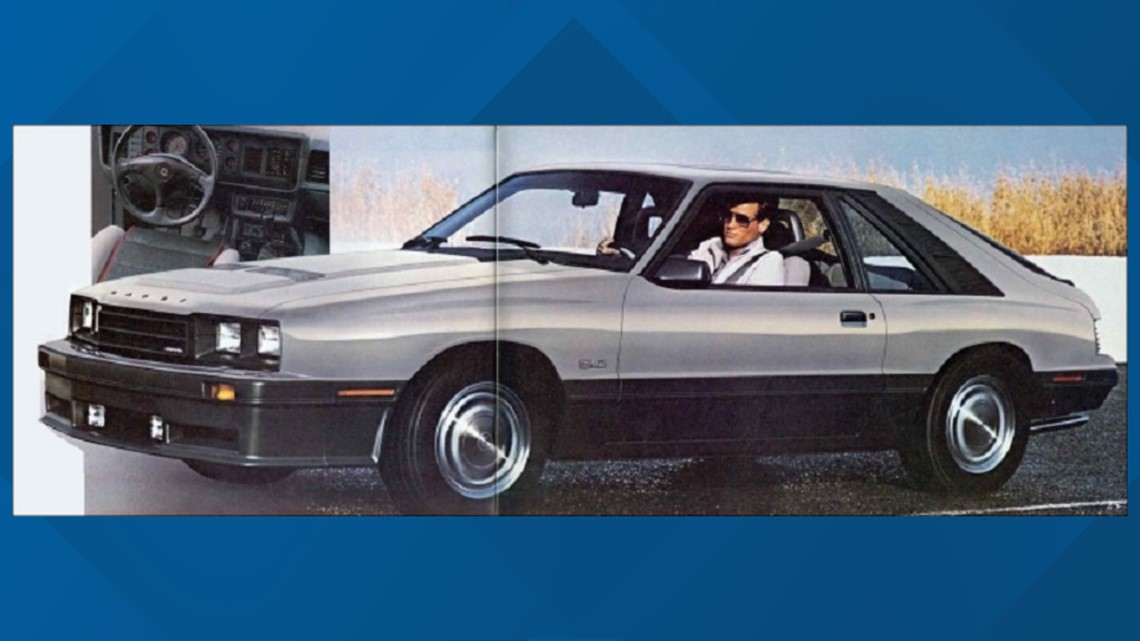 Besides the car, the only sign Condon had been inside the bar was a pair of her black cowboy boots. The boots were neatly arranged inside the men's bathroom.
She was reported missing on the evening of Feb. 27, but an active investigation into Brenda's disappearance wasn't initiated until she failed to pick up her two children on March 2.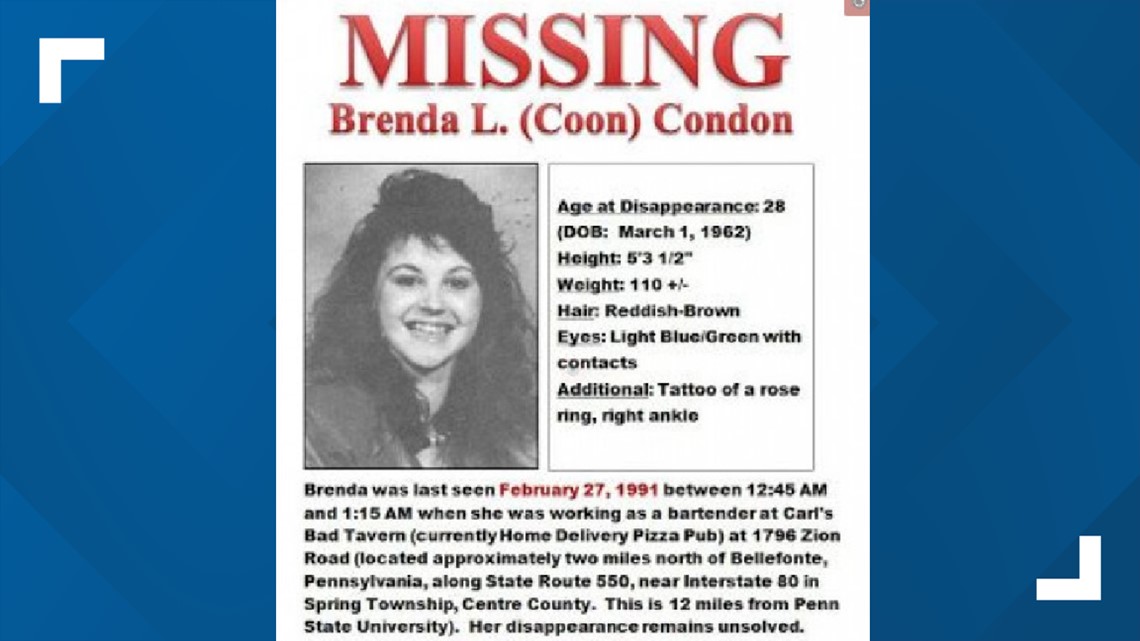 :
The Son
"Once [officers] realized she wasn't showing up, then they realized [they] had a problem, because she was always very punctual and conscientious about being there for us," said T, Brenda's son, who wished to remain anonymous.
Brenda's children, who were 10 and 12 at the time of her disappearance, were living with their father in order to stay close to their friends following their parent's divorce.
The separation itself had been amicable, just two people who drifted apart from each other after marriage.
"[My parents] didn't even have a custody agreement, she could get us anytime she wanted," T told FOX43, "They talked a lot, she would call sometimes just to talk to him about different things, so it was certainly a good relationship."
However, at first, law enforcement focused on Brenda's former husband, as is typical in most missing persons cases. But T says there's no way he could have possibly harmed his mother.
"He didn't go anywhere [that night] and for him to go clear over [to Carl's Bad Tavern], it just... I understand [police] had to do their job, but- at that point- they were barking up the wrong tree," he recalled.
Taking everything in stride, T's father answered the questions from police, took a polygraph test and shouldered a lot of the burden following the immediate aftermath.
"We had a problem that nobody else had, but [my dad] did the best that he could with the means that he had," said T.
The loss remained far from easy, though.
"It was rough, not having that other parent to guide you along. We always talk about how important it is to have a father, but it's just as important to have a mother, because there are things a mother [does] that a father just can't," T explained.
"I wish there were things that could be done faster because there are these cases where those hours could have been used to extract some evidence that could have led [police] to whatever happened," he continued.
It was the unknown that scared T the most at that time.
"There wasn't an answer to what happened, there was always that unknown. I would look over my shoulder and wonder, 'Is something going to happen to me?' That was what we thought of," he recalled.
To this day, T says his family still receives updates from police about the case. However, as T says, when there's nothing coming in, there's nothing for officers to do.
"Obviously we still don't know what happened, but if somebody has done something to her... there's always that hope that she's still out there, but I guess deep in your heart you also know that after all this time has passed the chances are a lot less likely," T said.
Regarding that strange piece of evidence, Brenda's black boots in the men's bathroom, T had the following thoughts:
"She always had nice boots. She had a pair for every outfit [but] she always wore sneakers to clean because they were far more comfortable than those boots."
To him, if the cleaning closet was in the men's bathroom, it makes sense for her to change into her sneakers to begin cleaning, placing her boots inside the bathroom for when she's finished.
But, if the cleaning closet wasn't in the men's bathroom then there wasn't much of a reason for her boots to be there either, making the theory that she was cleaning not line up in his eyes.
According to T, his sister and he just wants a place to memorialize their mom. A spot to go and remember the good times.
"Somebody has that answer, maybe they'll never be caught by law enforcement if they did do something, but they'll still have to answer. [We] would really like to have the closure," said T.
:
The Sketches
Three composite sketches were drawn, featuring patrons of Carl's Bad Tavern that visited the bar on the night of Brenda's disappearance. Though not suspects, the three men have remained unidentified to the public since 1991.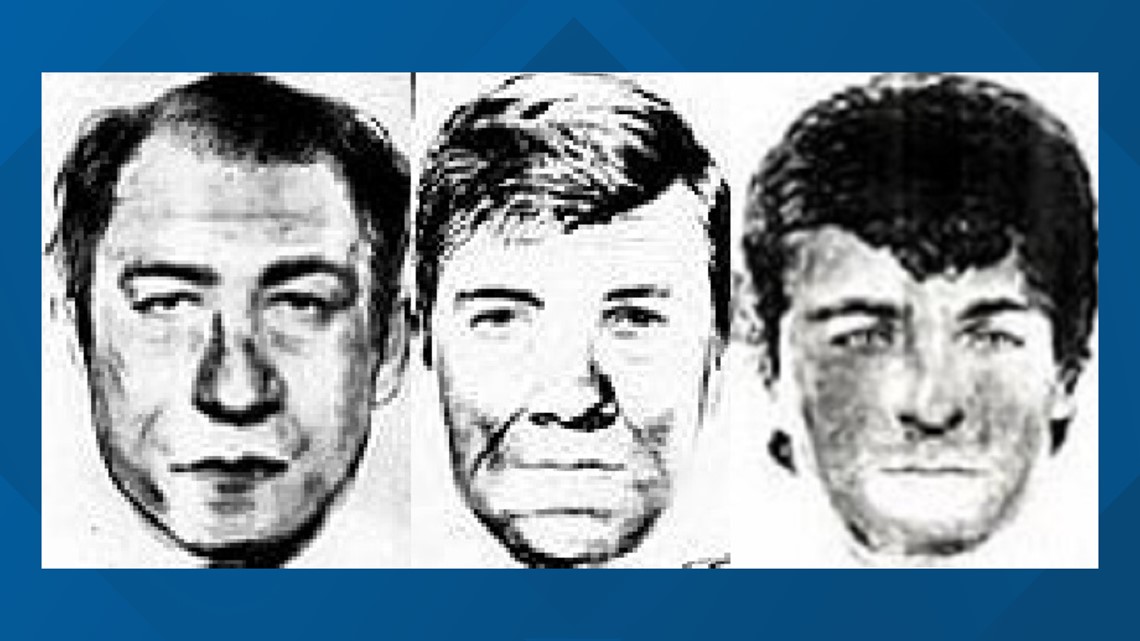 They are described as follows:
Unidentified Patron 1: A white male who was approximately 50 years old and 5'8. He was wearing a short dark jacket; dark slacks; and a brown plaid shirt.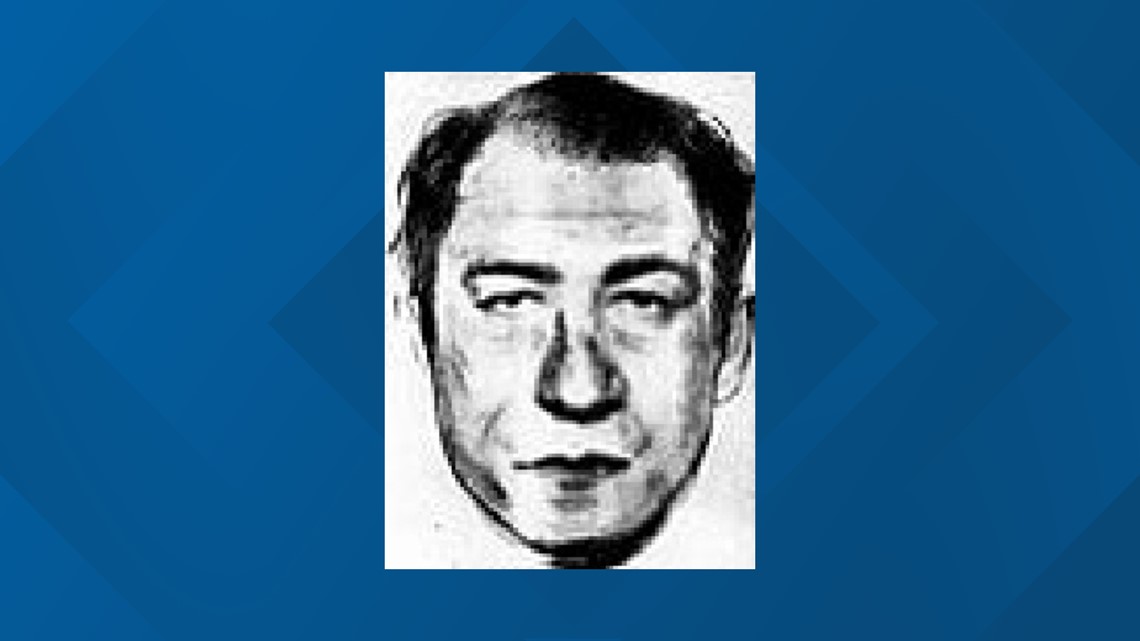 Unidentified Patron 2: A white male. He was approximately 38 to 40 years old in 1991 and was approximately 6'2 tall. He was wearing a bright blue down jacket and jeans.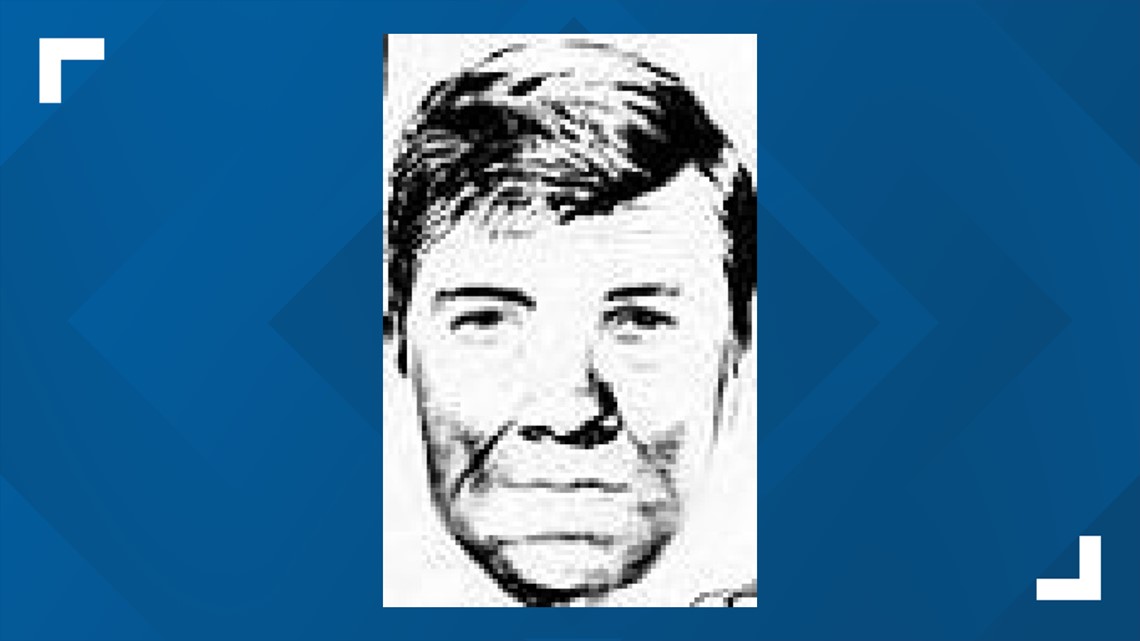 Unidentified Patron 3: A white male who was approximately 25 – 30 years old. He was approximately 5'8 and was wearing a black leather coat; white button-down shirt; and jeans.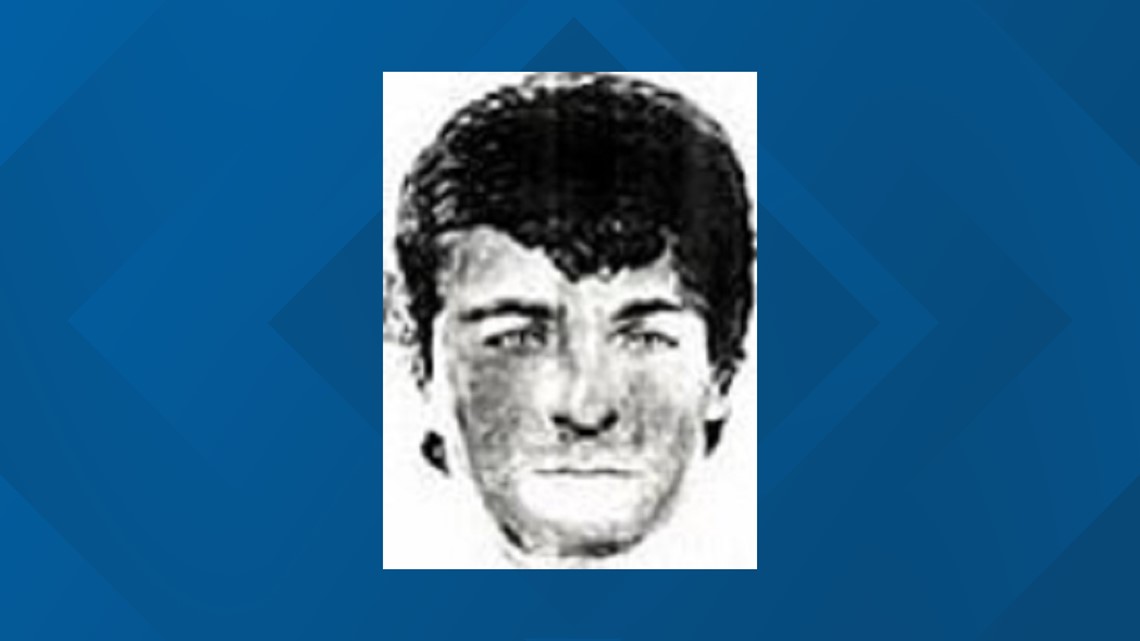 "They have the sketches of three people, whether they're suspects, persons of interest, witnesses [or] people just drinking at the bar, that's still up to speculation," said Detective Ken Mains, who has a YouTube series on Condon's disappearance and has worked on solving her case.
:
The Detective
Mains took a personal interest in the case, following his work on other cold cases in the area. After his YouTube series, he had a viewer reach out, claiming to know unidentified patron #3.
"She reached out to me and said, 'Hey, this sketch, is of my ex-boyfriend. He went [to Carl's Bad Tavern] all the time.' And she showed me a picture of him. I'm not one to rely on sketches too much, but this was pretty accurate."
Through the tip, a trooper got in contact with the woman, who then met with the alleged person matching sketch #3.
"[The trooper] went up and talked to him," said Mains. "and [the trooper] thought that he knew something, but there's nothing [more] there. And that [alleged] person of interest has since passed away."
It's not the only piece of information he's gotten since investigating the case.
"I know the boyfriend, Greg, at the time, is a person of interest as is the owner of the bar, Carl. Maybe not so much in the eyes of law enforcement, but in the public's eyes and the people that know that area, without a doubt they are."
:
The Boyfriend
Greg Palazzari, Brenda's boyfriend of two years at the time of her disappearance, died on April 21, 2016, in prison. He was serving a five to ten-year sentence for his role in operating a cocaine ring out of the Sunoco gas station he owned.
"Greg had a lot of secrets," said Nancy Jones, a former girlfriend of Greg's. "I loved him to death, but he did have a lot of secrets that he didn't tell me."
Jones can't exactly recall when she first began dating Greg, but assumes it was around the early-90s, after Brenda's disappearance. They were on again and off again for roughly three years.
"This man, he would book a hotel for me, buy me flowers, take me out to dinner and I wouldn't pay a dime. He was that type of guy," she told FOX43.
Before meeting Greg, Brenda and Nancy were in the same social circle. They weren't friends, but they knew of each other. However, it wasn't until after Brenda's disappearance that Nancy and Greg began dating.
"The reads that I always had from him were [that] he had nothing to do with [her disappearance]. But, you just, you find out that people you've lived with... sometimes you don't realize who they really are," she said.
According to Nancy, Greg would get upset around important dates surrounding Brenda, such as her birthday or anniversaries. To give him peace, the two would walk the area surrounding Carl's Bad Tavern.
"That's what you do when you love somebody," Nancy said. "You try to [help] them heal and not have such an empty hole. Because, I think she was his true love, to be honest."
Nancy and Greg broke up in 1995 when she moved to a different state.
"I think that there's a possibility that [Brenda's disappearance] was from someone [Greg] was dealing with. I don't want to say anything to mislead anybody, but I truly feel that something happened to set this in motion," said Nancy.
The drug dealing was something Greg made sure to keep away from Nancy, and something, she admits, she turned a blind eye to.
"I look back now, and I see it," she said. "If I have to be honest with myself, in my heart now, I look back and wonder if he was responsible for this. His drug dealing... if it had something to do with [her disappearance]."
But, at the end of the day, Nancy doesn't know what happened to Brenda either.
"I want everyone to know that [Greg] wasn't the devil that people try to make him out as. He was a kind-hearted, beautiful soul that would give you the shirt off his back," Nancy stressed.
"I don't want people to think that he murdered her, some of his actions may have caused something to happen to her, but I don't know," she continued. "People [just] need to remember that he wasn't an ogre or an evil man, he [just] got caught up in drugs."
FOX43 reached out to the Centre County District Attorney's Office for comment on the status of Brenda's case, but, at this time, has not received a response.
In 2009, before his death, Palazzari reportedly told police everything he knew regarding the case. This was corroborated by state police Cpl. Joe Cigich, who worked on the case. He is quoted saying, "Nothing pointed to [Greg's] involvement to [Brenda's] disappearance at the time. There's been nothing since come to light."
There is an active Facebook page regarding Brenda's disappearance, highlighting coverage of her case and any leads.
"All the other missing person families out there, we all want the same thing and that's to have answers. Hopefully, that day will come," said T.
Anyone with information on Condon's disappearance has been asked to contact Pennsylvania State Police at the Rockview Station at 814-355-7545 or anonymously contact the Pennsylvania Crime Stoppers Toll-Free at 1-800-4PA-TIPS (8477) or online here.