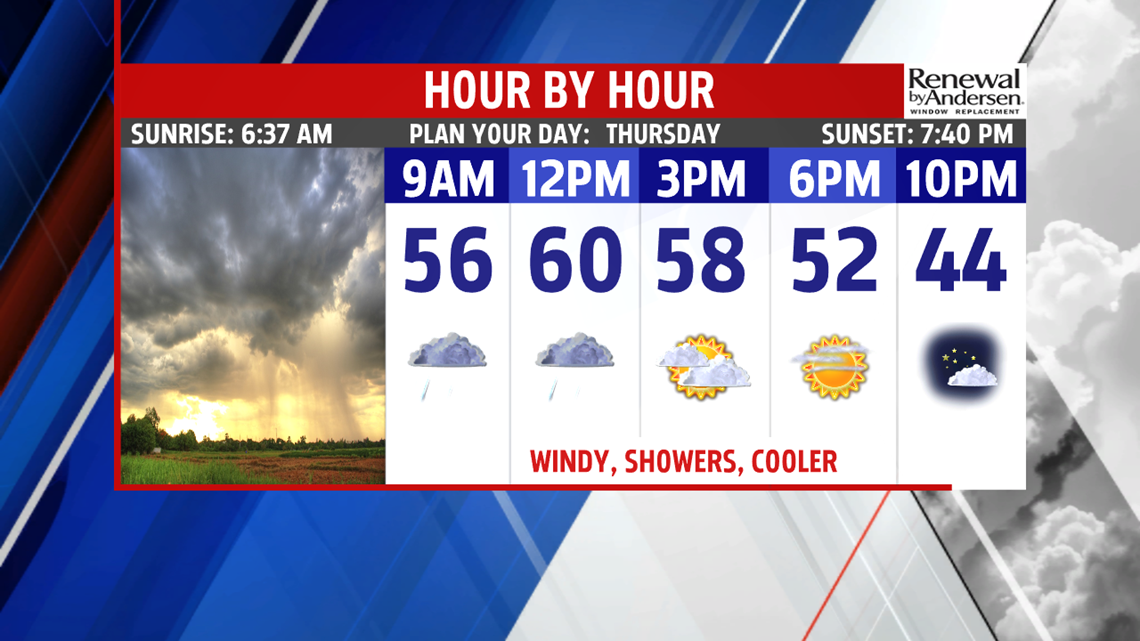 WINDY WITH SHOWERS, TURNING COOLER: A potent cold front is approaching Central PA, and it brings windy conditions and cooler temperatures as it passes through our area. Showers are likely for many close to daybreak, with a few rumbles possible too. Morning temperatures start in the middle 40s to lower 50s. The rest of Thursday brings cooler temperatures and the chance for another round of showers, particularly during the late morning to midday hours. A few rumbles east are not out of the question. It's windy, with gusts as high as 35 to 40 miles per hour. Highs reach the middle 50s to near 60 degrees, a bit below average for this time of year. Strong breezes bring in much chillier air through the night. It's partly clear to mostly cloudy, with a few sprinkles or flakes possible, mainly west and northwest. Overnight lows fall into the middle to upper 30s. Temperatures are even lower come Friday under a mixture of clouds and some limited sunshine. A couple light showers or sprinkles are possible. It's still windy too. Expect highs in the middle 40s to near 50 degrees, even lower below average for this time of year.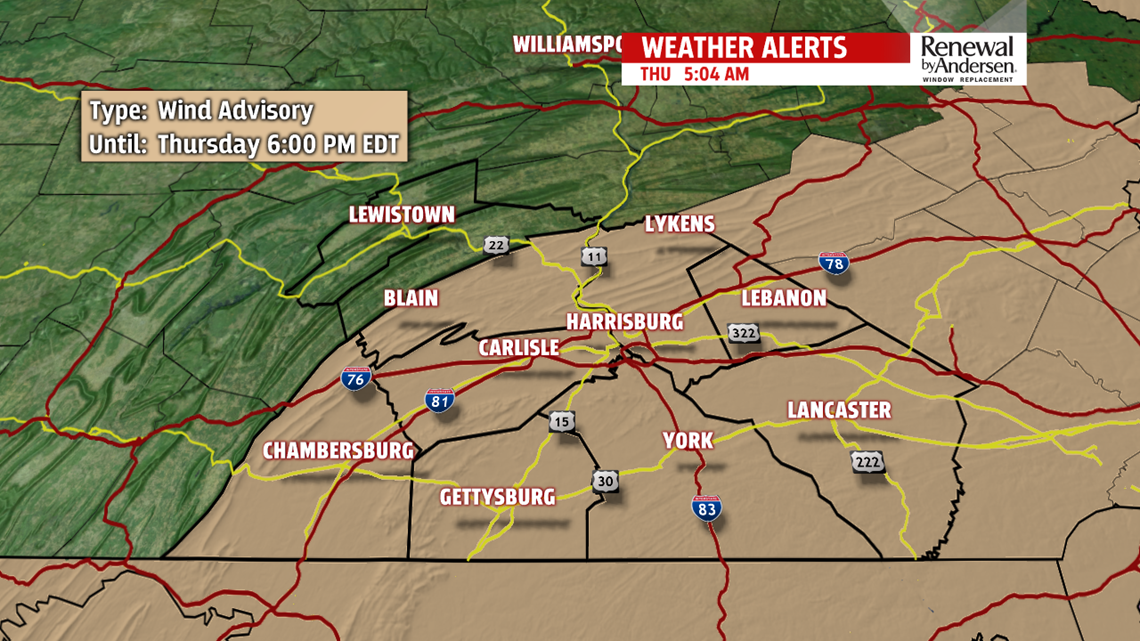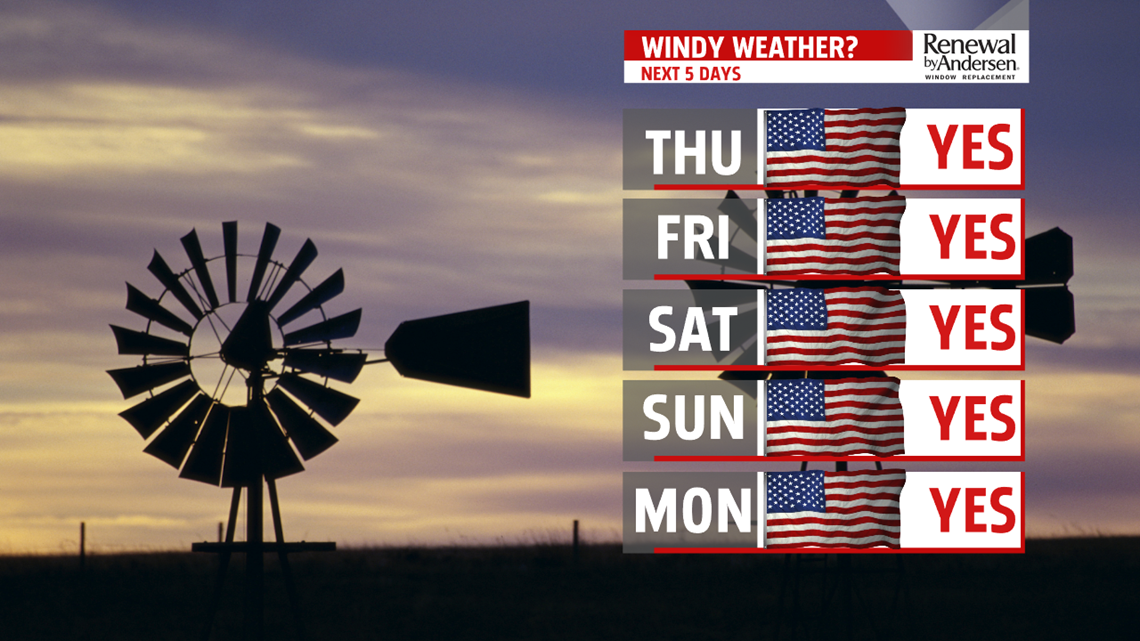 EASTER WEEKEND OUTLOOK: Easter weekend is looking 50/50 at this time. Saturday looks like the dry day. Sunshine to start during the morning leads to partly cloudy skies during the afternoon. It's a touch milder, with highs in the lower 50s. It's still a bit breezy. Easter Sunday brings the chance for some showers. It should be dry during the morning, but the chance for showers arrives starting around mid to late afternoon. Temperatures are in the upper 50s to lower 60s. It's another breezy day. Shower chances continue Sunday night, with a soaking rain developing late.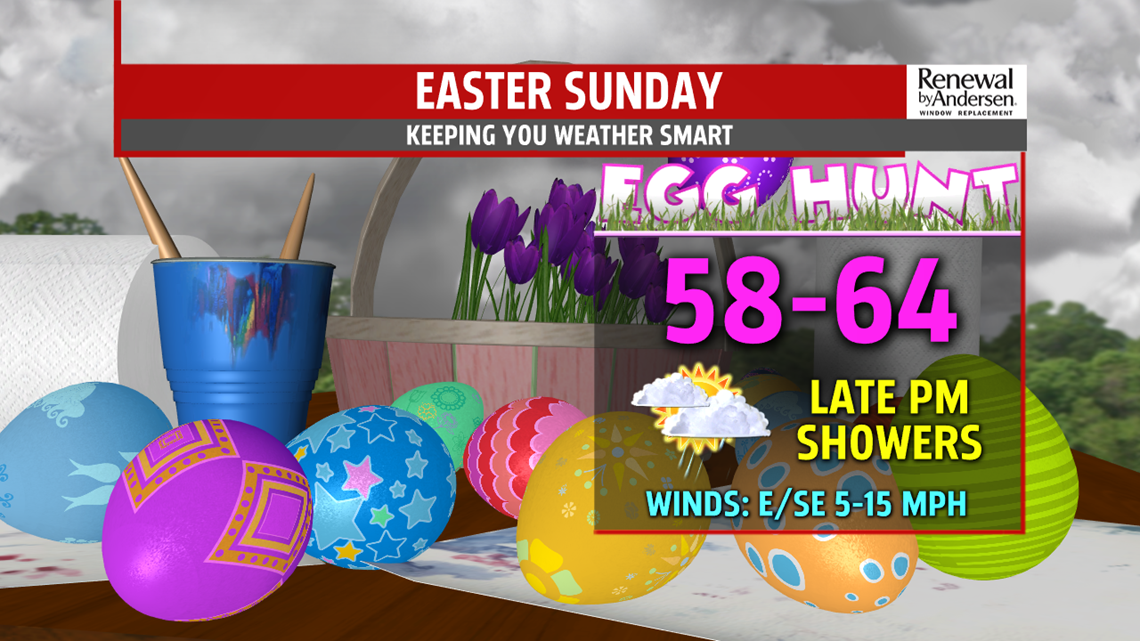 SOAKER STARTS THE WEEK: A soaking rain is expected to last into Monday. There's some indication conditions could dry out by the afternoon, and we'll keep you updated on that development. Expect mild highs well into the 60s. Conditions turn breezy again, and it stays that way into Tuesday. It's cooler under a mixture of clouds and some sunshine. There's a small shower chance. Highs are in the 50s. Wednesday brings a continued chance for showers. Right now, it's a small chance. Highs are a little lower.
Stay Weather Smart with FOX43! Have a wonderful Thursday!