Next week, it will happen again: the latest in a series of heat waves for the summer months.
Now sure, some of you may call this... summer. Summer being summer. Nothing more.
Honestly, you wouldn't exactly be wrong. But you add on a warming climate and potential La Niña, and you get a pretty darn hot stretch of weather.
And at a time where the wildfires in the western part of the country continue to raise, it's not a great meteorological recipe.
And this year it seems, it's the weather phrase "heat dome" that has its turn in the limelight. Yes, just like "polar vortex" before it, a heat dome is another phrase that sounds flashy and rare, but in actuality isn't anything particularly unusual -- at least in terms of its existence.
But its strength is another story.
First, a heat dome is essentially a strong area of high pressure that, when combined with potential La Niña conditions, creates vast areas of heat that get trapped under that "dome."
So, basically, it's a really strong area of high pressure. It happens all the time.
Strong areas of high pressure give us sunny skies and quiet weather conditions, and block storm systems from moving into an area. You see it influence the paths of tropical systems in the Atlantic quite often as well. They're very good weather-blockers.
But not every high pressure center does a heat dome make.
The technical definition of a heat dome involves La Nina-like conditions in the Pacific Ocean -- or a strong change in ocean temperature in the tropical Pacific during the preceding winter. The warm air is moved easterly and the shifts in the jet stream trap it and move it toward land. That air then sinks, resulting in a heat wave.
Below is a video from Meteorologist Thomas Patrick at our sister station KREM, explaining heat domes from back in June.
Now, here's the part of the story where, yes, we talk climate change.
Because while heat domes aren't uncommon, their strength and repetitive nature over time is something of a new phenomenon. According to our partners at Climate Central, as well as the overwhelming majority of the climatological and meteorological communities, there is a direct, strong link between extreme heat and climate change. Extreme heat happens more often and lasts longer as the average global temperature increases.
The average temperature for Harrisburg in the summer months has increased by nearly 3 degrees as our average global temperature has increased as well.
See the images below to understand how a warming average temperature can affect the repetitive nature of extreme events.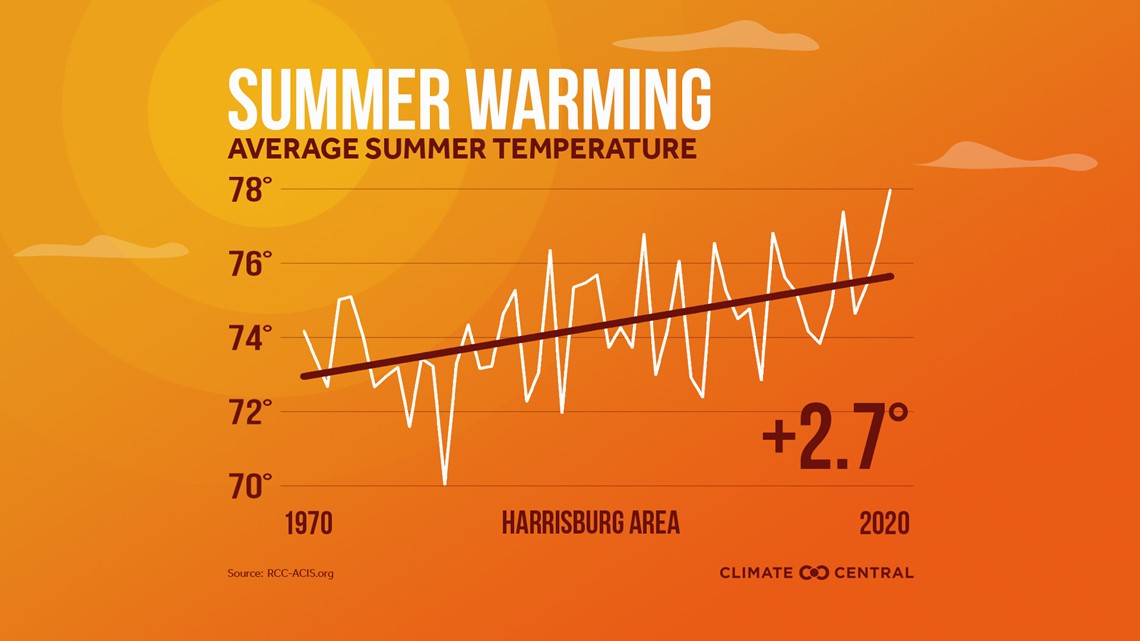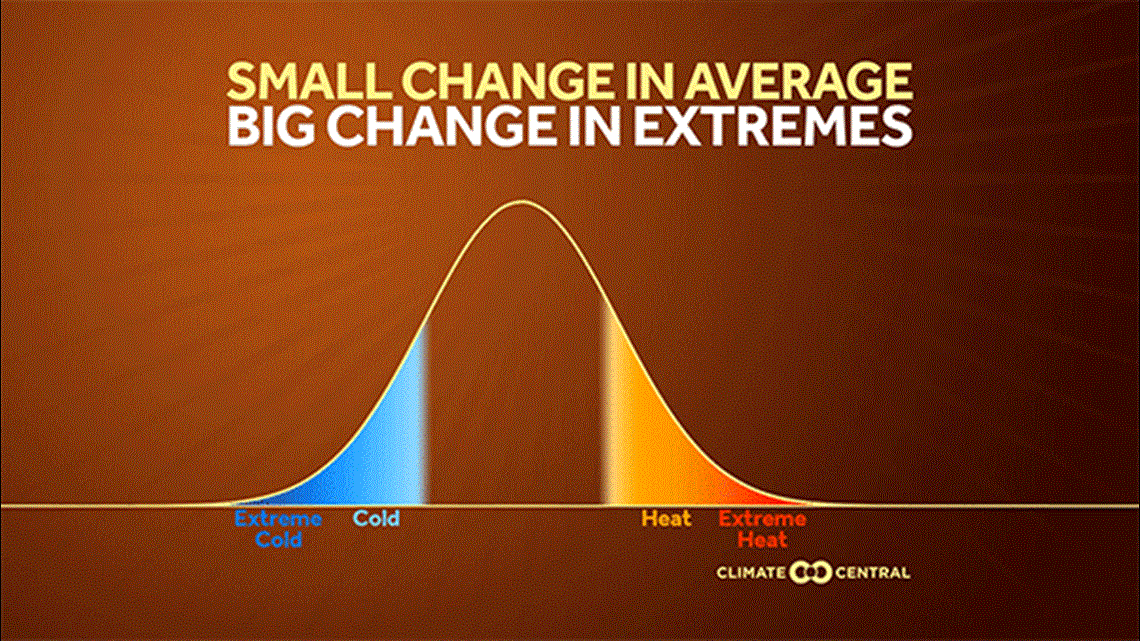 And while I'll technically wait for the National Weather Service criteria to be met for a "heat dome" next week, our area and much of the U.S. will see another blocking high pressure causing sweltering heat over a good portion of the U.S.
For us, high temperatures in the mid-to-upper 90s and heat index values of 105+ will come into the fray. Make sure to stay hydrated and avoid time outside if possible!
-Chief Meteorologist Bradon Long