PENNSYLVANIA, USA — Editor's note: The above video is from March 17.
Spring has sprung, bringing with it the threat of severe storms.
The Pennsylvania Public Utility Commission (PUC) shared tips for how people can prepare for, and recover safely from, storm-related power outages.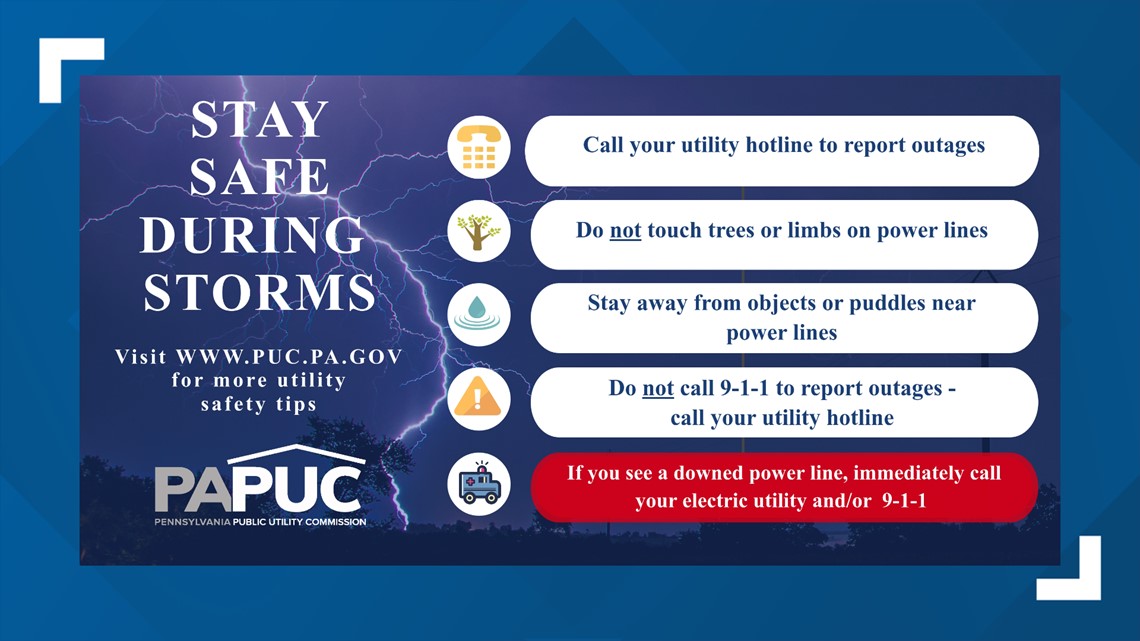 Power Outage Tips
Call Your Utility Hotline to Report Outages - do not assume that the utility already knows about your outage or that others have already called.
Keep Clear of Wires - do NOT touch or approach any fallen lines.
Stay Away from Objects or Puddles in contact with downed power lines.
Do NOT Try to Remove Trees or Limbs from power lines.
Do NOT Call 911 to Report Power Outages – report those to your utility. Calling 911 to report non-emergency issues like service outages can take resources away from other emergencies. SPECIAL NOTE: If you see a downed power line, immediately call your electric utility and/or 911.

Safety While Waiting for Power to be Restored
Use Flashlights or Battery-Operated Lanterns for emergency lighting - do not use candles or other potential fire hazards.
Turn Off Lights and Electrical Appliances except for the refrigerator and freezer. When power comes back on, it may come back with momentary "surges" or "spikes" that can damage equipment (leave one light on to alert you that power has been restored).
Use Generators Safely - If you use a generator, do NOT run it inside a home or garage or anywhere close to a window or vent. Also, connect the equipment you want to operate directly to the outlets on the generator, not your home's electrical system, which could shock or injure utility crews working on nearby power lines. Additional generator tips are available here.
Check on Elderly Neighbors and those with special needs who might need assistance.
Natural Gas Safety Tips
Check Gas Appliances - electric power outages can affect home appliances that operate on natural gas. If they do not function properly when power is restored, call a professional for service.
Evacuate if You Smell Natural Gas - get everyone out of the building immediately.
Leave the Door Open and Do NOT Use Phones - do NOT switch lights or appliances on or off; and do NOT take any other action while inside the building.
Call 911 from a safe location - after you are safely outside, call 911 from your cell phone or neighbor's home.
Flooding and Electric Power
Avoid flooded homes or businesses – submerged wires, power outlets or appliances may energize standing water.
Do not touch electric panels, outlets, or appliances if you are wet or standing in water.
If your basement floods, do not enter unless you are sure the water is not in contact with a source of electricity. Call a qualified electrician to disconnect the power before you enter a flooded basement.
Utilities will inspect flooded areas and will assess when it is safe to restore service to their systems – but homeowners and businesses should work with licensed electricians regarding repairs to customer-owned lines and appliances.
The utility may require you to have your system inspected by a licensed electrician before it restores power, if the utility removed your electric meter and cut power to your home due to flooding (contact your utility for any clarification).
Do not attempt to plug in or turn on any water-damaged appliances until they have been inspected by a qualified electrician and determined to be safe.
Consult professionals regarding the need to repair or replace water-damaged devices.
Flooding and Natural Gas Safety
If you are outside a building and you smell gas, do not enter the building - call 911 and your gas company from a safe location.
If you are inside a building and you smell gas, leave immediately - call 911 and your gas company from a safe location.
Contact a licensed professional to clean, repair and test all appliances and pipes if your home or business has flooded and any of your natural gas appliances (including furnaces, boilers, water heaters and dryers) have been affected.
Do not attempt to restart natural gas appliances yourself – contact a professional.
Contact your gas utility to inspect your gas meter and regulator if flood waters rose above those systems.
The PUC also reminds drivers to slow down and keep an eye out for crews working to restore power along roadways.