WASHINGTON — At exactly 5:37 a.m. on Saturday, the DMV moves one step closer to sunny spring days. The annual celestial event called the vernal equinox marks the official start of spring in the Northern Hemisphere.
At that time on Saturday, the sun's rays will equally impact Earth, meaning we will have roughly equal hours of daylight and nighttime. From that point through the first day of summer, or the summer solstice, there will be more daylight hours than night hours, due to the tilt of the Earth's axis.
Spring is a fast warming season for us in the DMV. Washington, D.C. will see average high temperatures jump from the 50s in late March to the 80s by early June.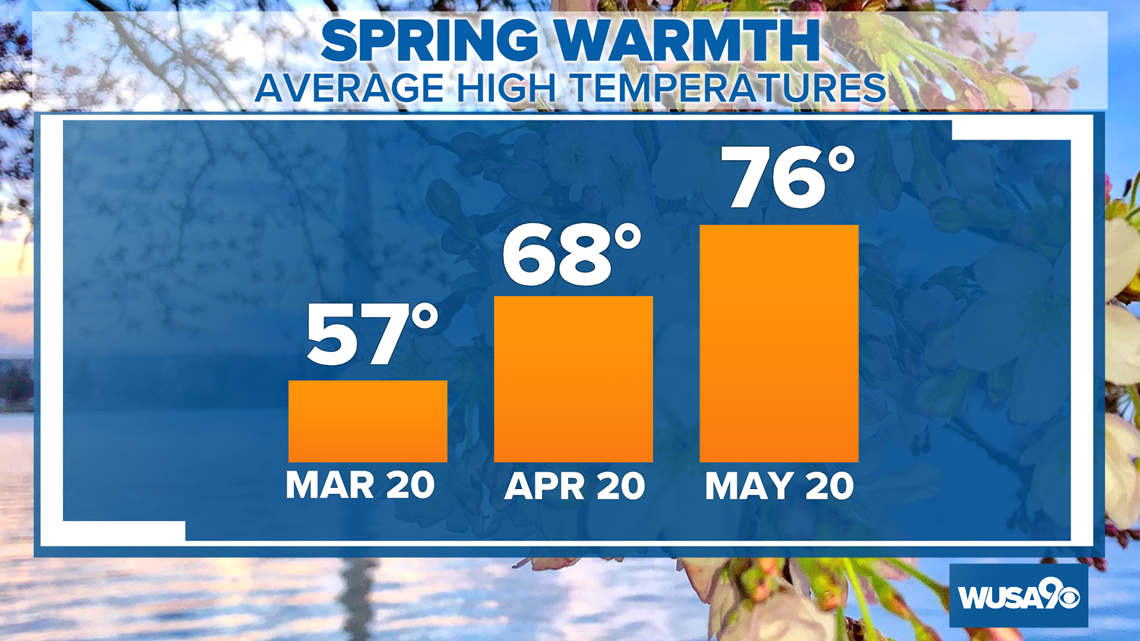 Overnight low temperatures are warmer too, which means lower electricity or gas bills for most of us. Average nightly low temperatures are near 40 degrees to finish off March, but rise to the 60s by the end of May.
The spring season is also a wet time for the region. Average rain is much higher than the winter season, thanks to periodic storm systems. These storms bring waves of rain and showers, along with occasional thunderstorms. In fact, severe weather becomes more common in the months that come, which is why it's important to be aware of the changing forecast and prepare for the severe weather ahead of time.

Heads up to all the gardeners, farmers, and lawn care specialists out there -- May is on average our wettest month of year. We average nearly 4-inches of rain in May. Don't get spring fever and plant too early.