…A Winter Storm Warning is in effect from 7PM tonight through 7PM Thursday for accumulating snow…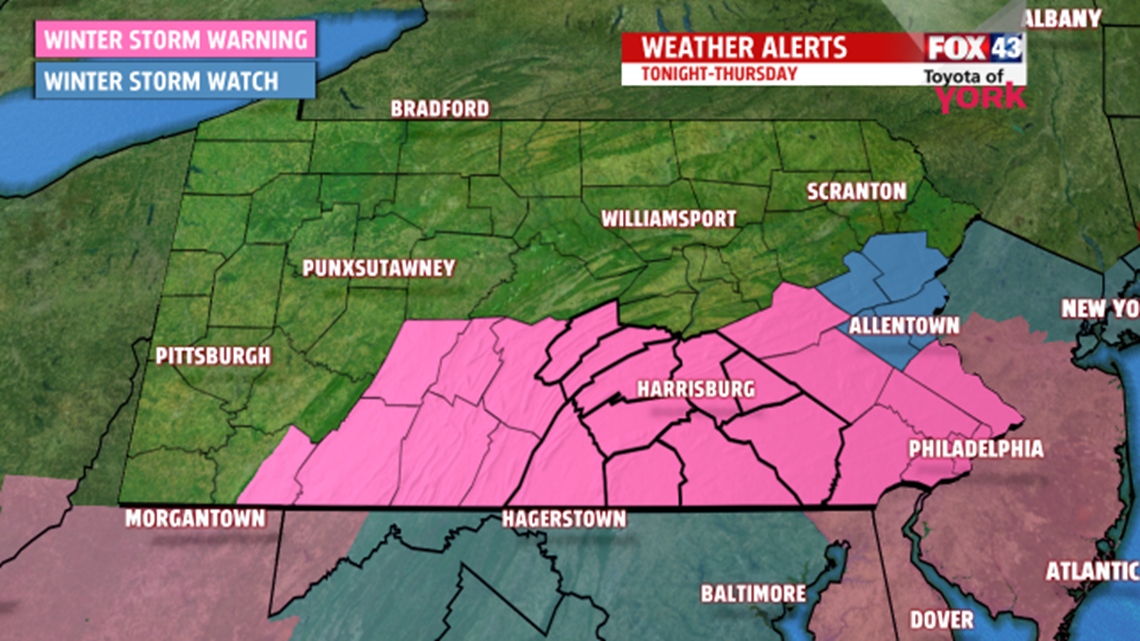 WET WEDNESDAY:  It's a soggy day today as some milder air tries to bump us to the low 40s.  Scattered showers continue through the day with a mist a fog hanging tight across the area.  Despite the wet weather, we stay warm enough to keep any icing concerns away after daybreak.
SNOW:  Colder air slips in while a strong moisture stream continues from the southwest.  This is a recipe for some longer duration snow.  Night time is a prime time for accumulations to be maximized.  The only hiccup here is where the ribbon of moisture sets up, which will ultimately determine how much snow we get, and there could be a sharp cut off.  Please keep checking back for updates as we close in on the event.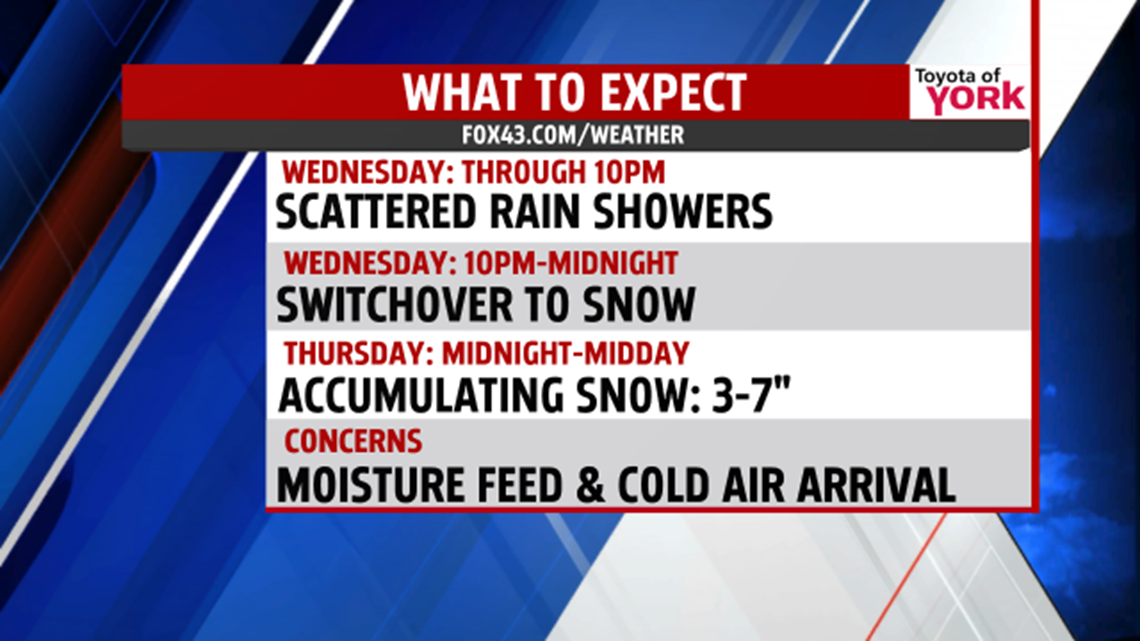 Expect a changeover to snow as we move toward midnight, with mixing turning to all snow overnight.  Snow will continue through the morning hours, tapering in the afternoon on Thursday.  We're expecting the lesser amounts to the north and higher amounts to the south.  Generally a 3-7" range seems to be the best bet at this time.  South of the US-30 corridor is where we may see the highest amounts, which could exceed 7".  We'll feel the cold air rolling in with temps in the upper 20s for Thursday.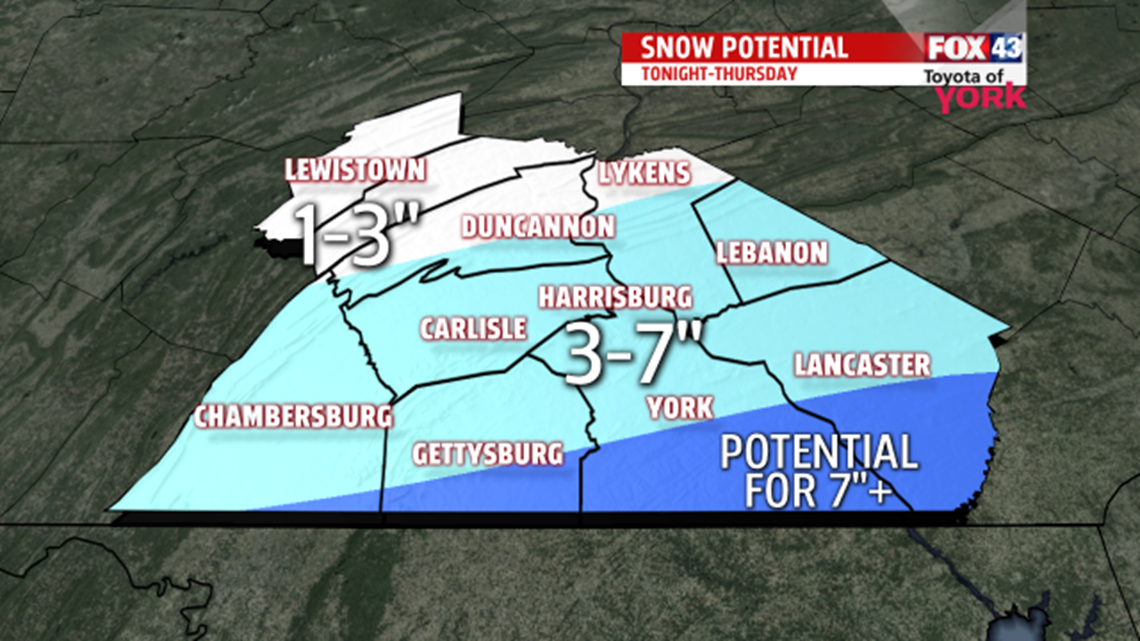 FRIDAY:  We'll hang onto the cold air with sunshine returning for Friday.  We start the morning hours in the single digits with highs riding into the upper 20s again.
WEEKEND:  Saturday is a milder day as temperatures rebound and southerly flow kicks in.  Highs will be in the upper 30s under partly cloudy skies.  Sunday, it's even milder with highs a bit closer to averages.  Expect middle 40s and passing clouds.  It's looking dry!
NEXT WEEK:  It looks milder and dry to start the week.  Highs are back to the middle 40s with partly cloudy skies through mid-week.
DAYLIGHT SAVING TIME:  This coming weekend marks the start of Daylight Saving Time.  We'll turn our clocks ahead one hour before bed Saturday night.  Don't forget to check those smoke alarm and carbon monoxide alarm batteries too!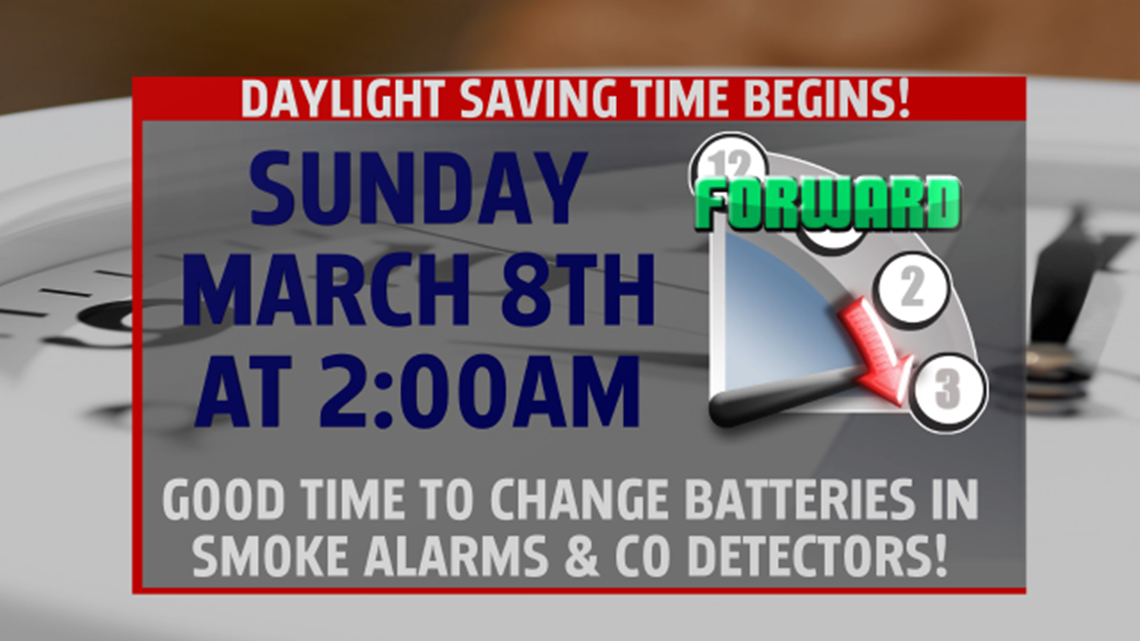 Make it a marvelous Wednesday.
"Don't let the fear of losing be greater than the excitement of winning." – Robert Kiyosaki