Tropical Storm Jangmi made landfall in South Korea late on Monday, bringing with it heavy, tropical rainfall to an already waterlogged portion of Asia.
The tropical disturbance that caught forecasters' eyes earlier this past week moved into an environment conducive for tropical development and strengthened into a tropical depression late Friday night, local time.
The Philippines attached the name Enteng to the disturbance. However, after the system strengthened to a tropical storm around 9 a.m. JST Sunday, the Japan Meteorological Agency (JMA) named the storm Jangmi.
On Sunday night, the storm had maintained a northerly trajectory. Jangmi was racing along at a forward speed of 55 km/h (34 mph) with maximum-sustained winds of 84 km/h (52 mph), according to the JMA.
After Jangmi brought times of heavy rain and gusty winds to the Ryukyu Islands into Monday morning, the storm took a turn to the northeast. The island of Kumejima totaled 55 mm (2.2 inches) of rain on Sunday.
Next, Jangmi was on a path straight into South Korea, arriving Monday.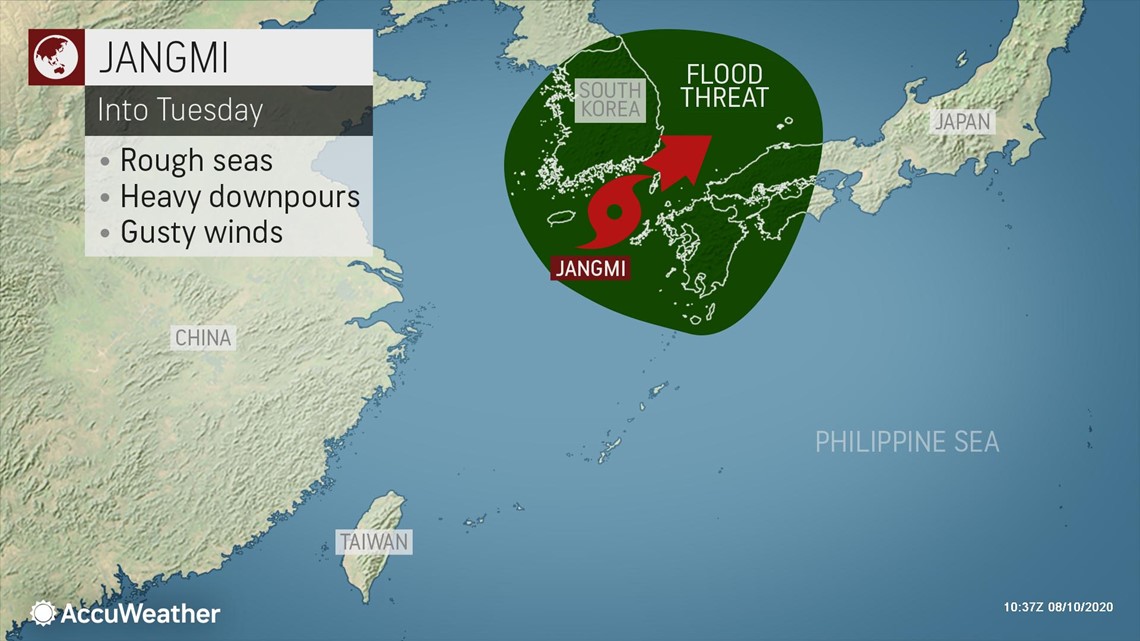 Heavy rain began falling on Monday morning, local time, in Busan and continued into the afternoon.
Rainfall reports as high as 66 mm (2.6 inches) were found along the southern coast of South Korea as of Monday afternoon.
Doses of heavy rain continued across South Korea as well as parts of Kyushu, Shikoku and western Honshu Monday night into early Tuesday as Jangmi continued to move northeastward.
As Jangmi moved farther north through the Sea of Japan, close to far southeastern Russia, it will encountered more wind shear, or winds disruptive to a tropical system. As such, Jangmi lost more and more wind strength, eventually becoming a tropical rainstorm late int he day on Tuesday.
Downpours are expected in the Primorsky region of Russia, and perhaps western parts of Hokkaido before Jangmi dissipates Tuesday night.
Prior to the arrival of any tropical system, heavy rain across South Korea has already led to at least 28 deaths, according to KBS News as monsoon moisture brought prolific downpours to portions of the country.
Hagupit moved away from the Korean Peninsula late Thursday, after bringing drenching downpours that left more than 190 mm (7.5 inches) of rain and caused river flooding hitting several cities in North Korea and South Korea.
Another tropical depression developed to the east of the northern Philippines on Sunday night, strengthening to Tropical Storm Mekkhala on Monday. This feature is expected to bring areas of heavy rain to Tawian and eastern China through the beginning of the week.