WASHINGTON — Have you ever talked about something you need or want, and then minutes later, you see an ad for it on your phone? It can make you suspicious that your device is listening to you.
Piyush Jain, the founder and CEO of Simpalm, a DMV-based app developing company, confirms that phones have become a treasure trove of personal information.
"Just imagine how powerful this device is," he said as he lifted up his phone. "It can sense your touch, it can hear you, it can see you, it can know your location. It knows so much about you."
Jain said that this data can be harnessed in a lot of good ways. It has allowed his business to grow, and it has been the source of his livelihood. And yet, Jain concedes there are also clear risks.
"There's this old phrase," he said. "The morality of the hammer is in the hand of the holder."
To outsmart the bad guys, Jain has temporarily become one, to show WUSA9 how apps can take our personal data, if we are not careful. That includes audio and video recordings.
Jain built an app called "DemoSpyCam" for iPhone and Android, and offered a demo of the app in his Maryland office earlier this month.
Upon downloading the app, he first needed to grant access to the phone's microphone and camera. He said people do this regularly without thinking, when clicking through terms and conditions.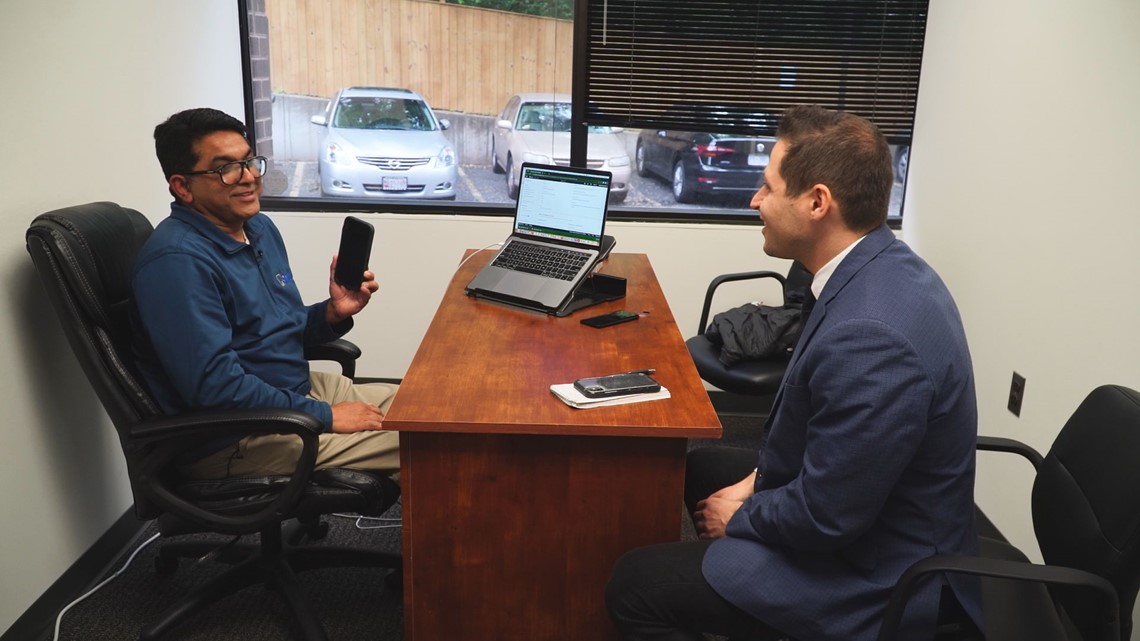 Once permission is granted, the app is programed to automatically start recording audio and video, the moment the app is opened.
"I'm going to start the app and then I'm going to move it around," he said as he panned the phone around the room.
Moments later, Jain opened up his computer, and pulled up a recording of that interaction, which went directly to the Simpalm server.
"Giving access to your device features through apps is almost like giving a key to your home to someone," he said.
This demo is a dramatic example of the type of data that can be taken through an app, once permission is granted. Rebecca Herold, a data privacy expert from Privacy and Security Brainiacs, said that apps collect data regularly.
"A lot of folks don't realize that when they download an app," she said. "Even if it's just a game app or a silly image app or whatever, often times that's how these accesses to phones are accomplished."
Herold, who has spent 30 years in the field of data privacy, said that users often agree to sharing private data when they download an app. She said people rarely read the terms of agreement fully.
"Apps tend to have very long terms of use that they require you to agree to when you're downloading them," she said. "Often times those terms of use point to other documents, privacy policies, security information and so on. How many people read those?"
She said apps can get access to your video, audio, photo roll, contacts list, and even your GPS location, if you give permission to do so.
"You can give access to basically everything that's stored on your phone," she said. "So, the contacts' list is very common because that's valuable to a whole lot of people."
But people are not powerless to stop this data collection. Herold said that users can protect their data in a few big ways.
TIP 1: Opt Out of Data Collection
Herold said that both Apple and Android phones allow users to opt out of sharing data to specific apps, which Herold recommends people do as much as possible.
"By default they're going ahead and taking data unless you know to tell them 'no, I don't want that to happen,'" said Herold.
If you go to settings in your phone, you can turn off access to the camera, microphone, GPS location, and other services requested by the individual app.
"The door is closed," said Jain. "Blinds are down."
TIP 2: Remove Apps You're Not Using
Herold said that it is a good idea to regularly remove apps that are not being used often. She said clients are often surprised by how many old, unused apps are on their phones.
"A lot of people don't realize that if you don't use that app, but it's loaded on your phone, that phone is still doing things in the background," she said.
So, to make sure that game app from 2014 isn't creating problems in 2023, Herold suggests removing apps that aren't being regularly used.
TIP 3: Know the Signs For Video/Audio Recording
If you own an iPhone, there's a very easy way to know if the phone is recording audio or video. In the top right corner, a small orange light will pop up whenever the microphone is being accessed, and a small green light will show up when the camera is being used.
Astute observers may have noticed this light, which pops up every time a user makes a call or uses their camera to snap a photo.
"But this is so tiny," said Jain, pointing at the light. "If you are not very savvy you may not have noticed. Or if you have young teenage kids or even adults. People just don't notice."
According to a spokesperson for Google, version 12 and up of Android phones also notify users if the microphone or camera is being accessed. A green light will pop up in the top right corner if audio or video is being used.
Apple/Google Privacy Settings:
Both Google, which manufactures the Android phone, and Apple have thorough privacy and safety guidelines. Here's a break down of some of the big privacy settings for the two big brands.
Apple (iPhone) Privacy Settings
According to Apple's support page, iPhones offer an "app privacy report," which allows a user to see "details about how often apps access your data," including location, camera and microphone.
A user can access their App Privacy Report by tapping "privacy" in their Settings, and searching for "App Privacy Report."
The privacy report also highlights "domains that have been contacted either by apps you've used or websites you've visited within those apps."
iPhones notify users when their microphone or camera is being accessed, through a green or orange light that pops up in the top right corner. According to an Apple Support page, phones with iOS 14 or later, will show an orange dot, if the microphone is being used and a green dot if the camera is being accessed.
Google (Android) Privacy Settings:
The Android website goes into great detail about their security and privacy settings.
According to the website, all apps are "analyzed before they're available for download," in order to protect against malware. The Google Wallet is also protected, as Google Pay "encrypts all payments and never shares your credit card."
As far as privacy safeguards, the website highlights their "privacy dashboard," which allows a user to see which apps have accessed their camera, audio, or GPS in the last 24 hours, and quickly removes permission if needed.
Through the "permission manager" a user can "choose when to share certain sensitive data with apps you download."
The phone also notifies users about any time the camera or microphone is being used, by turning on a green light in the top right corner. According to the "Android Help" webpage, some of these steps only work for Android 12 and up.