SEMMES, Ala. — If Lloyd Black can make it to the gym, so can you.
At 91 years old, the Alabama resident has become a beloved member of his local Anytime Fitness gym, visiting three days a week in his characteristic blue overalls.
Black joined the gym in Semmes, outside of Mobile, Alabama, one year ago because "simple tasks were becoming hard if not impossible," according to a profile he completed for the "Member of the Month" award. He is the oldest member of the gym, according to AL.com.
A photo of Black's heartwarming survey was shared by the Anytime Fitness on Facebook, where more than 3,000 people have shared it.
"Seeing him in the gym 3 times a week working out in his overalls brightens our day and we hope to have him many more years to come!" the gym wrote in the post.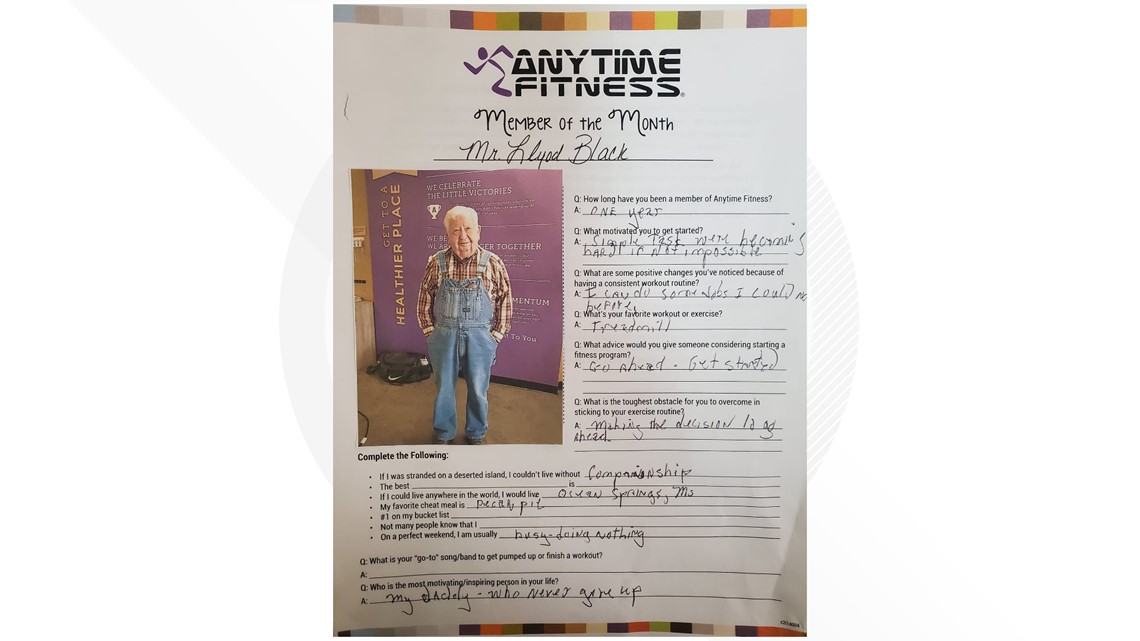 Since joining the Anytime Fitness, Black said he can now do some jobs he couldn't do before. He said the biggest challenge in maintaining his routine is "making the decision to go ahead." He cites his "daddy- who never gave up" as his personal inspiration.
The former teacher and school principal has been retired for 30 years. He previously served in the Air Force and was stationed in Hawaii, according to AL.com. On the weekends, he spends his time being "busy doing nothing." His favorite "cheat meal" is pecan pie, according to the survey.
General manager Ashley Seaman described Black as "a true southern gentleman with a heart of gold."
HeartThreads are the best stories about the best of us. Want more? Follow us: