HERSHEY, Pa. — 84 years ago when admission tickets ranged from 45 to 75 cents, the Hershey Stadium Speedway opened its doors the same week as Williams Grove in 1939.
It was the last major project of Milton S. Hershey's Great Building Campaign where the speedway was born.
"Milton Hershey liked midget auto racing. He built this for two reasons; for sporting events and for auto racing," said Lynn Paxton, former Central Pa driver.
In 1939, they had an amazing opening day turnout with a field of 28 midget cars and over 11,000 fans packed the stadium.
Because of such a great turnout, former race promoter Sherman "Red" Crise increased the opening day purse to $15,000; a payout that would equal over $325,000 in today's day in age.
The quarter-mile track was mostly home to midget racing. Similar to most places in the 1940s, there was a pause to the action in Chocolate Town. The Hershey stadium entered a 26-year hiatus at the dawn of World War II since Mr. Hershey used the speedway to house war workers.
It wasn't until 1967 that the track was revived to its glory days.
Central Pa Legendary driver Lynn Paxton reminisced on the days stepping away from the dirt and racing on the paved oval.
"In '68, they had what they called Speedweek. They had 50-lappers for every different class. So, we came down here and ran the modified and sprint car class," said Paxton. "I enjoyed racing down here. It was always fun. I didn't do anything that wasn't fun."
Although this picture is on dirt, that's how they drove the corners by standing on two wheels.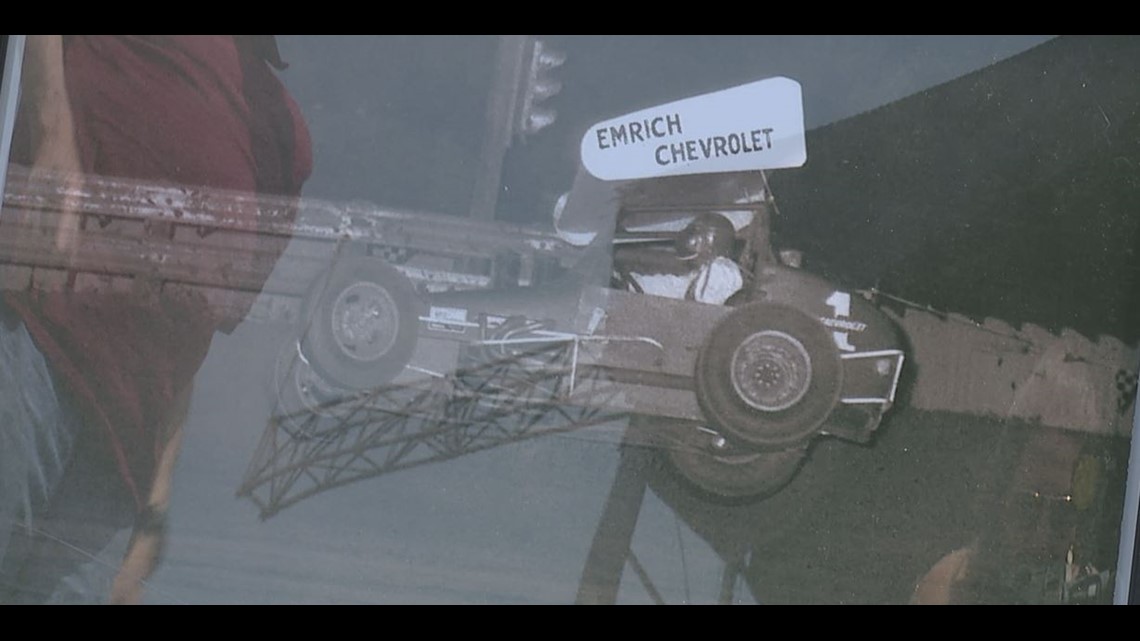 "That's 55 years ago that I won here and of course, Bobby Allen is a crew chief for his son and his grandson. So, I got a picture of Bobby and I running one-two here. That's kicking the ball back pretty far," said Paxton.
That wasn't the only memory Paxton has of this place. He won the Speedweek sprint car feature back-to-back years in '68 and '69.
He said his fondest memory at the speedway was, "Beating (Leroy) Felty in the last lap, for that 50 lapper. I know it paid $1,000 to win and $500 for second. So, Leroy made a $500 dollar mistake, right over there and I got him," said Paxton. "I never let him forget that. They have a picture of him and I, coming through the corner and I made sure he signed second place and I signed first place because I never let him forget that. Now, don't get me wrong, when I started, Leroy was one of the head guys. So, I learned a lot from Leroy and then, later on, he had to move over for such younger guns were coming through."
Felty passed away two weeks ago. He would have been 95 in September.
Paxton won a regular weekly race and was leading the points when the speedway stopped racing in 1969. They reopened for two more seasons before closing for good in 1983.
Even through the years, Paxton says, "The place has not really changed. You look over and the old igloo is still there and everything up on the hill."
The stadium fortunately gets to be brought back to its hay day every October for AACA Car Show and now, for the first time, the Sprint Car Experience.
Thousands flock to HersheyPark Stadium as the World of Outlaws and Hershey teamed up for a free family event.

Fans and students were able to get an up close and personal look at sprint cars and were also able to meet and greet with drivers.
Earlier that day, Milton Hershey Middle School students were given the opportunity to show off their work.

Students in the Internal Combustion Engine Class showed what they've been working on to Outlaw drivers Brock Zearfoss and Carson Macedo. Both drivers hope to show the career options the students have in the future.
"If you can get [just] one kid interested in Motorsports, or just automotive, you know that's one more that we haven't had. The kids that were in that class were all hands-on, and they seemed like they really enjoyed what [it] was about," said Brock Zearfoss, Outlaw driver No. 3Z, Brock Zearfoss Racing.

"[It gives] them another avenue to look at, to see that anything's possible. I can go out there, go to school, maybe become an engineer, come back work on one of these race teams and maybe become a driver someday. [The students can] really kind of just follow their hopes and dreams. Sprint car racing is something different. A lot of people have seen it or been around it, and luckily here in Central Pa., there's so much of it," said Carson Macedo, Outlaw driver No. 41 Johnson Jason Racing.
It was a sweetness mixed with 900 horsepower.
And, if the week wasn't exciting enough, it all started on Wednesday with the Gettysburg Clash, where the Outlaws and Posse squared off for the second time this season. It was triple the shark threat at Lincoln Speedway.
The posse shows their strength with seven Pa. cars starting in the top ten.
Brent Marks paced the field, but Anthony Macri was making some ground.
With a late caution, it was a six-lap shootout to the finish. In the final corner, Macri never lifted to hold enough speed and beat Marks to the line for the feature win.
On the first night of the Morgan Cup, Lance Dewease looked for his 18 Outlaw win at Williams Grove, but the show went to the Outlaws.

Rico Abreu attempted to steal the lead from Brad Sweet but Sweet wired the field to pick up his second win at the Grove.
Saturday unfortunately rained out, but believe it or not, there were a few tracks that were able to race during the rainy day.

Path Valley didn't let the rain ruin the planned festivities. Landon Meyers jumped in the 358 and went for a ride in the heat race. Cameron Smith passed Kyle Ganoe to pick up the feature win.