During a Feb. 20 surprise visit to Ukraine, President Joe Biden announced an additional half-billion dollars in U.S. assistance — on top of the more than $50 billion already provided — for military equipment and other aid.
To date, the U.S. has only provided financial and military equipment aid in Ukraine; no U.S. military troops have been on the ground to defend Ukraine against Russian forces.
But, a viral clip claims to show Biden saying that is about to change. In this clip, Biden appears to announce that he is reinstating the draft for both men and women in order to help Ukraine's military.
THE QUESTION
Did Biden reinstate the draft for men and women, as the viral clip shows?
THE SOURCES
THE ANSWER
No, Biden did not reinstate the draft for men and women. The video is a deepfake.
WHAT WE FOUND
Biden has never said he was reinstating the draft for men and women. The video is a deepfake that was created using a real White House video from December 2021.
Deepfakes are made using artificial intelligence technologies that can replace or synthesize faces, speech or expressions of emotions.
This deepfake was created by Turning Point USA, a conservative organization (TPUSA). Jack Posobiec, a conservative commentator and TPUSA contributor, can be seen 60 seconds into the video confirming it was created using artificial intelligence to provide Americans with a "sneak peak" of what would happen should Biden reinstate the draft. He didn't call it a "re-creation" of Biden, but instead a "pre-creation" made to prepare Americans.
The deepfake was created from this video, posted to the White House YouTube page on Dec. 7, 2021. In that video, Biden doesn't mention the war in Ukraine or the draft at all. He talks about lowering insulin costs for Americans.
In both the deepfake and the original video, Biden is wearing the same outfit, his hand movements are the same and the background is identical. But Biden's words have been edited in the deepfake version.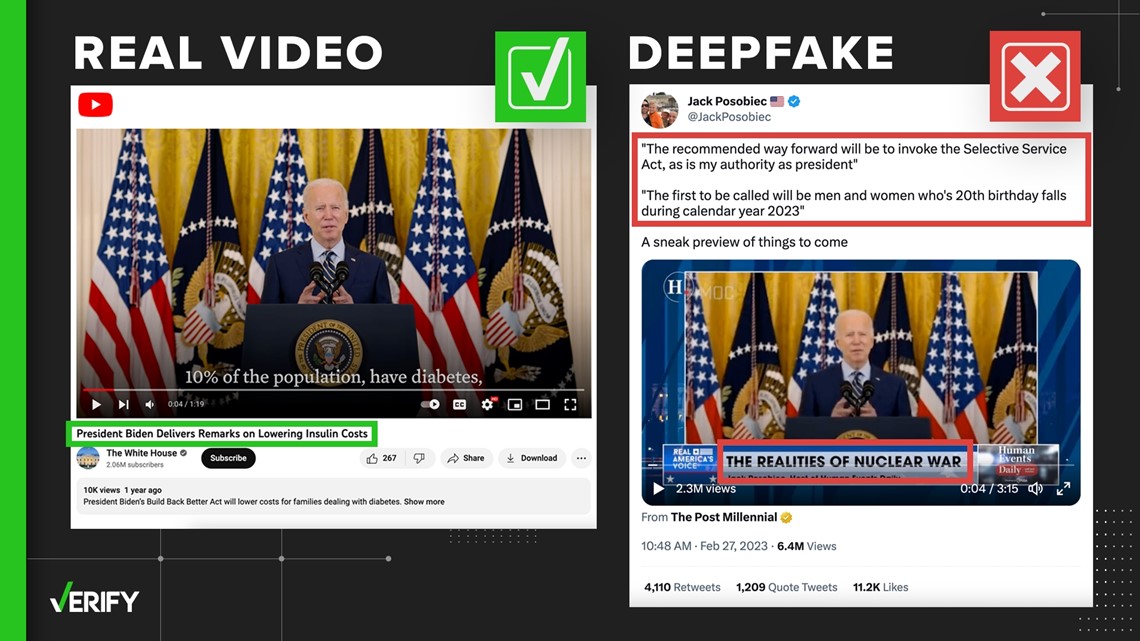 There were also some falsehoods used in Biden's deepfake speech.
In the deepfake, Biden says he can invoke the Selective Service Act under his authority as president. In reality, the president does not have that authority. It would take an act of Congress to reinstate the draft, according to the Selective Service.