LANCASTER COUNTY, Pa. — The Lancaster 2040 Metropolitan Transportation Plan or MTP is a long-term vision for the county's transportation system.
According to its website: "The MTP is updated every 4 years to reflect current conditions and address future challenges through transportation policies, programs, and project selection."
Officials say Lancaster County will receive $1.33 billion in federal and state transportation funding through 2045. After adjusting for inflation, they add, the value decreases to $925 million.
As part of the MTP, Lancaster County wants drivers' feedback. The Lancaster County Planning Commission is asking people to take a survey to help it develop a shared vision for transportation in the future.
Part of the survey asks people questions like:
What is important to you?
What would you fund if you had $100 to spend on Transportation?
"I think they're bad yeah… they're bad," said Pat Flowers, when asked about Lancaster County roads. "We're getting more and more people coming to Lancaster cause it's like a really good place to live, but it's the roads don't accommodate all that traffic."
Neighbor Charles Harris agreed: He said the roads in the city are not the best.
"To be honest with you I think Prince Street and Queen Street need done. Them roads are the baddest roads in the city," said Harris. "Potholes- I mean your car feels like it's going to fall apart since you're going down Prince Street."
"Maybe more bike lanes," said Billie Hart. "I know I'm from Philadelphia; we try to incorporate more bike lanes for a lot of busy streets because, you know, we have to share the road."
How about more roundabouts? Is that a safety improvement people want? Or cameras in work zones and at problem intersections?
"I have had people flying through my work zones quite a few times," said Wayne Pull, a traffic manager.
"Not so much cameras so I think just more stop signs and more lights at certain spots," responded Harris.
It is not an option you can choose on the survey, but quite a few people in Lancaster say they wish they could invest money and teach people how to drive.
"It drives me crazy like they'll stop in the middle of the road like they'll just stop. They won't park or pull over to the side they'll just stop," said Flowers.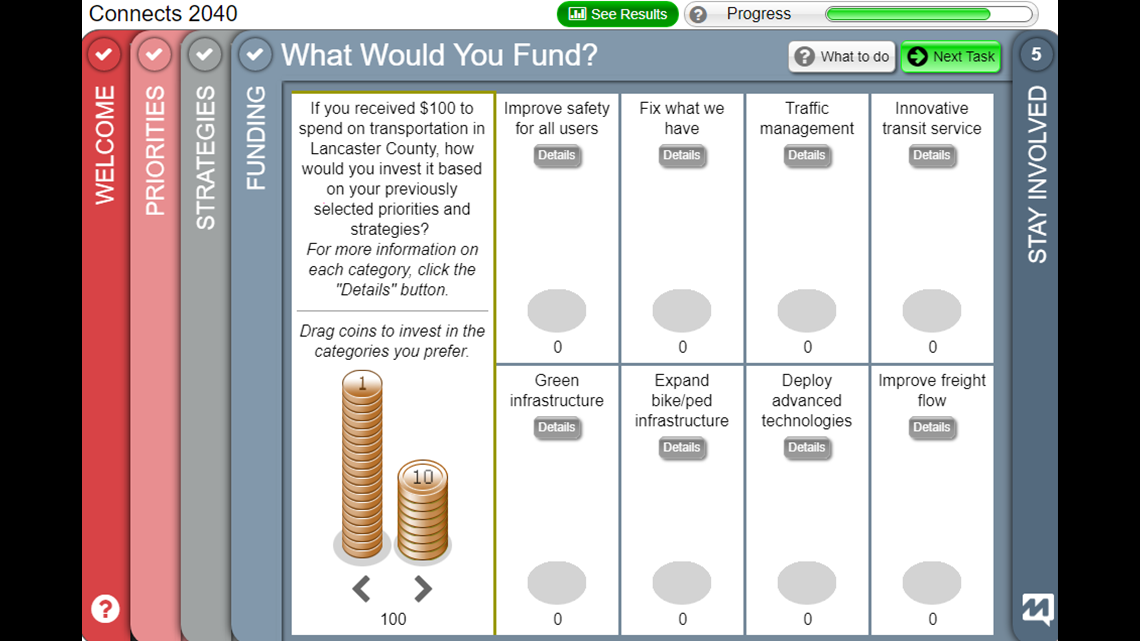 According to the survey's current results, people would spend the most money on fixing current roads/transportation fixtures, traffic management, and improving roadway safety for all people in Lancaster County.

At last check, Lancaster County residents that have participated in the survey are mostly interested in the "Fix what we have" option, with 23.52% of the funding being allocated that way.
The next highest selection by survey participants is traffic management at 20%.
FOX43's Grace Griffaton is traveling the streets of Lancaster to see what residents think of the survey and what changes they would make.