YORK TOWNSHIP, PA — Harry and Adrienne Tassou from Olivia's Authentic Mediterranean Cuisine in Gettysburg stopped by the Fox43 Kitchen on Tuesday.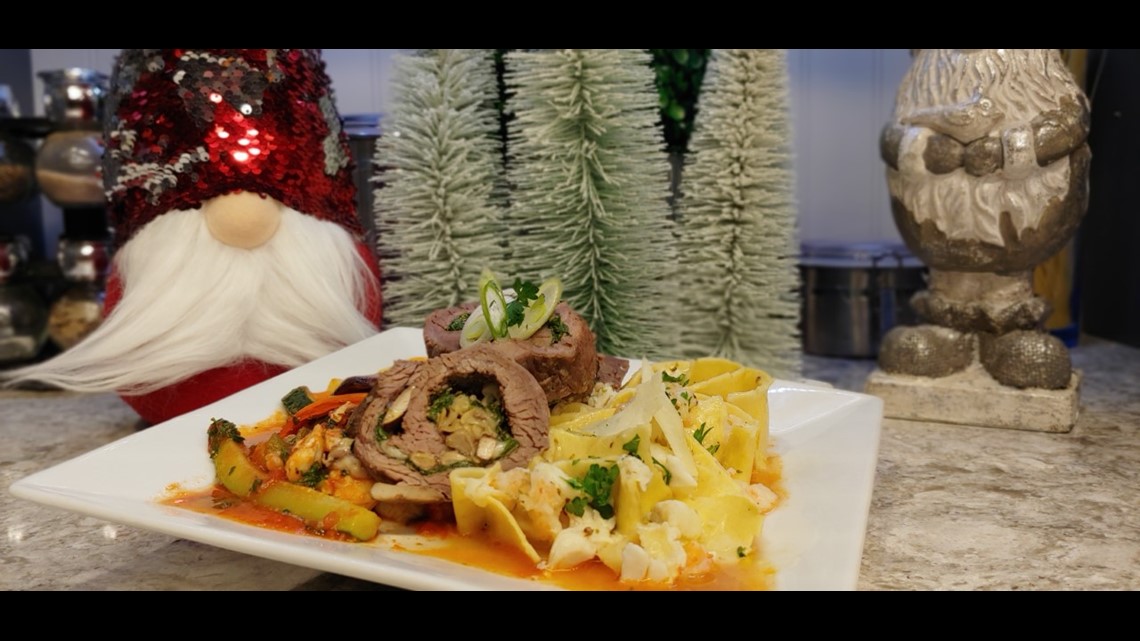 Steak Roulade with Baked Crab Lasagne & served along with Italian style Zucchini…
Steak Roulade:
2 - 8oz Shoulder Tender Steak
1 cup - fresh Arugula
1 cup - wild mushrooms- thinly sliced
1/2 cup Scallions - diced
1/2 cup Asiago Cheese - shaved
2 Tbsp Fresh Basil - chopped
3 tbsp Garlic Butter
Pinch - Sea Salt
Pinch - Black Pepper
1 tsp Dried Oregano
Parchment Paper
Butter Fly and pound shoulder tender.  Season w salt & pepper.  Layer the remaining ingredients (except garlic butter & Oregano). Spread the Garlic Butter & Oregano on top.  Tightly roll & wrap in parchment paper.  Bake at 350*F for approx 10-15 mins or until 120*F (med) center.  Remove & let rest 2 minutes before cutting.  Enjoy!
Shrimp & Crab Lasagne:
1 LB Pasta
1/2 LB Jumbo Lump Crab Meat
1 cup Fresh Basil
Pinch - Nutmeg - freshly grated
1/2 LB Jumbo Shrimp (steamed & chopped)
1 LB Mozzarella- shredded
2 tbsp Grated Romano
2 cups Ricotta
Pinch - Black Pepper
1 tbsp fresh Garlic - chopped
2 cups fresh Tomato Basil Sauce
Mix all ingredients (except tomato sauce) in bowl.  Spread onto pasta sheets.  Roll & cut into wheels.  Put a thin layer of tomato sauce in casserole.  Place lasagne wheels on top.  Bake at 350*F (covered) for approx 15 mins.  Uncover & allow to brown nicely on top - approx 10-15 mins.  Garnish w freshly chopped Parsley.   Enjoy!
Italian Zucchini:
2 LB Zucchini- julienned
1 cup onions - diced
1 cup carrots - diced
2 cups Italian Tomatoes - puréed
2 tbsp Garlic Butter
2 tbsp E.V.O.O.
1/2 cup Fresh Basil
Pinch - Black Pepper
1/2 cup Chicken Stock
1/2 cup White wine
In a heavy bottom pot, sauté onions & carrots in Garlic Butter & E.V.O.O. for 2-3 mins.  Deglaze w white wine.  Add chicken stock, Basil, & pepper.  Let simmer on Med heat (stirring constantly) for approx 5 mins.  Add Zucchini.  Cover & let cook another 3-5 mins, until zucchini is just tender.  Enjoy!
Cocktails: Working with Hot Cocoa today!