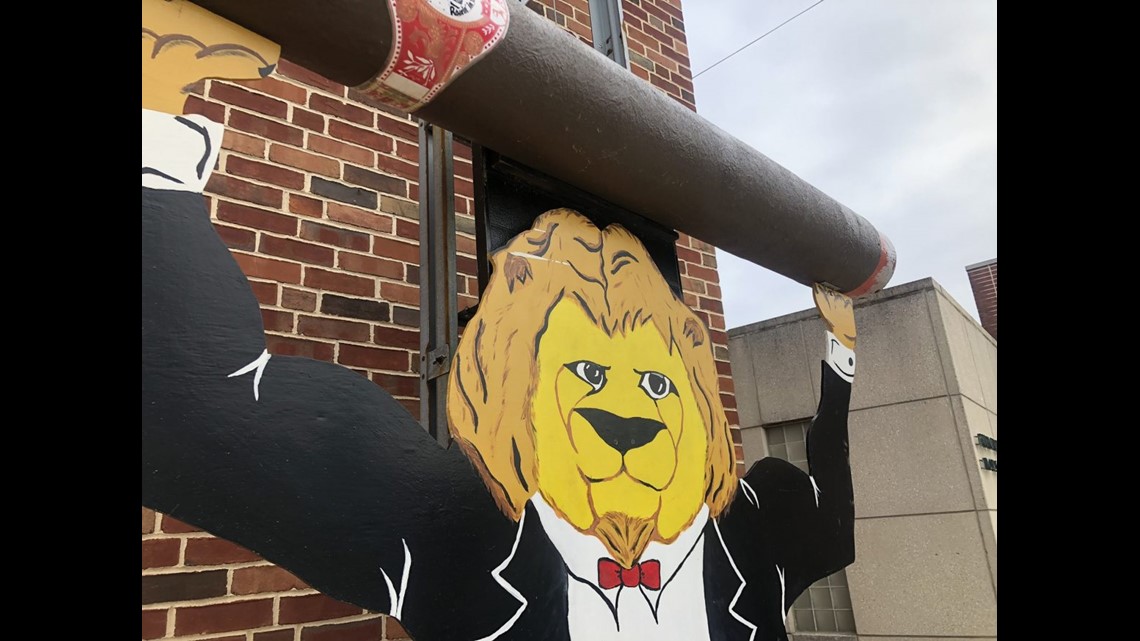 CENTRAL PENNSYLVANIA-- It's New Year's Eve!
Of course, if you're a resident of The Commonwealth, you already know that Pennsylvania comes with its little quirks and charm.
Whether it be a small town or big city, there's always something unique about each stop across the state.
The same can be said for New Year's Eve and the accompanying celebrations. FOX43 drove around trying to check out as many of the "odd" ball drops as we could.
FOX43's first stop was Red Lion, York County where we found a brave yellow lion holding up a cigar.
"Red Lion is known as the cigar capitol," Kristin Sweitzer, Special Events Coordinator at Red Lion Borough, said. "Actually of North America historically. We at one point had over 11,000, I think, cigar factories. So cigars are a big part of our history."
It's been a tradition for 23 years. The cigar doesn't light anymore, and instead of being dropped, the lion is raised.
"I don't know why they decided to do it," Sweitzer said. "But I noticed we're the only ones who really raise things and I always joke that it's the beginning of a positive start of the new year. We're starting on the upswing, not the downswing. I don't know if that's true or not but that's what I've decided."
Next, FOX43 went to Dillsburg, York County to find none other than the Dill pickle, and to many's surprise, he has a family.
"Originally Mr. Pickle was dropped," Emily Reed, organizer of the Pickle Committee, said. "And he was all by himself and then he met a woman and they decided to get married. We actually had a marriage ceremony new years and years later they had a baby pickle."
Mom and Baby usually stay back at Dillsburg Elementary where games and kids activities are held. It's also where the baby is raised to the ceiling and dropped on Momma's lap at 7 p.m. for the little ones. The reason they drop a pickle is one you probably could guess.
"Our founder's name is Matthew Dill," Reed said. "And years ago, when we were talking about what we wanted to drop, because we were one of the first towns to have a drop 27 years ago, we decided on the pickle. And it would work really well and the kids and families would really like it."
The original Mr. Pickle is still used which means hes in need of a few repairs and other bells and whistles. They plan on raising enough money tonight to make that happen in 2020. And we'd be remiss if we didn't mention the famous pickle soup made by seniors each year.
FOX43's next stop was Mechanicsburg, Cumberland County. They drop a wrench, which was created 16 years ago by an eagle scout for his project.
"Yes, Sheldon Rogers," Darrell Westby, President of the Mechanicsburg New Year's Wrench Drop, said. "To commemorate the mechanics who formed the town in the 1820's and 1830's. When the Conestoga wagons crossed the Susquehanna, they'd follow two Indian trails and get out this far and break down. So mechanics from Harrisburg would come out then repair them."
The wrench 85 pounds and made from galvanized sheet metal. This is the first year it has LED lights on it.
Over the past 4 years, the wrench drop has donated more than $29,000 in prizes and cash to the community.
They use a ladder truck to raise it 60 feet in front of Washington Fire Company No. 1.
"You don't want to be under it if it comes off the ladder truck," Westby laughed.
Last, but not least, FOX43's final stop was Hanover in southern York County, outside of Timeline Arcade.
"Hanover used to drop the black rose," Brandon Spencer, the owner of Timeline Arcade, said. "But I guess it ended and nothing happened for a long time. So I was like, 'ya know what? I'm gonna try just dropping Pac-Man,' because it goes with what my business is for the past ten years."
Privately organized, this year the Pac-Man is made out of plexiglass and LED lights. The one they used before was made from foam board and Christmas lights. The crowd grew each year and now they're on year seven. And there's another reason, besides his business, that he drops a Pac-Man.
"I figured like Pac-Man would drop down in a game to get the pellets or go after the ghosts," Spencer said. "And I look at the ghosts as like years past and just eating away at the past."