WASHINGTON — A federal judge upheld two felony convictions Tuesday against a Virginia man who went to trial last year with members of the Oath Keepers militia.
Thomas Caldwell, 69, of Berryville, was arrested just weeks after Jan. 6, 2021, and accused of joining members of the Oath Keepers militia in plotting to stop the certification of the 2020 election. Caldwell went to trial last fall alongside four co-defendants, including militia founder Stewart Rhodes, and was convicted of two felony counts of obstruction of an official proceeding and tampering with evidence – although the jury acquitted him of all conspiracy counts.
Following his conviction, Caldwell's attorney, David Fischer, filed a motion asking a federal judge to overturn the jury's decision and acquit Caldwell of both felony counts. Fischer argued throughout the case that the Justice Department had mishandled the investigation into Caldwell and mischaracterized him as a leader in the Oath Keepers despite the fact that he'd never formally joined the militia or paid the membership fee. Fischer also argued belligerent rhetoric from Caldwell before, during and after Jan. 6 was just the bluster of an old man and screenwriting enthusiast.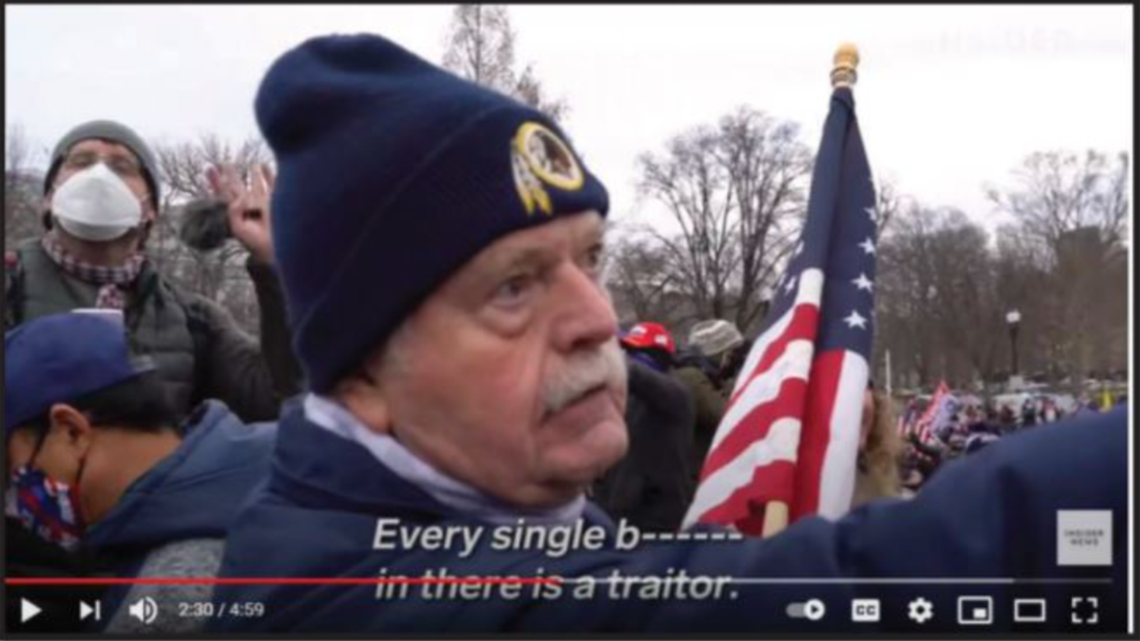 On Tuesday, U.S. District Judge Amit P. Mehta denied Caldwell's motion for acquittal and upheld his conviction on both felony counts. Mehta said the jury could have reasonably concluded Caldwell had not only obstructed the joint session of Congress on Jan. 6 himself but also that he aided and abetted two other defendants, Jessica Watkins and Donovan Crowl, in doing so. Caldwell bragged on video about rallying members of the mob but only reached the Lower West Terrace on the outside of the U.S. Capitol. Watkins and Crowl, who were both convicted of a conspiracy to obstruct the joint session of Congress, entered the building with other Oath Keepers as part of what prosecutors described as a military-style "stack."
Mehta pointed to a number of pieces of evidence to support his decision, particularly Caldwell's communications with a member of the Oath Keepers, Doug Smith, who did not enter the Capitol and was not charged in connection with Jan. 6. Mehta said Caldwell's messages about the militia's planned quick reaction force, or "QRF," showed he was "explicit about the use of weapons and staging of weapons outside the District of Columbia for use on Jan. 6." Caldwell also tried repeatedly to obtain a boat, which he said would allow the Oath Keepers to ferry a "team with heavy weapons" across the Potomac River if needed.
Mehta also said he believed the evidence would have supported a conviction on a felony count of civil disorder, which Caldwell wasn't charged with, as well as a conspiracy between him, Watkins and Crowl, that was separate from the other conspiracies the larger group was charged with. Watkins, a U.S. Army veteran, and Crowl, a veteran of the Marine Corps, were members of a group Watkins founded called the Ohio State Regular Militia. Two other members of Watkins' group who traveled to D.C. on Jan. 6, Bennie and Sandra Parker, were also convicted on multiple counts at a separate trial.
Although Mehta denied his motions for acquittal, the judge's previous sentencing decisions for other defendants in the Oath Keepers case could give Caldwell hope for avoiding jail. The 69-year-old U.S. Navy veteran has chronic health complaints and never entered the building, which could put him in the same position as Bennie Parker, who Mehta sentenced to five years of probation earlier this month. Mehta sentenced another defendant – Connie Meggs, who is married to Florida Oath Keepers leader Kelly Meggs – to 15 months in prison despite entering the Capitol and conviction on multiple felony counts of conspiracy.
Caldwell was scheduled to be sentenced Nov. 16 in D.C. District Court.