WASHINGTON — Federal safety regulators are urgently reminding families to stop using recalled Boppy Company baby loungers after two more infant deaths were linked to the products.
Federal regulators are also urging Facebook Marketplace and other reseller sites to block the sale of the baby loungers and other recalled items. In a letter to Meta CEO Mark Zuckerberg, the CPSC said it found thousands of the recalled Boppy Newborn loungers for sale on the platform.
"In the past year, CPSC has formally requested – on average about one thousand times a month – that Meta take down listings for the Boppy Newborn Lounger from Facebook Marketplace. Despite these repeated requests, sales of the Boppy Newborn Lounger on the platform continue," the commission said in the letter. "By allowing such products to be posted, you are putting Facebook Marketplace users at risk."
The two new deaths linked to the baby pillow happened shortly after the initial 2021 recall, according to the CPSC.
In Oct. 2021, an infant died of positional asphyxia after being placed on the baby lounger to sleep. The baby reportedly rolled underneath a nearby pillow.
A month later, another infant died after being placed on a recalled baby lounger in an adult bed, the CPSC said. A cause of death was undetermined.
In the re-issued recall, the CPSC reminded parents about infant safety when sleeping.
"CPSC continues to emphasize that the best place for a baby to sleep is on a firm, flat surface in a crib, bassinet, or play yard. Parents and caregivers should never add blankets, pillows, padded crib bumpers, or other items to an infant's sleeping environment. Babies should always be placed to sleep on their backs," the commission said.
What should I do if I have a recalled Boppy lounger?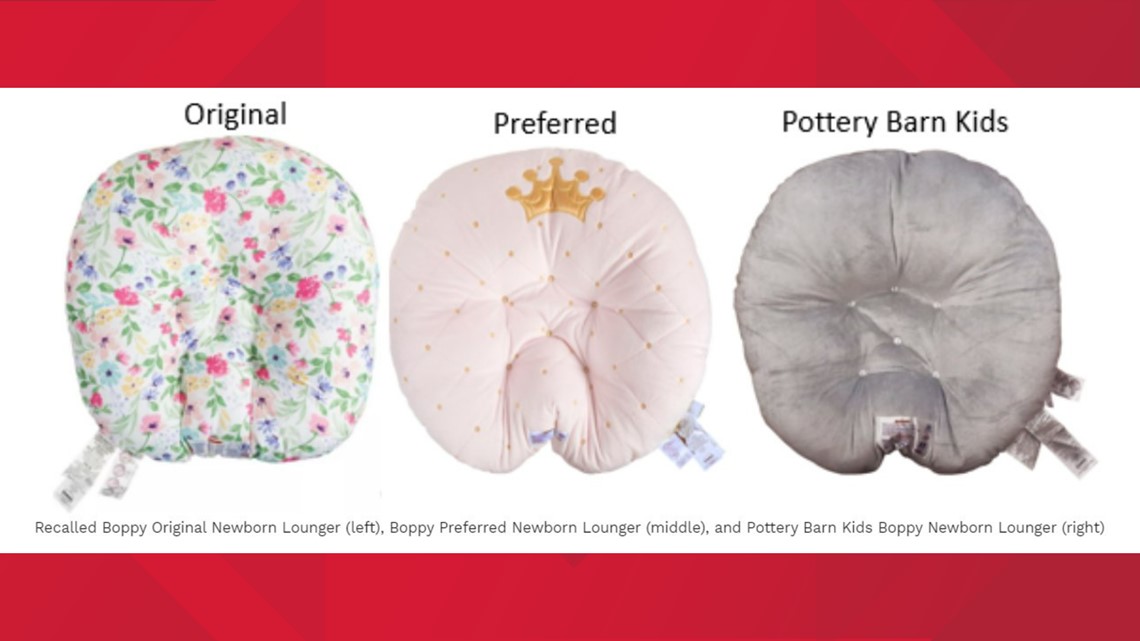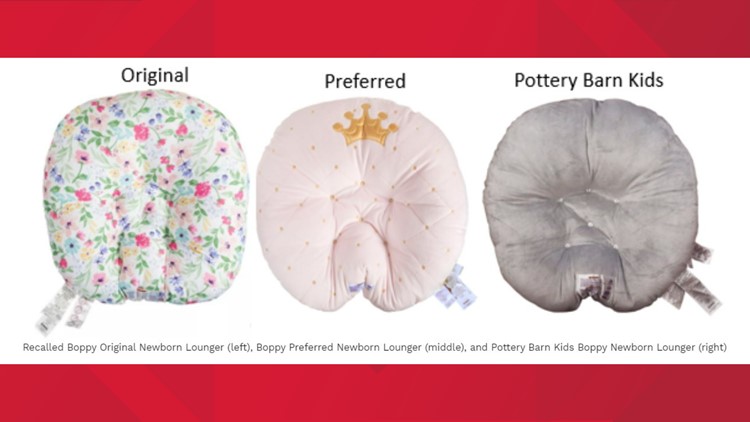 "These types of incidents are heartbreaking," Acting Chairman Robert S. Adler said at the time. "Since we know that infants sleep so much of the time – even in products not intended for sleep – and since suffocation can happen so quickly, these Boppy lounger products are simply too risky to remain on the market."
The Boppy Company and the CPSC reminded consumers who may still have the baby lounger to contact the company for more guidance on disposing the baby lounger and getting a refund. Consumers can contact The Boppy Company at 800-416-1355 Monday through Friday from 9 a.m. to 5 p.m. EST or head to their website and click "Product Recalls" for more information.