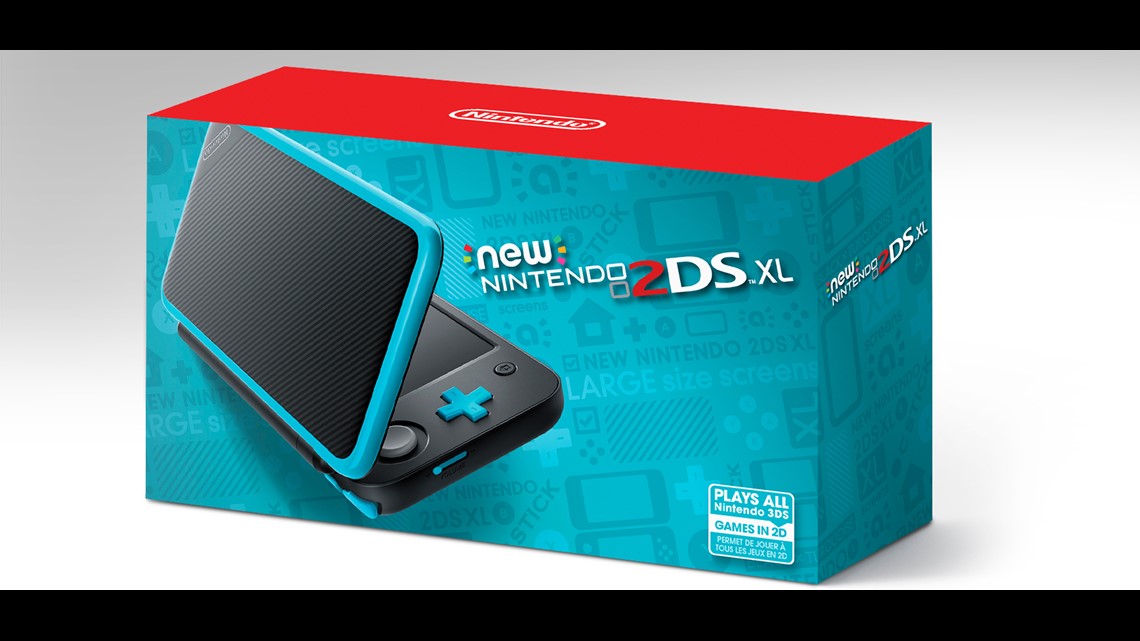 $149.99 / in stores July 28, 2017
OFFICIAL SITE: nintendo.com
FINAL: 5 out of 5 stars
It's been six years since Nintendo debuted the 3DS, a portable gaming system built on the impressive trick of providing 3-D visuals without requiring you to wear 3-D glasses. And it worked! In 2011, this was pure magic. In 2017, it's old hat. The latest addition to the line – the "New 2DS XL" – takes the best features of six years of Nintendo's handheld gaming tech, and 3-D isn't on the list.
If you have not been paying close attention to Nintendo's naming conventions, the title "New 2DS XL" probably does not make a lot of sense. The explanation starts with 2011's Nintendo 3DS, a successor to the retired Nintendo DS; in 2012 Nintendo added the "XL" model, which was just the 3DS with a larger screen. The "2DS" model appeared in 2013, dropping both the 3-D screen and the protective clamshell case. The "New" comes from a late 2014 hardware refresh that added features and bumped up the 3DS spec sheet. Put all of that together and you get this summer's "New 2DS XL." Big screens, clamshell design, fast processor… but no 3-D. Like the previous 2DS model, the New 2DS XL plays existing 3DS games.
If you buy a New 2DS XL, will you miss the 3-D effect? That depends on how much you like $50. The New 2DS XL will retail for $149.99, while the still-3-D-and-loving-it New 3DS XL sells for $199.99. (The older, small-screened 2DS is still out there for $79.99, but its wedge-shaped form factor has always been off-putting.)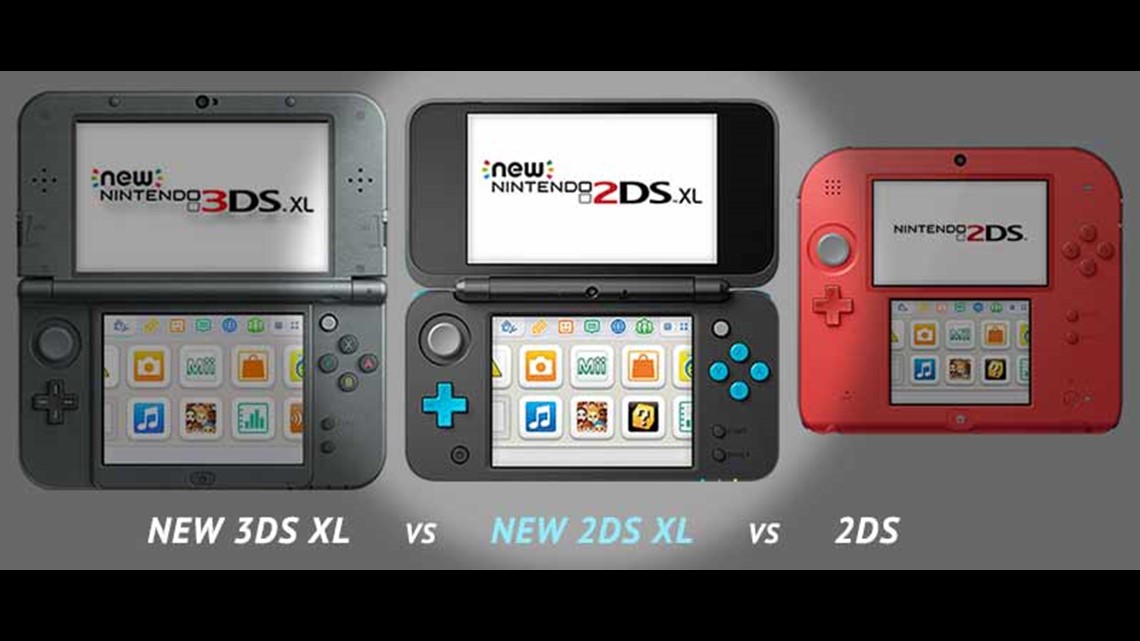 You do not actually need 3-D to play 3DS games, so price aside, turning on 3-D is purely your personal preference. Nintendo has always hedged their bets on 3-D. Since the first 3DS model, these systems have allowed you to easily turn the 3-D effect off.
If it's easy to walk away from the stereoscopic wonder of 3-D (and it is), what do you get for your $149.99? The New 2DS XL retains all of the perks of the "New" line: built-in NFC scanning for amiibo, additional shoulder buttons, faster processor, and a secondary control nub. However, it improves the design with a few subtle physical changes. The speakers, camera and Home button have been relocated, allowing for a more compact design compared to older "New" and "XL" models. The MicroSD card is easier to access, and the game card slot is now protected by a snap-in door. Unlike the New 3DS, the New 2DS comes with an AC adapter.
The New 2DS XL has but one color option: a matte black body with a glossy turquoise trim. The top panel has a classy pinstripe texture. The hinge sticks out a bit, but it doesn't detract from the system's shape. When closed, the system resembles a thicker, powered-off iPhone.
Nintendo re-designed the included stylus, again. This time the plastic pencil is just over two and a half inches long, suitable for tapping but probably not optimum for artistic games and apps.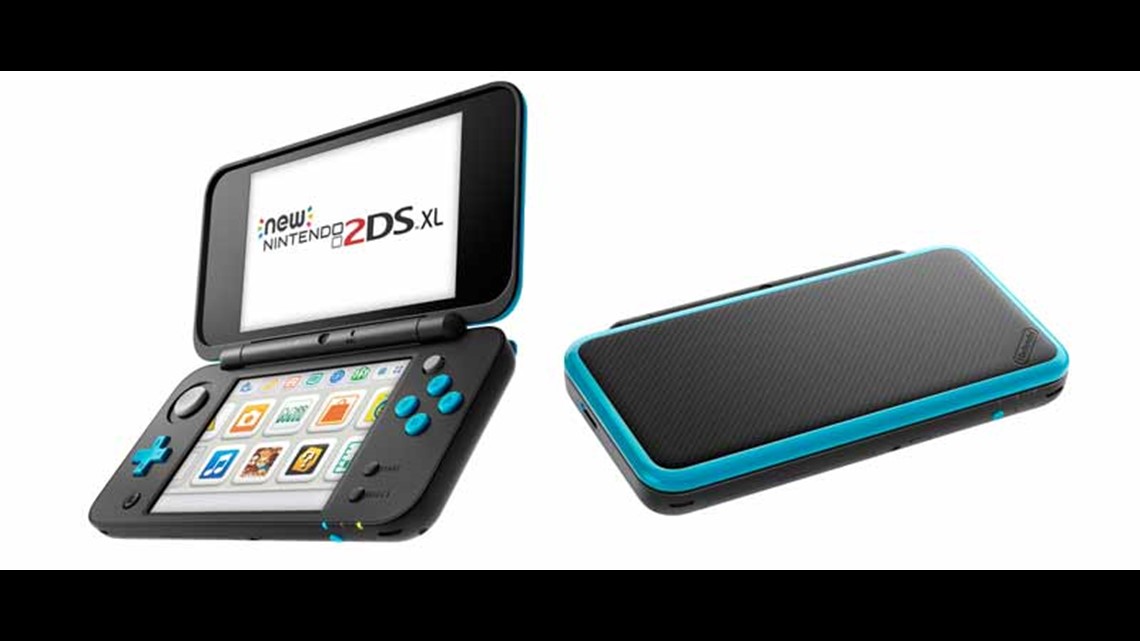 Of course, at the bottom of the spec spreadsheet we're still talking about graphics and games based on six year old internals, which is an eternity in the world of video games. Although Nintendo has ruled handheld gaming since the advent of the Game Boy in 1989, the 3DS has had to weather the rise of the smartphone. It's not the New 2DS XL's fault, but it inherits a software library that largely looks old and creaky when compared to the sharp screens of today's phones, tablets, Sony's forgotten PlayStation Vita… even Nintendo's own Switch, the brand new portable/console hybrid that many gamers last year were saying spelled doom for the 3DS/2DS line.
The software is still great! Pokémon, Fire Emblem, Mario, Animal Crossing and many other franchises have all had stellar installments on the 3DS. But after six years, a change is due. Nintendo has been close-lipped about what comes next, promising 3DS support throughout 2017. The New 2DS XL launches alongside two brand new home-grown game releases – "Miitopia" and "Hey Pikmin" – and fans are excited for a new 3DS Metroid game booked for September.
I have two other 3DS models in my household, and this has quickly become my go-to unit. Transferring all of my games and data from an older model to this one was easy and thorough. I did not lose a thing in the process, not even oddball side-app stuff like my StreetPass Mii characters and Badge Arcade collections. Now, it took hours to make the transfer, because I opted for the two devices to handle it over a system-to-system wireless connection, but at least it went through completely without error. Nintendo's strange stance on upgrading means your old system is literally reset to factory defaults, so don't think you get to clone your games and own two of everything should you personally make the switch.
I upgraded from an original 3DS, from the years before all of the "New" or "XL" enhancements, so I'm seeing some amazing improvements. If you already have an older "New" model, this 2DS XL might not be as impressive. Your interest in that case may come down to form factor and the ability to more readily get to that MicroSD storage card.
If the New 2DS XL is the last hardware release in the 3DS series, it's definitely a high note. It's comfortable to hold, still slips easily into your pocket, and the exterior looks great. At $149.99, it's an easy way in to the massive 3DS game library while reaping the best hardware design yet. The only sacrifice is the 3-D itself, and that's a loss we can definitely accept.
The New 2DS XL is on store shelves Friday, July 28. This review based on product supplied by the manufacturer. Images courtesy Nintendo of America.