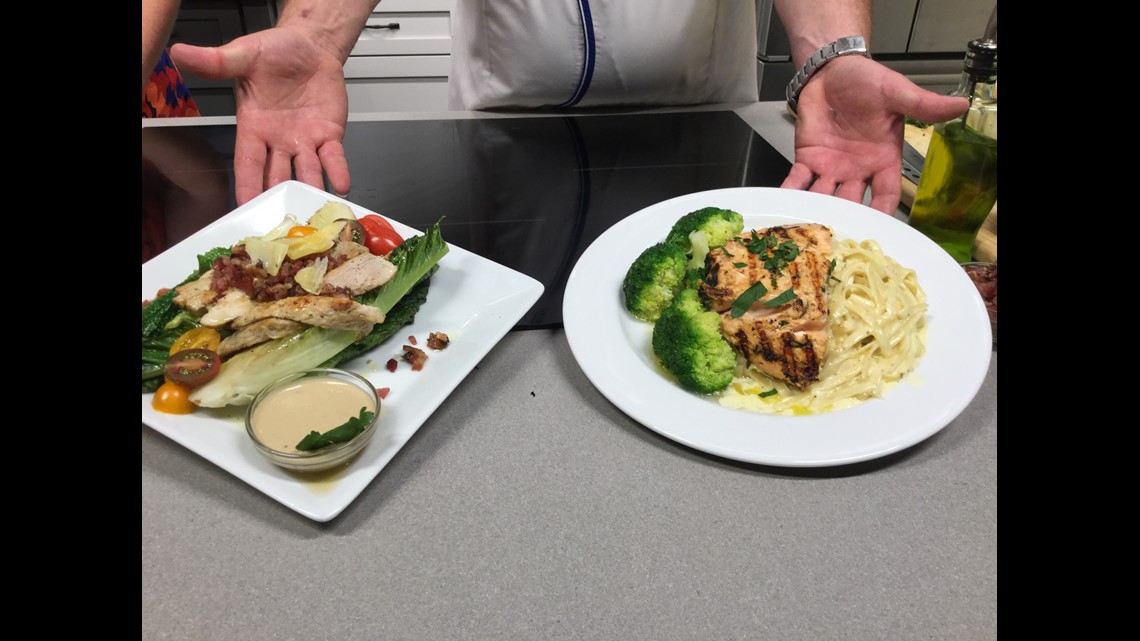 Harry and Adrienne Tassou from Olivia's Authentic Mediterranean Cuisine in Gettysburg are in the FOX43 kitchen cooking up Lattuga alla Griglia and Salmon Limon Alfredo.  As always Adrienne comes prepared with a cocktail to pair! Scroll down for the recipe for a Gingerita.
Lattuga alla Griglia 
Crisp romaine hearts drizzled w E.V.O.O. And Parmesan reggiano cheese, then lightly char grilled & topped w fire grilled chicken breast, heirloom tomatoes, & our honey pepper bacon.  Lastly we drizzle everything w our own Caesar dressing
Salmon Limon Alfredo
Marinated Chilean salmon fire grilled and nestled stop a bed of citrus fettuccini Alfredo and served along w a side of freshly sautéed broccoli.
Cocktail:
Gingerita
A delicious twist on a margarita!
Espelon tequila
Canton ginger liqueur
Lime juice
Orange juice
Sweet & sour
Fresh squeezed oranges & limes
Chipotle chili salt rim
Kosher salt
Chipotle chili powder
Chili powder
Pour the tequila, ginger liqueur, lime juice, oj, sweet n sour, & fresh fruit all over ice and shake.  Pour into a glass rimmed w you chipotle chili salt mixture. Enjoy the explosion of flavor!