LANCASTER, Pa. — The Lancaster County District Attorney's Office announced that it recently issued a memo to several store owners and managers in the county that have been selling and advertising illegal products containing Delta-8 THC and Delta-10 THC.
District Attorney Heather Adams said Wednesday that the memo informed store owners and managers that under Act 64 of Pennsylvania law, otherwise known as the Controlled Substance, Drug, Device, and Cosmetic Act, THC isomers including Delta-8 and Delta-10 are schedule I controlled substances and illegal to possess or sell in Pennsylvania.
The memo further warned that any product with a Delta-9 concentration greater than 0.3% is also a schedule I controlled substance, and likewise illegal.
Delta-8-tetrahydrocannabinol and delta-10 tetrahydrocannabinol are psychoactive cannabinoids found in the cannabis plant. They are isomers of delta-9-tetrahydrocannabinol, the compound commonly known as THC—the main psychoactive compound in marijuana that gives those who ingest it a euphoric high.
Both Delta-8 and Delta-10 are commonly processed from hemp-derived CBD. Both compounds are legal in some states, but not in Pennsylvania.
According to Adams, detectives with the Lancaster County Drug Task Force recently visited 43 stores in multiple jurisdictions throughout Lancaster County over a two-day operation, seizing illegal products from 25 of the 43 stores.
Consent searches were conducted at each of the locations and a variety of Delta-8 and Delta-10 products were seized, Adams said.
Products seized included vapes, cartridges, oils, gummies, flowers, concentrate, pre-rolled cigarettes, and chips, cereal and candy with national brand names on the packaging including Kellogg's, Ruffles, and Nerds – all advertised or labeled as containing Delta-8 or Delta-10 THC.
More than 7,200 products were collected, with an estimated value of approximately $290,000, according to Adams.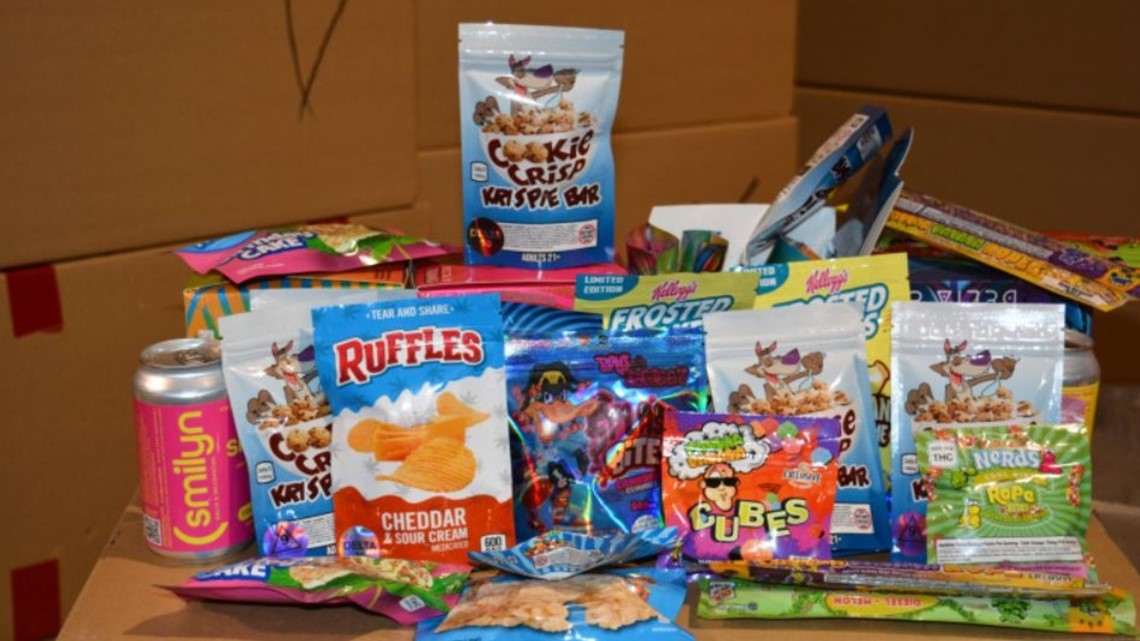 Adams said charges were not filed against the store owners or managers if they fully cooperated with detectives, immediately surrendered any illegal products and ceased future sales of the illegal wares.
All store owners cooperated with the Lancaster County Drug Task Force and no charges have been filed, according to Adams.
Adams said the memo and consent searches were conducted after her office received complaints from community members, including the underage purchase of these products and minors using and sharing these products in several high schools across Lancaster County.
Any store found to be resuming the sale of illegal products could face charges, including possession of a controlled substance—a misdemeanor offense punishable by up to one year in prison and a fine of up to $5,000.
Store owners and managers could also be charged with possession with intent to distribute a controlled substance—a felony offense punishable by up to five years in prison and a fine up to $15,000, Adams said.
"Parents should be aware that these products are ending up in the hands of teenagers and that these products are not only illegal, but they are also not subject to any regulation and could be dangerous," Adams said. "Storeowners and hemp growers and processors are now put on notice that these products are illegal and further distribution may result in criminal charges."
Some of the products seized over the two-day period were manufactured by businesses in Lancaster County that have hemp growing or processing permits from the Pennsylvania Department of Agriculture, according to Adams.
All companies identified as having a hemp growing or processing permit for Lancaster County issued by the Pennsylvania Department of Agriculture for 2023 were also notified of the illegal nature of the products and the attending consequences, Adams said.