To do it or not to do it—it's a question more and more middle-aged women find themselves pondering as they share a cup of coffee with friends. Do we age gracefully, or give into the culture where quick procedures take the wrinkles away? I never thought I'd be one to care about the wrinkles. In fact, my friends would be the first to tell you,  I've always said I would never take my wrinkles away because they show how much fun I've had in my life!  And yet, here I am, pondering the idea of trying one of the wrinkle reduction procedures.
Being in the news business… and in front of the camera…my appearance is among the many things to take into consideration. So, when Dr. Holly Gunn with Lancaster Skin Center was in our studio for a segment on wrinkle creams, I couldn't help but to ask her a few questions about anti-aging procedures.  "So, what all is involved with Botox or other injections that tighten the muscles up in the face?"  "Is getting an injection dangerous?" "What if I don't like it—is it reversible?" "How expensive is it?"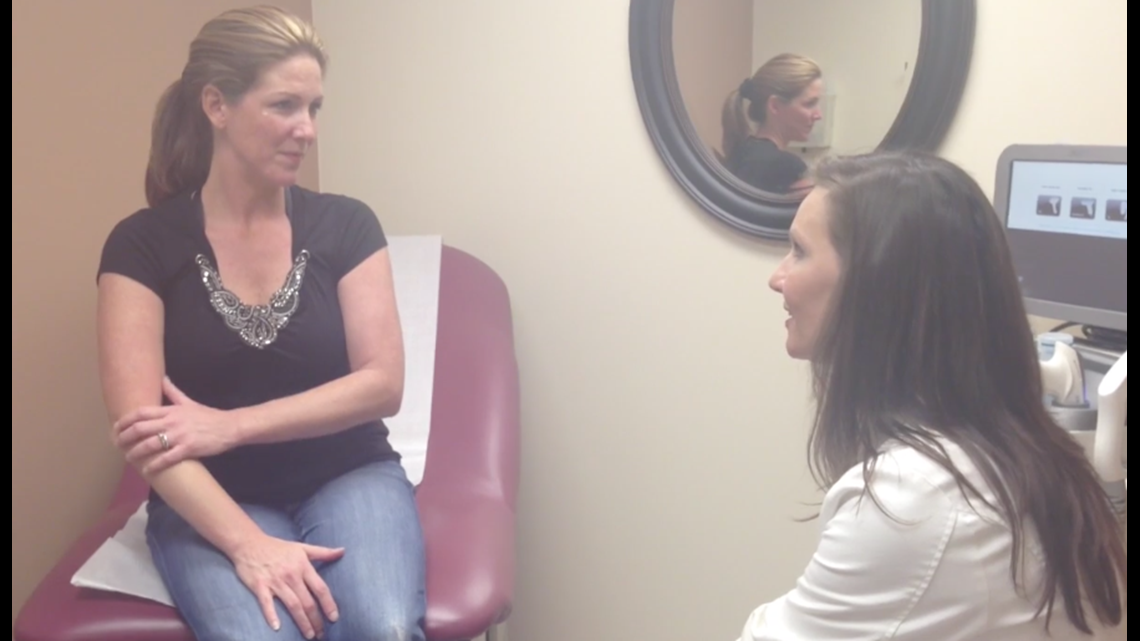 Dr. Gunn's answers definitely helped me in making a decision.  As to not put any words in her mouth, I've attached the interview on FOX43 morning news below, for you to hear those answers yourself.  So, again, after getting the answers I needed, I set up an appointment to get Xeomin, an injection similar to Botox.
My first appointment was in early August. I have to admit, when it comes to needles, I'm a wimp!  So, when she told me  that I could get a numbing gel for my face, I was all about it!  Thirty minutes after Dr. Gunn applied a gel to my forehead area, my face was numb. In total, I probably had 10 to 15 injections in my forehead and around the crow's feet area of my eyes. As much as I had psyched myself out over the ordeal, it wasn't bad at all. I felt a few tiny pinches in my forehead, and that was it. I think the anticipation of it all was much worse than the procedure itself. It took less than 3 minutes, and it was over.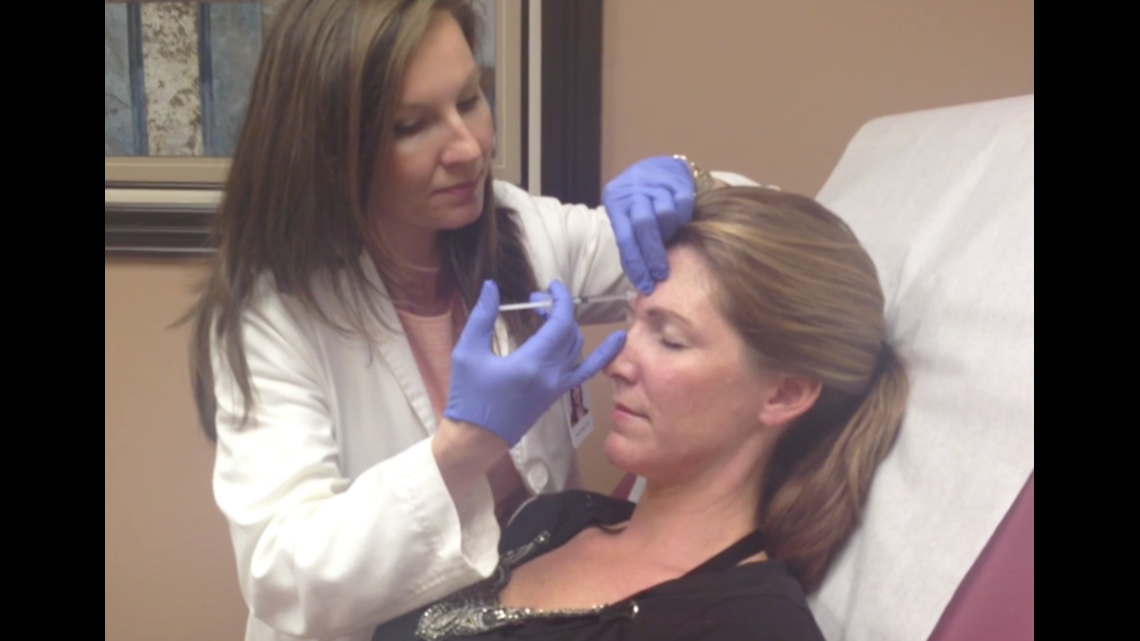 The results weren't immediate—it took a few days for the full effects to settle in.  I did notice  my forehead felt tight. It almost felt like I had a mask on my forehead.  Within a day or two though, I didn't notice that tightness anymore.  What I did notice on the third day, was that my forehead, which typically was the worst area of wrinkling for me…had smoothed out tremendously. Unfortunately, all my expressions (happy, sad, excited, stressed, confused, etc.)—are shown on my forehead…which means, over the years, the wrinkles appeared the deepest there.
Six days after getting the injections, I noticed a huge difference. Here's a picture I snapped of myself when I was waiting in the parking lot for my son and daughter.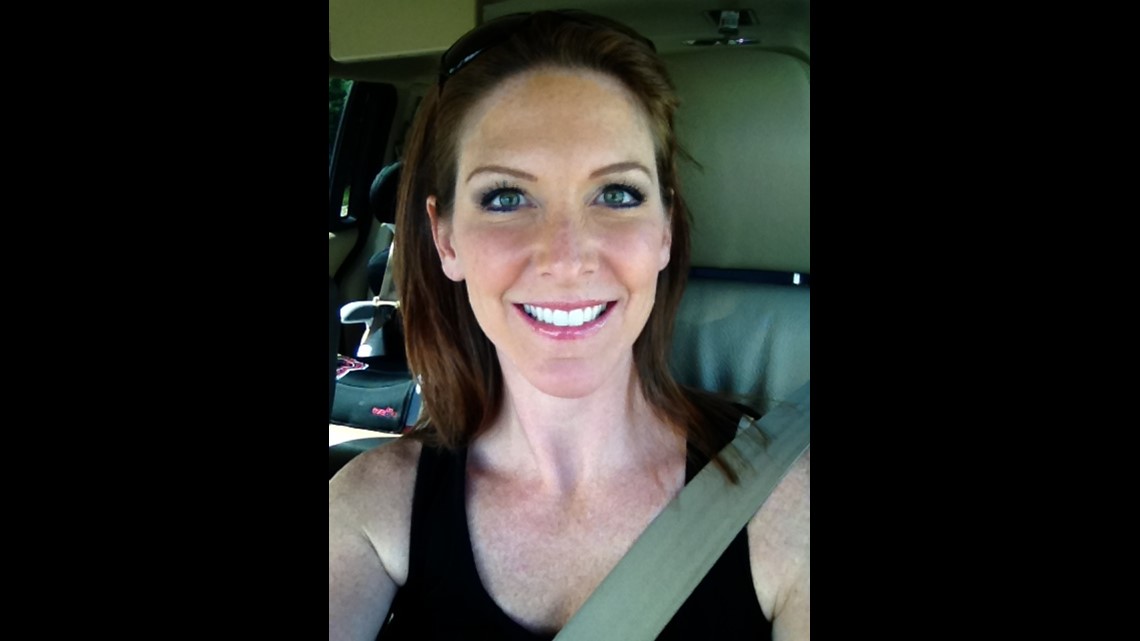 Ughhh. I hate posting these, but here goes. Here are the before and after pics taken at Lancaster Skin Center.  In fairness, I was wearing make-up in the after picture (only because I didn't have time to take it off in the craziness that is my life with three kiddos)  The technicians at the Center had me raise my eyebrows as high as I could in both pictures…and you can see in the after picture, my wrinkles were definitely smoothed out.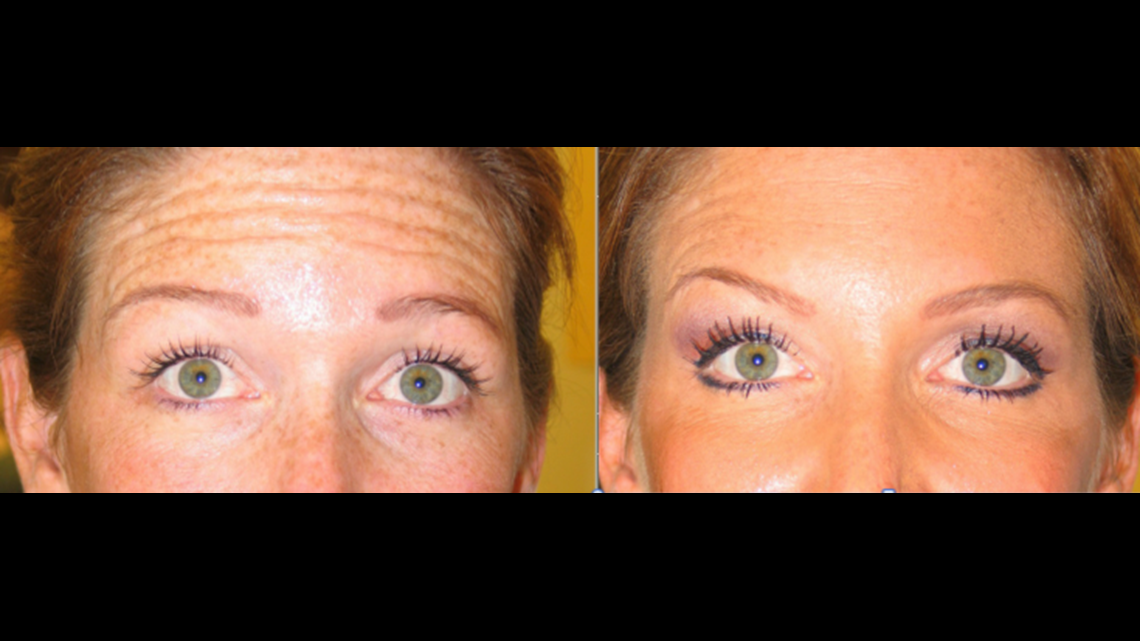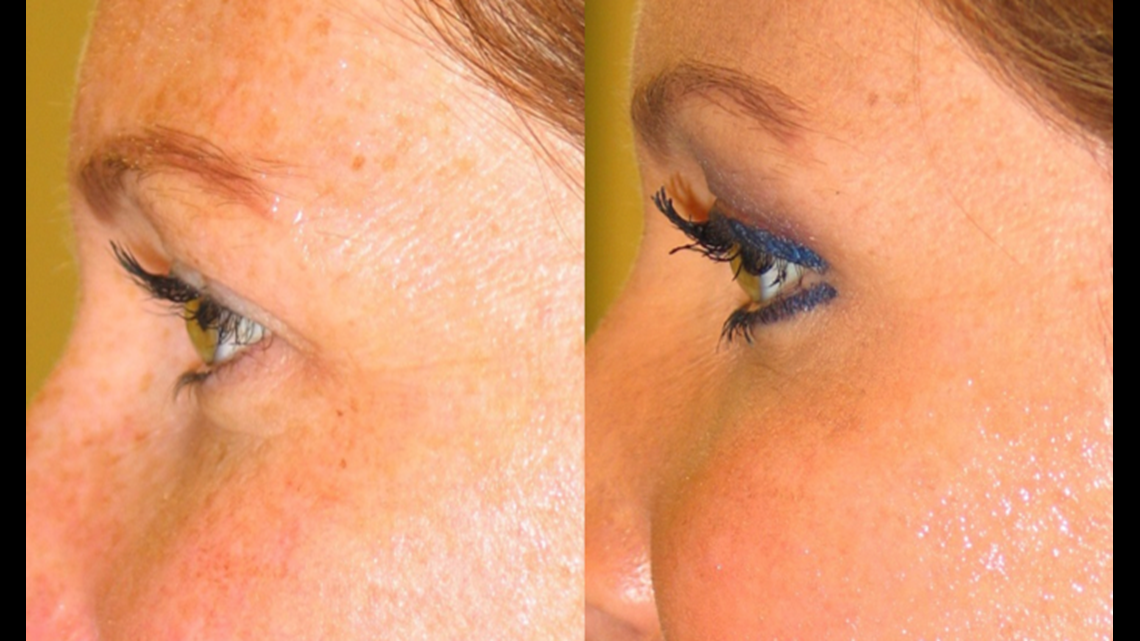 We are now in November, and I am beginning to notice the Xeomin is wearing off. I can still tell a difference for sure, but certainly not to the extent as before. The full effect lasted for about 2 months and 3 weeks. Now that I've seen the difference it makes, I would definitely consider doing this from time to time to keep my wrinkles in check:)
Here is my initial consultation with Dr. Gunn…
Here is her interview on WPMT FOX43 morning news…
After trying the Xeomin, Dr. Gunn spoke to me about three other procedures she thought could give me some of the results I was looking for. One of the procedures would give my cheek areas a lift, the other would soften my laugh lines around my mouth, and the final procedure would get rid of my sun spots. I'm naturally prone to freckles..and over the years my freckles have gotten larger and darker.
The product that would give me the cheek boost is called Radiesse. It's a filler that goes into the cheek area.  Here's Dr. Gunn administering the filler into my cheeks. Again, not being a huge fan of needles, I was nervous…but pleasantly surprised at how little I could feel. (I did opt for the face numbing again:)
It took about a minute per cheek and I immediately noticed the difference. The material actually felt like my cheek bone, and unlike the Xiomen, there is no feeling of stiffness immediately afterwards. Here's a picture we snapped immediately following the injection to my left side of the face.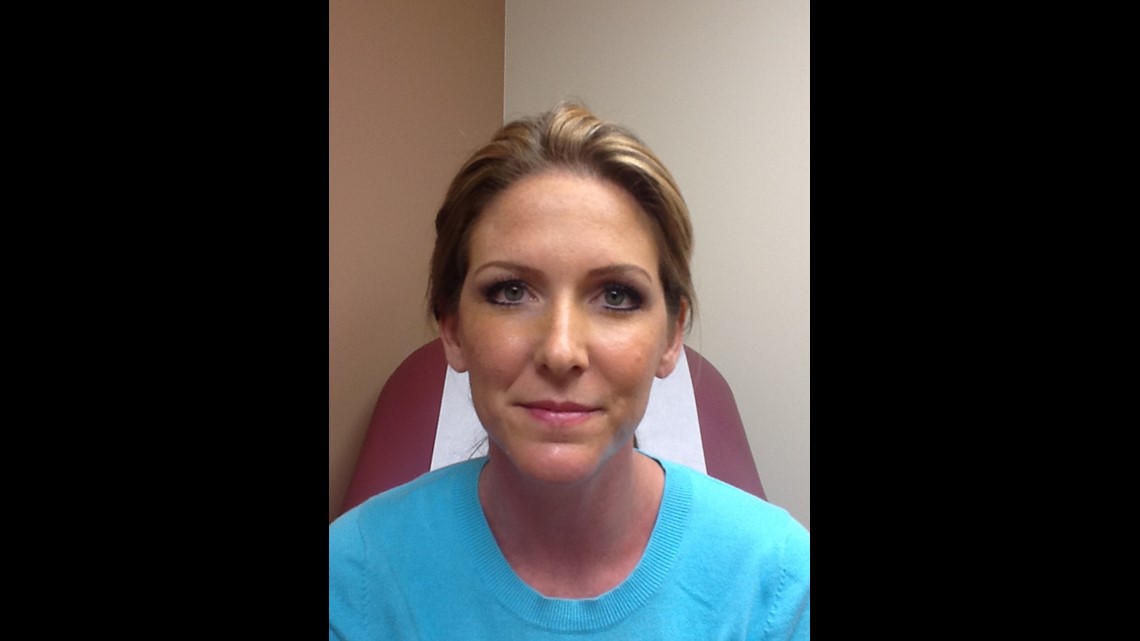 My cheeks were definitely a bit tender for about two days after the injections. The best part of this procedure–Dr. Gunn says the effects can last for more than a year! Here's another picture after my Xiomen and Radiesse, taken from the news set.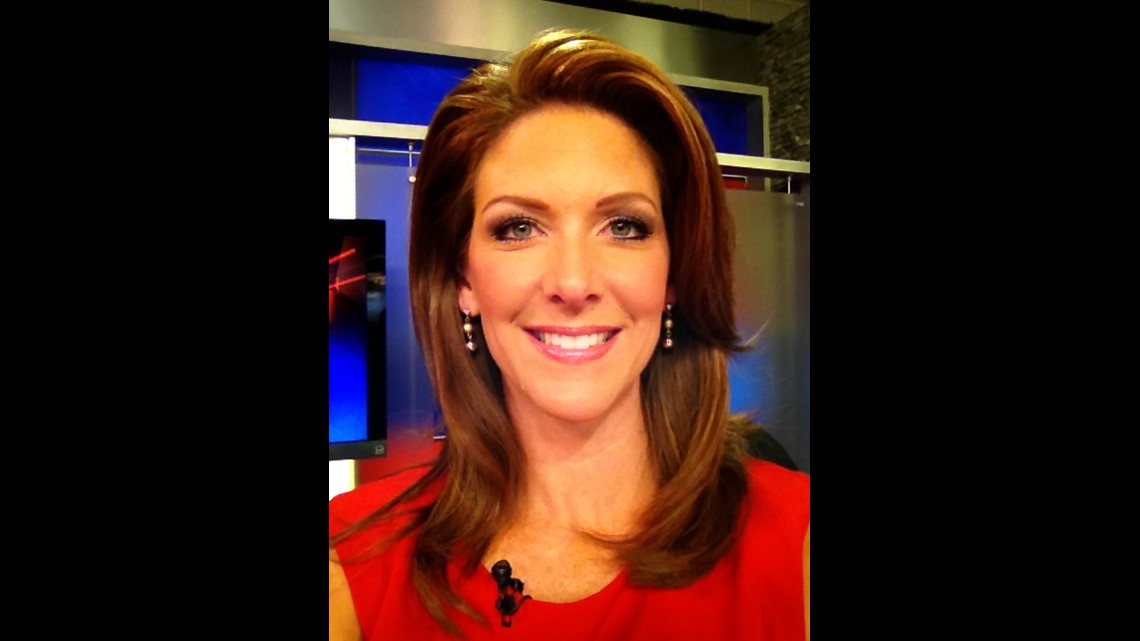 Finally, here are the shots taken by the technicians at Lancaster Skin Center.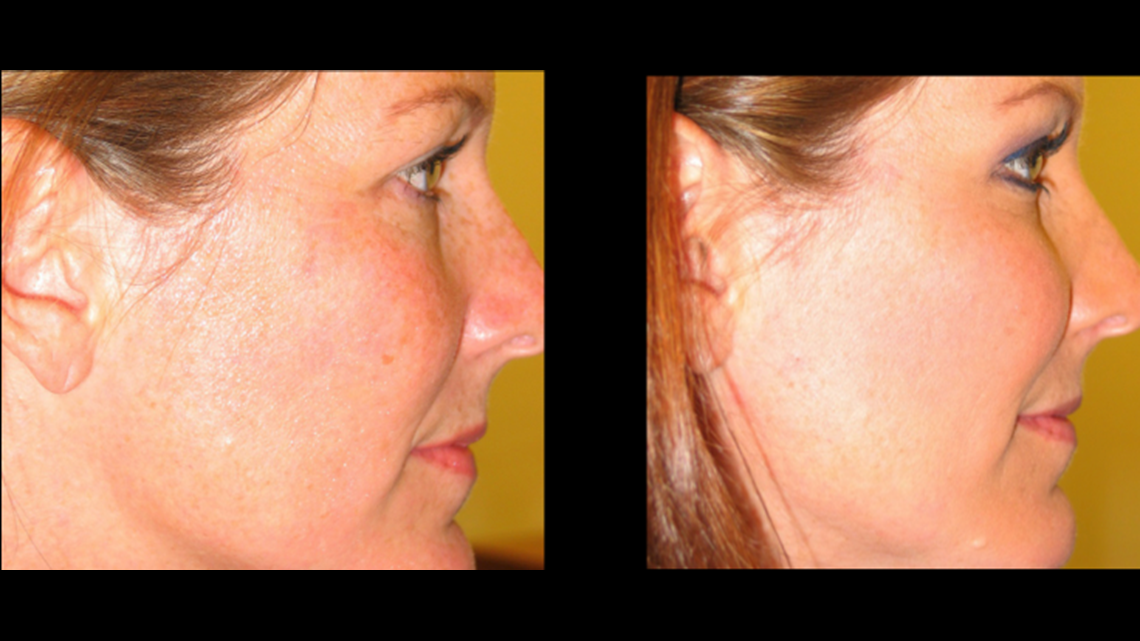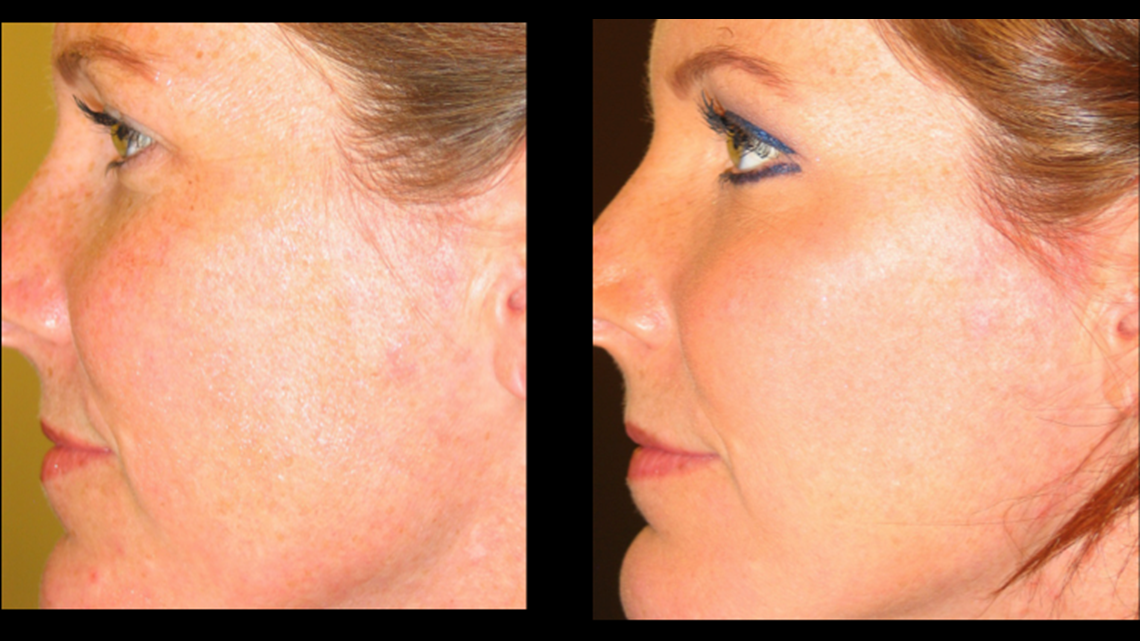 It's funny, you never see a profile picture of yourself quite like this. Ugh:)  This is another one that I would consider again, especially considering how long it lasts. The cheek lift actually helped with my laugh lines around my mouth too. I'm going to focus on the filler around my mouth and the sun spots in the following two weeks. For now, here's the segment on the Radiesse that ran on WPMT FOX43 morning news. Dr. Gunn explains how Radiesse works.
Alrighty.. so one other place that has bothered me lately, is around my mouth. I have deep laugh lines. I've talked to a lot of my friends who feel  like this is a pretty common area of concern these days.  Dr. Gunn suggested Belotero for this. It's another type of filler, and it softens the lines. After trying Xeomin and Radiesse for the forehead and cheek areas, I was definitely interested in seeing how well Belotero would work to fill those laugh lines.
By now, my fear of the injection has lessened. I still get anxious about the needles, but the numbing gel most definitely helps:)  So, I went in for the procedure, and again, it only took about 3 minutes. Dr. Gunn injected Belotero around my laugh lines, a bit in my lips, and a little more around my jaw line.
I will say, this particular area was a bit more tender than the other two areas. But if you think about it, it makes sense. For some reason our area around our mouth and lips are a bit more sensitive. Again, it only took a few minutes though–not bad at all.  Unlike the Xeomin, the results of Belotero were immediate. I noticed right away  that my lines were softened around my mouth.
I always thought you would feel the filler in your face. That's not the case. When it's first injected, you can definitely feel the line of filler… but within a day or two, you don't even notice it.
Here are some of the pictures of the before and after: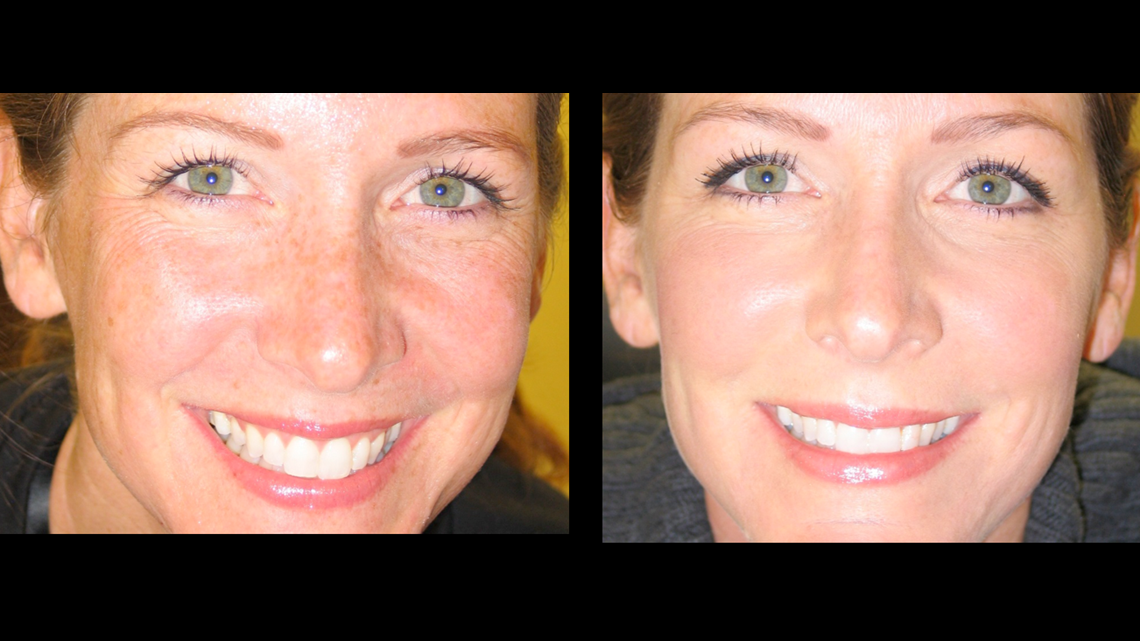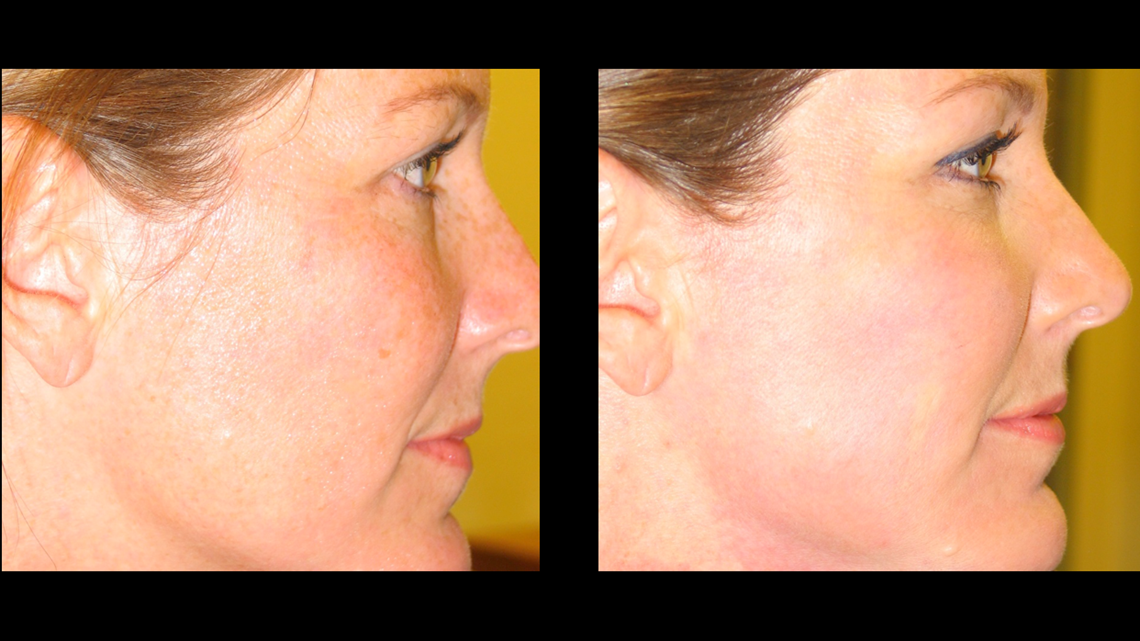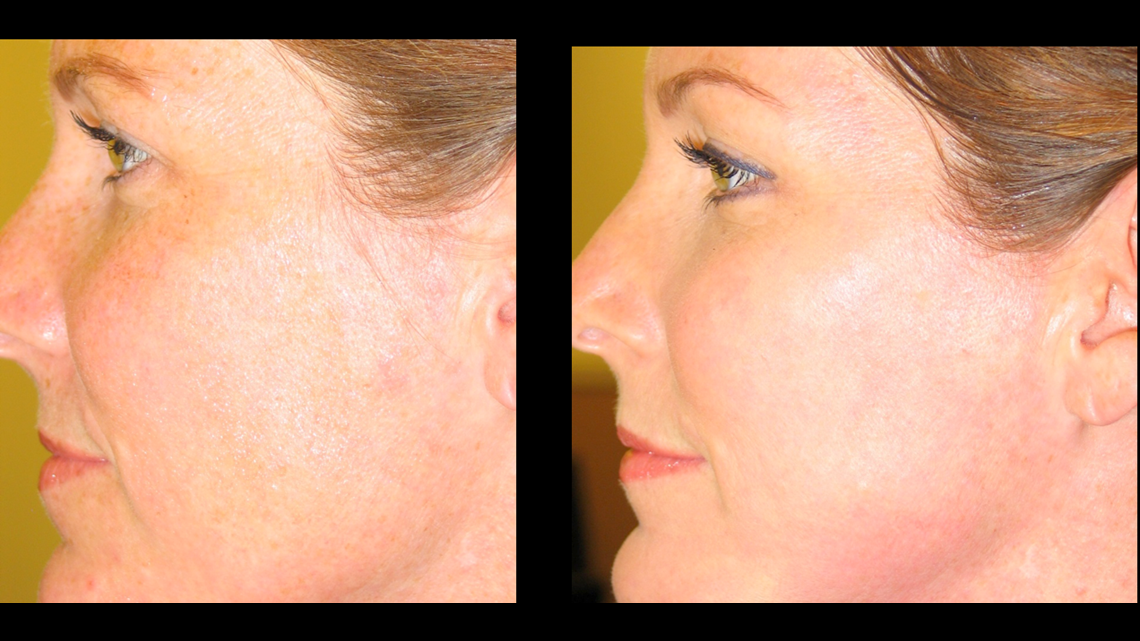 All my earlier days of basking in the sun has led to sun spots that are difficult to cover up on air. I have always had freckles, but as I age, those freckles are getting a bit larger, and darker. Dr. Holly Gunn says there's a laser treatment that can help reduce the appearance of the spots.
Elos Plus is the treatment she was describing. The technical description of this is an Intense Pulse Light photo-rejuvenation system that treats different skin conditions like rosacea, and sun spots. My description of it is a laser-like light that zaps away the discoloration:)
The machine itself looks almost like an ultrasound machine…complete with a wand. Only instead of the wand giving doctors a look inside your body, it projects light onto your face.  Here's video of me getting the treatment to give you a better idea of what I'm talking about.
Before getting the laser treatment, I was given a topical get to numb my face. I didn't think this treatment would require any numbing, but was assured I would appreciate something to take the edge off:)  Just before Dr. Gunn began administering the pulses of light, she placed protective eye-wear over my eyes (much like those I wore in a tanning bed years ago, that led to the sun spots in the first place:)
The treatment itself lasted about 3 to 5 minutes. Dr. Gunn slowly worked her way across my face, administering the pulses of light on just about every inch of my face. Each time, I would feel a very warm snap on my face. She described it as the feeling of a rubber band snapping your face. I'd say that's pretty accurate. It wasn't painful… just uncomfortable.
Dr. Gunn said to get the best results, we would have three sessions spread out over the course of three months. Here's a look at the before and after pictures. I was actually really surprised at just how much sun damage I had on my face. You can see the spots on my face on the picture to the left. To the right, it looks like I'm wearing a heavy concealer, but I'm not wearing any concealer or powder at all.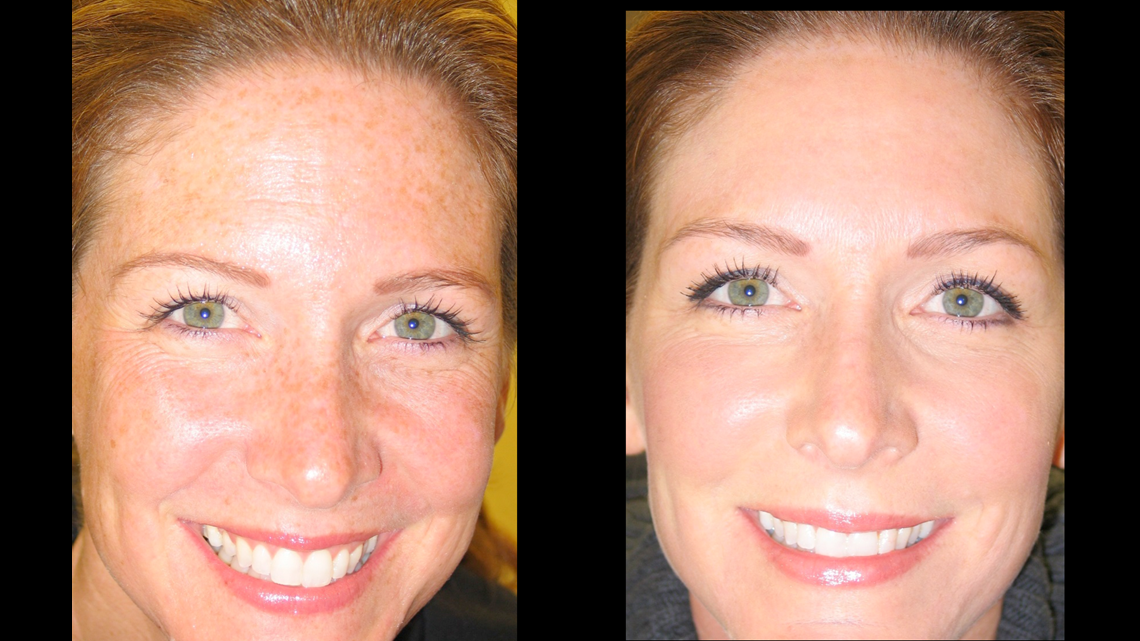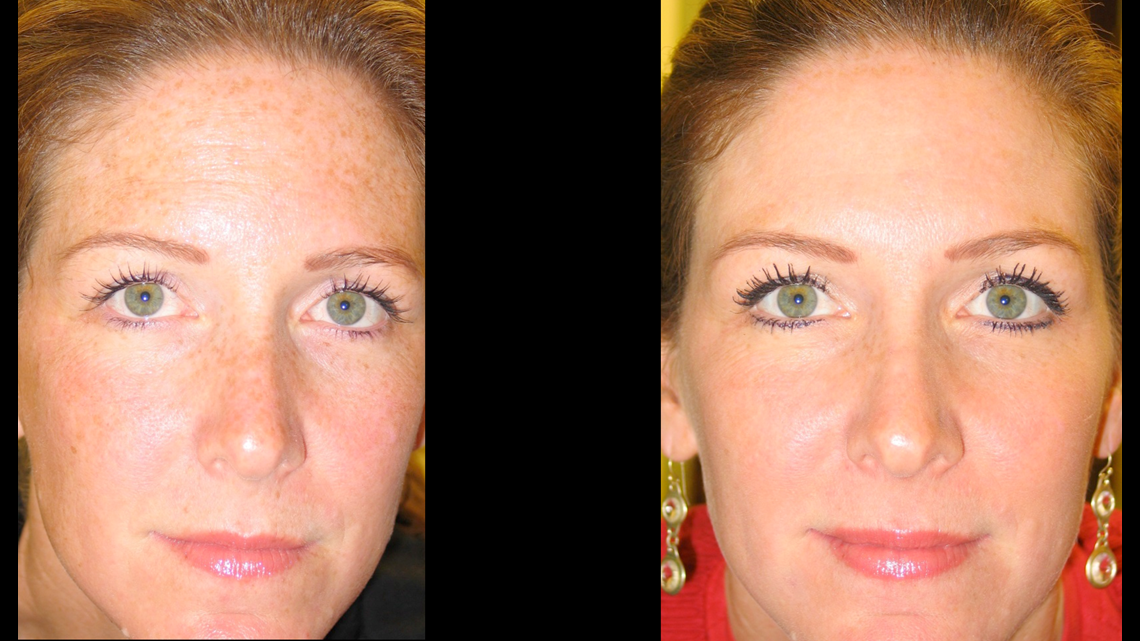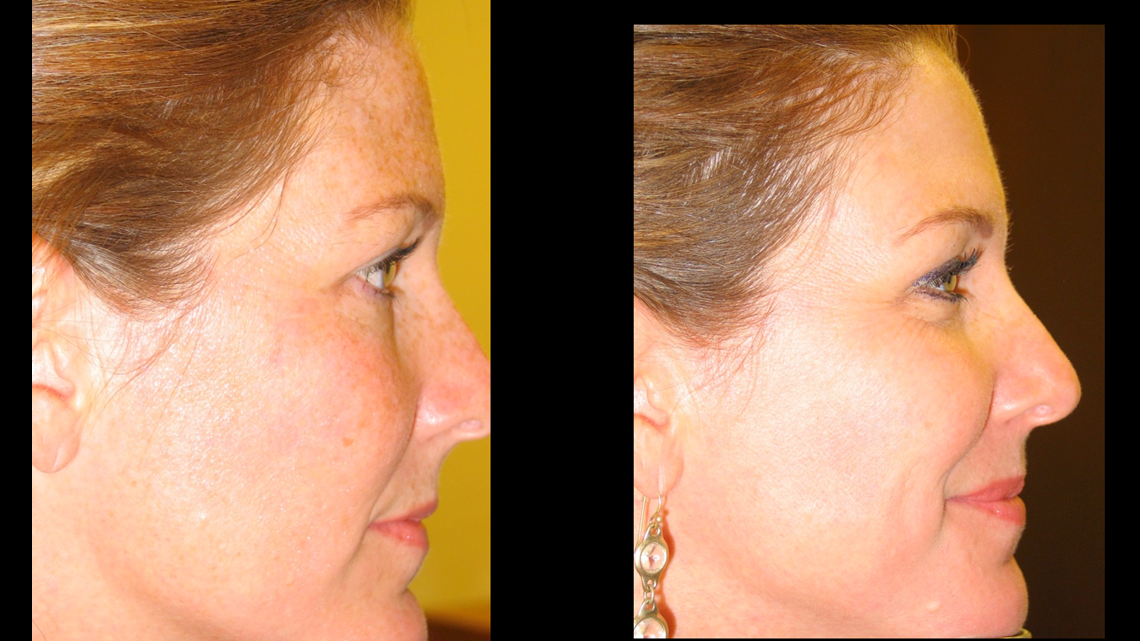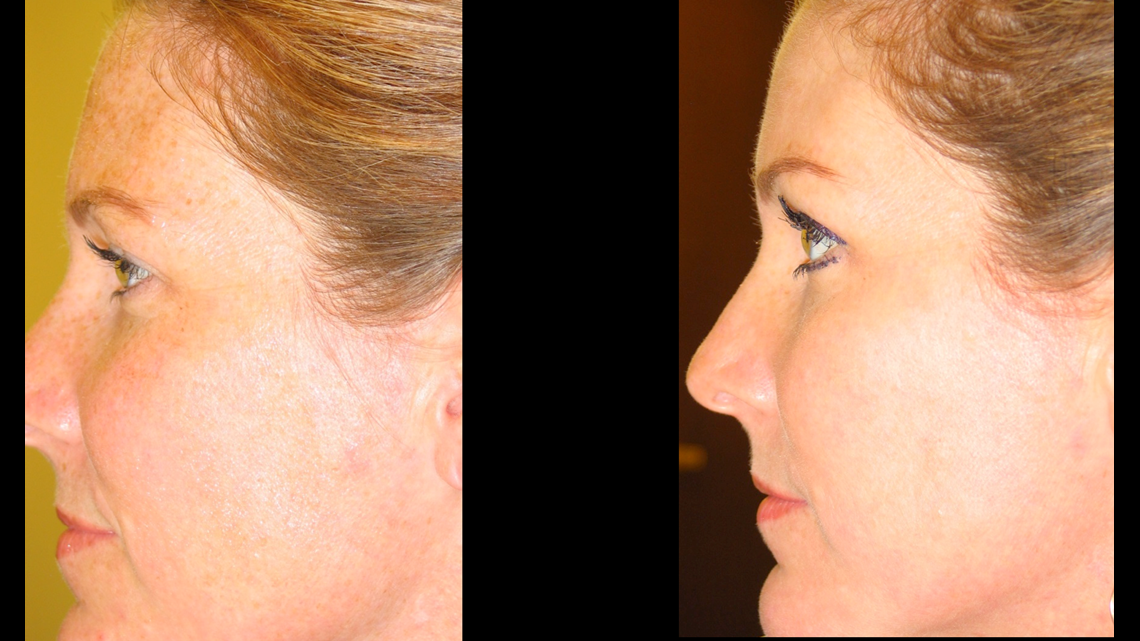 Dr. Gunn told me there are people who have to adjust their concealer or powder colors for their face after having this treatment. She was right! I just bought some concealer this past weekend and will have to return it. It's too dark.  The really nice part of this treatment is that I feel like I can go without  makeup more. I almost always put at least concealer on my face before heading out, just to even out some of my "spots" on my face.. Definitely feel more comfortable going makeup free these days:)