Two men are facing charges in relation to an animal cruelty case in Dauphin County where a dog had his neck slit three times. 21- year old Jeffery Scott Fletcher Jr., of Highspire, and 31-year old Josh  Boyanowski, of Middletown, are facing animal cruelty charges, among other charges for the incident.
Lower Swatara Township Police said Boyanowski was the owner of the male mixed-breed "Trigger" and asked his friend Fletcher to kill him. Boyanowski told police he was angry after Trigger bit his young daughter Monday night, causing her to get stitches. Officers confirmed that a dog bite victim was treated at Penn State Hershey Medical Center Monday night.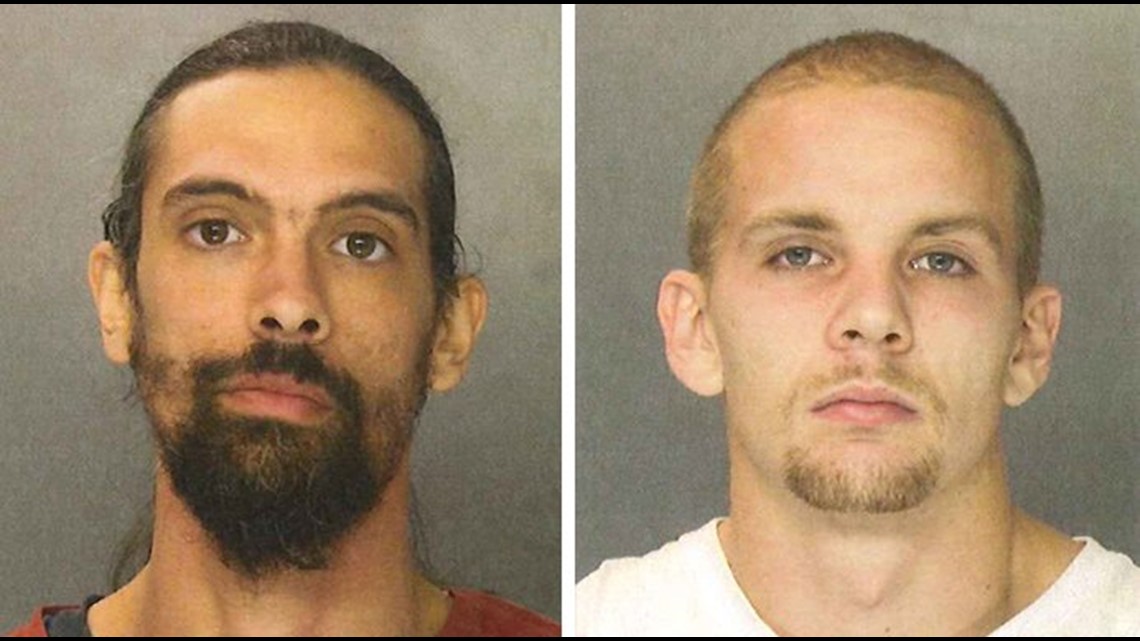 [Josh Boyanowski: left          Scott Fletcher Jr.: right]
Fletcher told police he took the dog to a wooded area along Stoner Drive in Lower Swatara Township, and tried to slit his throat with a hunting knife. He tried two times but was unsuccessful because the dog was biting him. The third time he thought he succeeded because "Trigger" dropped to the ground. Fletcher told police he waited there until he couldn't feel Trigger breathing anymore and he thought he was dead.
Trigger eventually made his way to the side of the road and was discovered by a passerby. The passerby notified police who then rushed Trigger to the Londonderry Animal Hospital. "We got a phone call on Wednesday morning saying he was severely injured, could they come right over, we said yes of course! The officers who brought him in and the two passersby did a phenomenal job of getting the wound bandaged up, and getting the bleeding under control," said Dr. Lia Belanger, a Veterinarian at Londonderry Animal Hospital. "The wound was not real deep, which is what saved his life."
Trigger had surgery on Wednesday afternoon to close the wounds and had some drains put in. He is on antibiotics and pain medication. He is now at the Humane Society of Harrisburg because he is considered evidence in an investigation.
Trigger will eventually be available for adoption. Dr. Belanger doesn't think he will have any trouble finding a new home. She said several people, including the two who found him, have requested to adopt him. The outpouring of support has been equally as impressive. "People offering to pay for care, people offering to pay for future care, and somebody has offered to donate a lifetime supply of dog food. It's been overwhelming," said Dr. Belanger.