Almost half off your grocery bill, just in time for holiday dinner? If it sounds too good to be true, that's because it is.
Several stores are warning customers that these enticing offers circulating on Facebook are phony.
The fake coupon from giveaway-coups.com says the the user will receive a 40% off at ShopRite, but the grocery chain says that deal won't be honored at any of its locations.
Instead, customers are told to visit ShopRite.com for legitimate coupons and deals being offered by the grocery chain.
Facebook users began seeing posts advertising a "Get 40% off all purchases in store" coupon offer for the ALDI grocery store chain.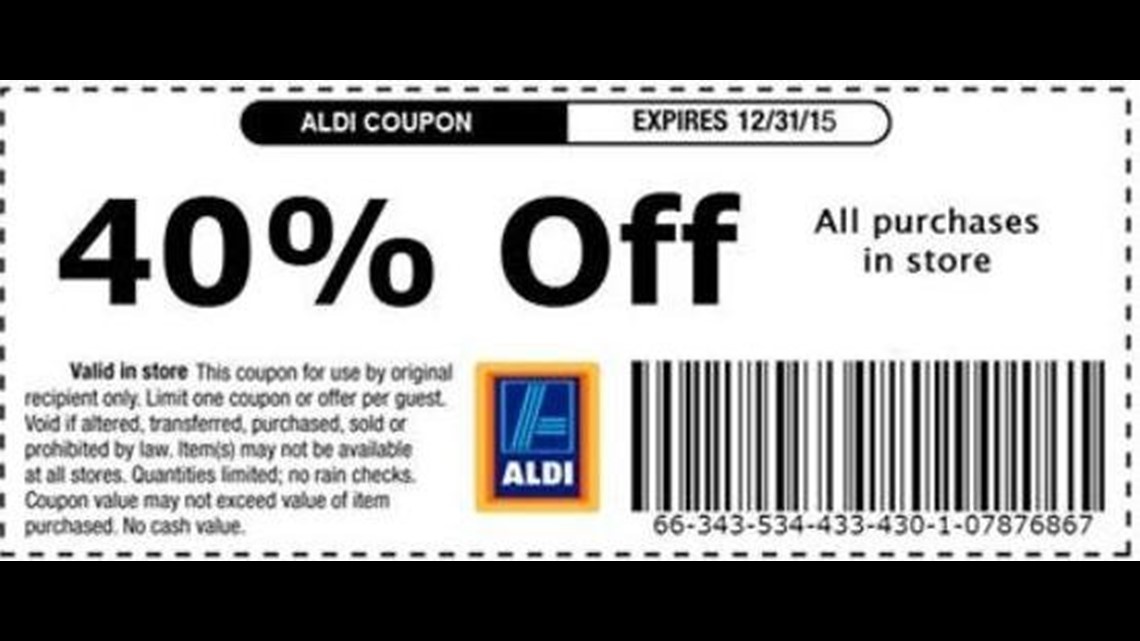 These coupons are not legitimate, as Aldi themselves noted on their Facebook page:
We understand the confusion that some customers experienced with the recent online coupon for 40% off. Please know that ALDI does not issue electronic coupons. This offer was not authorized or distributed by ALDI and will not be honored at ALDI locations. We sincerely regret any inconvenience this situation may cause.
Kroger's official Facebook page shared the following update warning customers not to fall for this scam:
Survey scams of this variety appeared with frequency on Facebook; Kohl's, Costco, Home Depot, Lowe's, Kroger (previously), Best Buy, Macy's, Olive Garden, Publix, Target, and Walmart were among retailers scammers used to bait social media users into providing personal information and recruit others to do the same, according to Snopes.com.
The Better Business Bureau warns shoppers about prevalent survey and coupon scams:
Don't believe what you see. It's easy to steal the colors, logos and header of an established organization. Scammers can also make links look like they lead to legitimate websites and emails appear to come from a different sender.

Legitimate businesses do not ask for credit card numbers or banking information on customer surveys. If they do ask for personal information, like an address or email, be sure there's a link to their privacy policy.

When in doubt, do a quick web search. If the survey is a scam, you may find alerts or complaints from other consumers. The organization's real website may have further information.

Watch out for a reward that's too good to be true. If the survey is real, you may be entered in a drawing to win a gift card or receive a small discount off your next purchase. Few businesses can afford to give away $50 gift cards for completing a few questions.