HARRISBURG, Pa. -- It's the 19th hour of a 24 hour protest for Michael Fisher, and he's getting tired.
"I'm pretty exhausted," he says. "But there are people doing this across the state."
Fisher is the creator of the Central Pennsylvania activist website ActionAgenda.org. He helped organize what he's calling a "24-hour vigil" outside U.S. Senator Pat Toomey's office, at the Federal Building in downtown Harrisburg.
Fisher and around a dozen other activists are protesting the American Health Care Act and Sen. Toomey's support of it. Senate Republicans released a draft of the bill on Thursday.
The protest began 5 p.m. on Thursday and is expected to last until 5 p.m. on Friday.
"This is so important, and we're willing to stand here as long as we need to," Fisher said. "We want to let Harrisburg know we're going to stand up and fight for our community."
The Action Agenda protest was derailed for a short time Thursday night, when thunderstorms forced the group indoors. They headed indoors a second time on Friday, but to take part in a similar, albeit larger rally at the State Capitol.
U.S. Senator Bob Casey, a Democrat, hosted the event, for the same reason as Action Agenda, less than 24 hours after Senate Republicans released a draft copy of their version of the health care bill which would repeal and replace the Affordable Care Act.
"We have to stop this bill from becoming law," Casey said as he held up the bill Friday to a chorus of cheers and applause.
Sen. Casey's focus was on Medicaid, which he says takes up 60 of the 142 pages in the bill. Under the Senate Republicans plan, the federal funding of Medicaid to states would be phased out over time. Casey, who said he has read most of the drafted bill which was released Thursday, said one estimate indicated more than 700,000 Pennsylvanians currently rely on Medicaid.
"This is the decimation of Medicaid, ripping health care from many people," Casey said. "It's giving a huge tax cut to the super rich."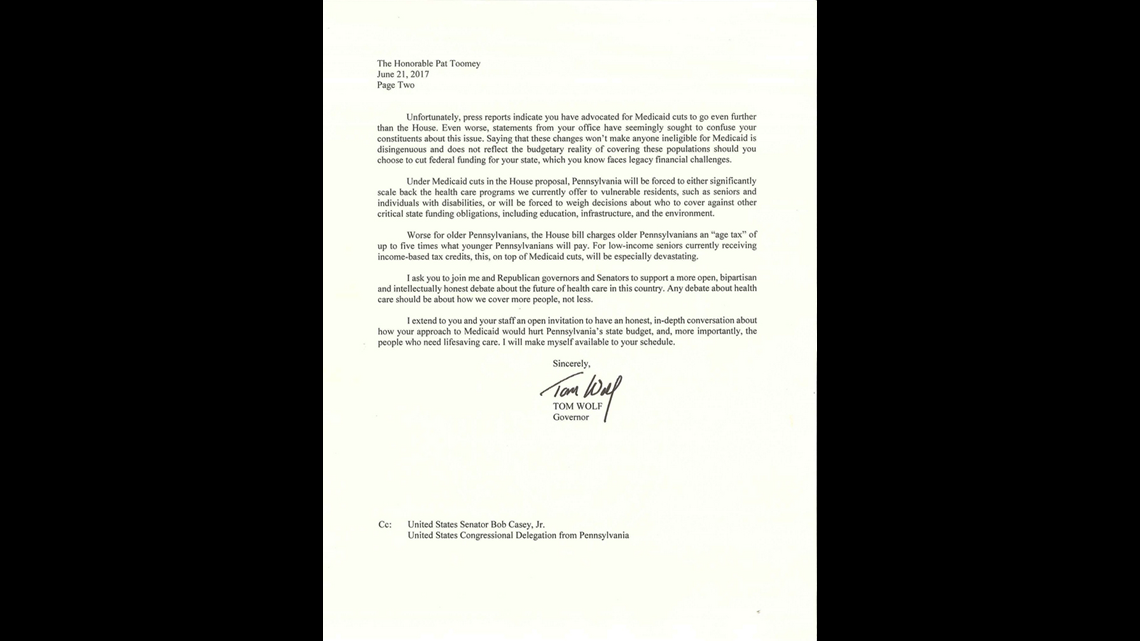 "For hundreds of thousands of Pennsylvanians, Medicaid is not a handout – it is a lifeline," Wolf's letter said.
Some proponents of the bill, such as the Commonwealth Foundation in Harrisburg, admit the AHCA is not perfect, but "a step in the right direction," according to policy analyst Nathan Benefield.
Medicaid needs reform, he added, and the best place for that to happen is in the hands of individual states.
"[The AHCA] allows states to better redesign the system to better meet the needs and focused care of those truly in need of support," Benefield said.
That means states would be forced to pick up a higher tab to keep Medicaid, which benefits senior citizens and children with disabilities. Under the Affordable Care Act, the federal government matched states' costs.
However, Pennsylvania is nearing a financial disaster, according to budget analysts. The commonwealth could face up to a $3 billion revenue deficit by the end of 2018, which is a major concern for the activists at ActionAgenda.org.
"They want to pass the buck to the states and our state is already in a revenue crisis," Fisher said.
Senator Toomey responded to the bill on Thursday, saying in a statement, "The draft bill unveiled in the Senate today strikes me as an important and constructive first step in repealing Obamacare and replacing it with a better, stable, consumer-driven health care system for all Pennsylvanians."
He added, "This measure does not pull the rug out from anyone currently covered by Obamacare, and keeps the Medicaid expansion covering able-bodied, working-age, childless adults, while asking the states to eventually contribute their fair share for this care. Further, this bill works to ensure Medicaid is sustainable for future generations by modestly reducing, seven and a half years from now, the rate at which federal spending on the program will grow."