YORK TOWNSHIP, PA — Harry and Adrienne Tassou from Olivia's Authentic Mediterranean Cuisine in Gettysburg stopped by the Fox43 Kitchen on Tuesday.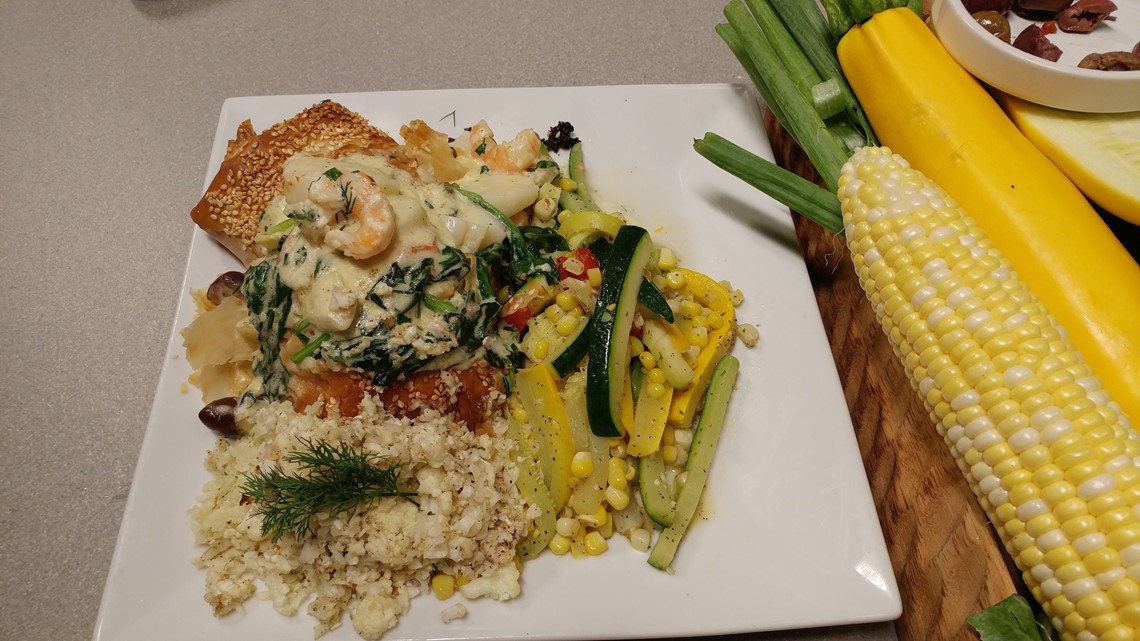 Seafood strudel:
Fresh salmon, tilapia, scallops, &  shrimp wrapped in phyllo pastry baked to a perfect golden brown.  Served w summer squash & corn all over cauliflower rice.
Ingredients:
1 lb box Phyllo #7
1 lb butter melted
CHEESE MIX
1 lb cream cheese - softened
1/2 cup fresh chopped dill
2 tbsp freshly pitted & chopped Greek Olives
1 tsp capers
2 tbsp feta crumbled
2 tsp chopped scallions
2 tbsp chopped fire roasted red peppers
1/2 tsp black pepper
1 tbsp chopped pepperoncinis
1 cup freshly chopped spinach
1/2 cup chopped artichoke hearts
Fold all ingredients into softened cream cheese until well incorporated
Sauce:
2 oz E.V.O.O.
2 oz Garlic butter
4 oz sea scallops
6oz USA shrimp
3 oz Ouzo
4 oz heavy cream
Lightly butter 1 sheet of phyllo dough at a time.  Layering a total of 6 sheets.  In the center, place 1 tbsp of cheese mix.  Then layer filet of salmon, filet of tilapia, then 1 tbsp cheese mix.  Fold in the sides and roll. Bake in preheated oven at 325*F for approx 20 mins or until lightly brown and flaky. Also probe fish to be sure it is 150*F.
Sauce:
In skillet put 2 oz E.V.O.O., & 2 oz garlic butter on med/high heat.  Add 4oz steamed sea scallops, 6oz USA shrimp (steamed & cleaned).  Sauté for 2 minutes.  Deglaze w ouzo.  Add heavy cream, bring to a boil approx 2 minutes.  Add Romano cheese. Stir in the remaining cheese mix.  Stir until hot (approx 2 mins)