YORK TOWNSHIP, PA — Harry and Adrienne Tassou from Olivia's Authentic Mediterranean Cuisine in Gettysburg stopped by the Fox43 Kitchen on Tuesday.
Jamaican seared Scallops & Salmon w Roasted Pineapple Pinã Colada Veggies served along w Red Beans & Rice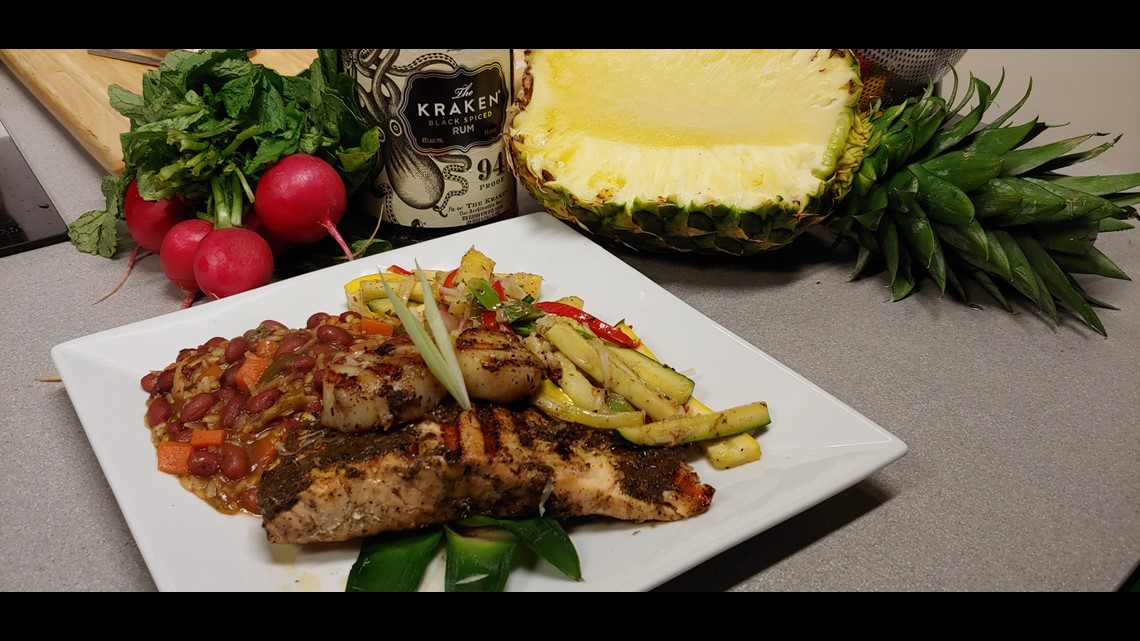 Jerk Marinade:
3 tbsp Garlic – fresh chopped
1 1/2 tbsp Jamaican Allspice
2 tbsp fresh Rosemary- minced
3 tbsp Soy sauce
2 Scotch Bonnet Peppers – chopped
3 tbsp Honey
1/2 cup scallions
2 tbsp fresh ginger
2 tbsp fresh thyme
2 cups Pineapple- minced
1 tbsp cinnamon
3 tbsp brown sugar
2oz Olive Oil
Mix all ingredients in a food processor. Refrigerate until ready for use.  Use as a delicious savory marinade and any meats or fish.
Pineapple Pinã Colada Veggies:
1 cup Green Zucchini
1 cup Squash - any color or kind
1 cup Assorted Peppers
1 cup Pineapple
1/2 cup Radishes
1/2 cup spring onions
Cut all veggies in julienned strips & sauté w garlic butter, then top w the Rum infused Coconut Sauce
Rum infused Coconut Sauce:
1 cup Pineapple Juice
1/2 cup cream of coconut (coco Lopez preferred)
1/2 cup shredded coconut
1 cup chopped pineapple
3 tbsp Brown Sugar
1 shot (2oz) Dark Rum
Cornstarch slurry:
1 tbsp corn starch
1 tbsp Pineapple juice
Stirred together
Combine Pineapple, Pineapple juice, & brown sugar in a saucepan.  Bring to a boil.  Add cream of coconut, shredded coconut, & rum.  Bring to a boil.  Add slurry & whisk well until sauce thickens, approx 2 minutes.  Pour over sautéed veggies.  Enjoy!