YORK TOWNSHIP, PA — Harry and Adrienne Tassou from Olivia's Authentic Mediterranean Cuisine in Gettysburg stopped by the Fox43 Kitchen on Tuesday.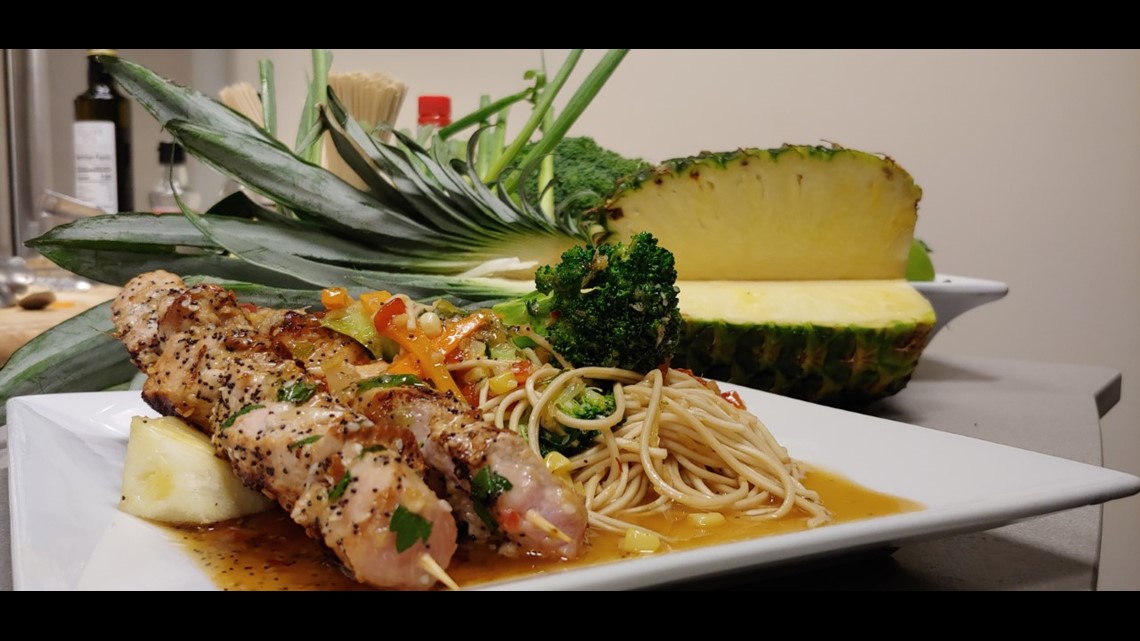 Fire grilled Sesame Pork Kabobs along w grilled pineapple and corn  served along w Teriyaki Lo-Mein Noodles and Broccoli
* Pork Kabobs – skewer, Marinade, & Fire grill* Pineapple & Corn – season lightly, Fire grill, then top w fresh cilantro & lime
* Lo-Mein Noodles – Boil, shock, stir fry along w scallions, Broccoli, & the Teriyaki Ginger Glaze
Teriyaki Ginger Sauce:
6oz fresh Ginger - cleaned & minced
2 cups water
1/2 tsp crushed red pepper
2 tbsp fire roasted red peppers (minced)
2 tbsp fresh garlic- minced
3 tbsp soy sauce
4 tbsp Brown Sugar
2 tbsp white sugar
4 cups Pineapple Juice
2 tbsp Oyster Sauce
2 limes - juiced
2 tbsp Cilantro - finely chopped
Corn starch slurry (equal parts of cornstarch to water)
Place all ingredients in pot.  On Med-high heat, bring to a boil.  Add slurry, simmer 4-5 minutes.  Enjoy!