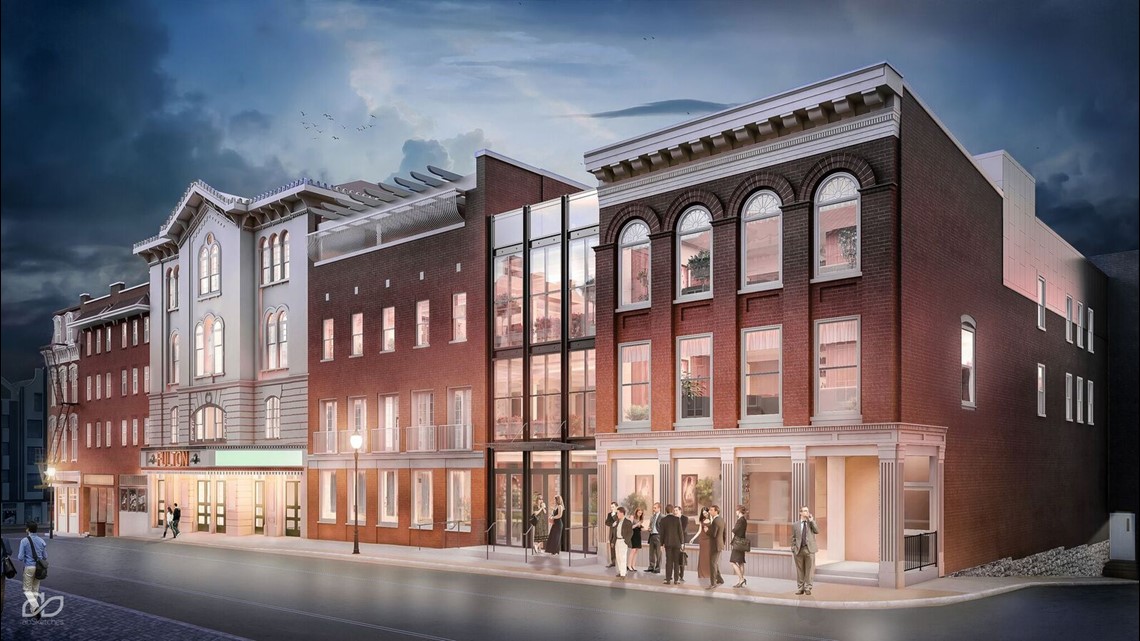 LANCASTER — The Fulton Theatre revealed plans Sunday for a $29 million project Sunday that will upgrade and expand the 166-year-old Lancaster landmark.
The expansion, which the theater dubbed its "Breakout Performance," already got underway with the updating of stage riggings and upgrades to lighting and sound in advance of the Fulton's premiere of "Treasure Island," organizers said in a press release.
Phase One of the expansion continues with a focus on the West King Street portion of the city block near the theater. Those plans include:
Plans to rebuild the historic storefronts on the 100 block of West King Street. The top three floors will provide on-site housing for visiting artists to the Fulton stage with newly renovated apartment spaces, while the first floor will support new retail opportunities.
Onsite actor housing will be expanded to 26 artist apartments, which include one-bedroom apartments, spacious star apartments and comfortable studio apartments. The Fulton's guest artists often stay at the theatre for six to twelve weeks to prepare and perform in productions.
The expansion will continue late next year, with a focus on the north side of the city block, the theater's announcement said. Plans for that portion of the construction include:
A sky-lit atrium lobby that will bridge the theatre's existing lobby and the Fulton's education building on Grant Street. The expanded space will allow up to 1,400 patrons to gather. New restrooms planned for the atrium lobby will provide 13 additional facilities. The Atrium Lobby Bar will be a centerpiece for gathering before, during, and after performances.
An intimate, private gathering are on the 2nd floor will feature a refreshment area, restroom, and a coat room to host the Fulton Theatre's Producer's Circle members as well as private parties for the community.
A performance and rehearsal studio that will allow the Fulton to rehearse full productions on-site. The space will feature sprung dance floors and mirrors, and will be two stories in height to accommodate all choreographic needs. The rehearsal and performance studio will be able to be transformed into a beautiful event space for both Fulton patrons and our community. The space will hold up to 200 people. The exterior of the new rehearsal space also creates an architectural element to Water Street and continues the beautification of Water Street through to the Ware Center.
The project concept was designed by Richard Levengood and RLA Associates with architect of record Tippets Weaver Architects, and will be constructed by Warfel Construction of East Petersberg, Lancaster County.
The Fulton Theatre said it will continue to operate on its normal schedule throughout construction and productions will not be interrupted.
The project in total will have a $29 million budget, which includes a $5 million endowment.
As of August 31, the Fulton said it had raised $21 million for the project.