LANCASTER COUNTY, Pa. — Lancaster County District Attorney Craig Stedman reiterated Wednesday his reasoning for a lawsuit against the Lancaster County Board of Commissioners.
The statement came after a LancasterOnline report which said that the county commissioners have spent almost $100,000 for legal defense.
"We want to clarify once again what this litigation is about: The board's public assertion that they are investigating this office, and have the authority to do so, for alleged misuse of funds and other matters," a portion of District Attorney Stedman's statement said.
The lawsuit followed the county commissioners' attempt to investigation District Attorney Stedman's use of drug forfeiture proceeds, which included the use of more than $21,000 in forfeiture funds to lease a Toyota Highlander for his own, work-related use.
District Attorney Stedman also claimed that the board's allegations are without supporting face and they're being made to sway public opinion of his office. You can read the full statement here.
Also Wednesday, the county commissioners issued a Media Alert in which they claim the district attorney recently told the Chiefs of Police Association that he would have to begin winding down the Lancaster County Drug Task Force due to lack of funding.
Read the county commissioners Media Alert below: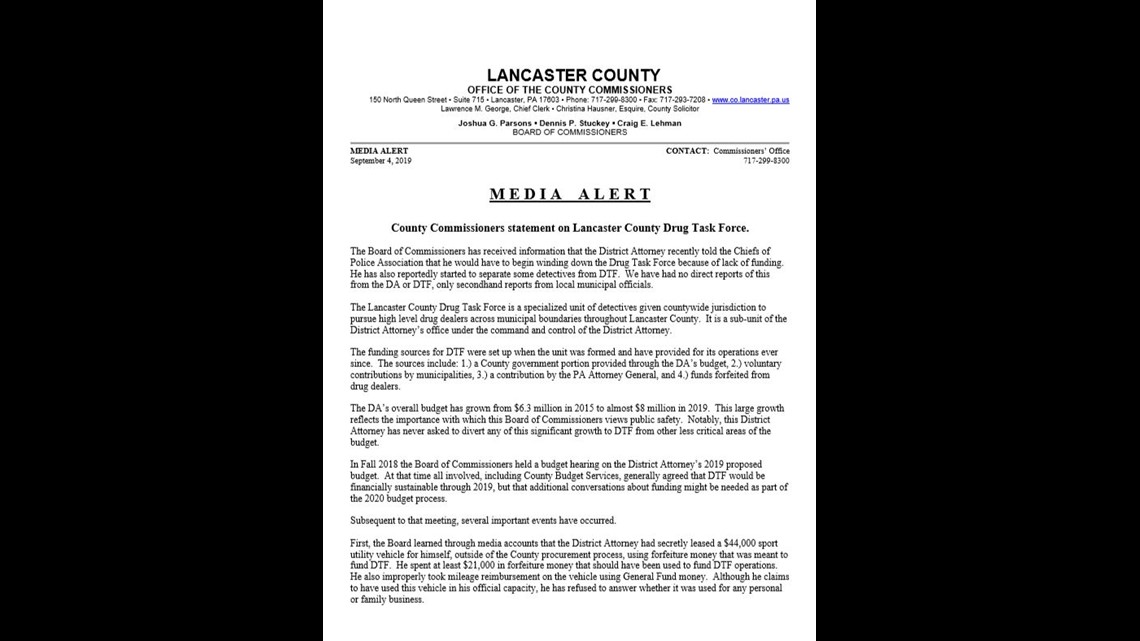 In response, the District Attorney's Office issued the following statement:
This "media alert" is vitriol under county letterhead and a disingenuous attempt from the BOC to distract from their longstanding failure to address the dysfunctional funding model for the DTF. The BOC has been well aware of the problem for years, because of studies by their own Budget Services performed at the request of this office and because we have told them over and over.

However, rather than seeking solutions for the good of the county, the BOC seem more interested in false rhetoric – and that is a grave disservice to the public we all serve. This county needs action, not insults, and only the BOC can change the flawed funding mechanisms. They have simply failed to address the issue – which will not be resolved until they do – and not only will residents pay, some with their lives, but predator drug dealers will benefit.

Regarding the BOC's specific statements: If they had bothered to inquire, as a responsible public servant would, rather than rely on "secondhand" information, we would have told them:

We are not 'winding down' or dissolving the Drug Task Force. The Task Force as it stands consists of 11 full-time officers, most of which are loaned from municipal departments. This is a lower number than we would like, considering the ongoing opioid crisis, but not atypical.

We receive almost no net funding from the county and the other funding streams are voluntary, unreliable and set at a rate established 30 years ago, the revenues we can use for salaries continue to be lower than expenses year after year. As salaries increased (exactly as predicted by Budget Services in two studies done in 2013 and 2018) we recently had to scale back and reassign four officers to their home departments.

DTF is funded:

– Largely by contributions from voluntary municipalities (about $350-$470K per year) set at a rate of $1 per capita, a model arranged by the BOC 30 years ago with those funds exclusively designated for salaries.

– Drug forfeitures (which varies year to year)

– Pa Attorney General contribution (about $195K a year, but also variable)

The County of Lancaster only pays about $100K net a year to fund the Task Force.

The DTF budget is about $1.4 million – almost all of which, about $1.3 million of that is from officer salaries and benefits. Municipal contributions go toward salaries, but that leaves a huge gap to be made up for.

As you can see, the funding model for the Task Force is flawed in that it is not stable and depends largely on forfeitures (which vary greatly year to year).

For over a decade, DA Stedman has pushed this issue and has repeatedly asked the BOC to address it The DA asked Budget Services to conduct the studies in 2013 and 2018 and both studies concluded the DTF would have to scale back in 2019 and possibly go under in 2020. The BOC has had these studies. (I have attached a chart from the Budget Services study which predicted the impending funding crisis.)

This reassignment of officers is not due to mismanagement – as the BOC irresponsibly and inaccurately asserts. If anything, the DTF has made remarkable accomplishments given the financial issues: we lead the nation in arrests for drug delivery resulting in death.

Had the BOC been interested in the facts they would have discovered that all five vehicles purchased this year were funded by federal forfeiture funds. Those funds can only be used for operational costs and cannot be used toward officer salaries. Not one cent used for these vehicles could make any difference to the crisis, or have helped prevent the reassignment of officers.

In addition, the BOC failed to point out that they approved the purchase of these vehicle and signed the checks without requiring a procurement process – which is how every such purchase has been made for 30 years. Yet, the BOC continues to claim the Highlander was leased improperly outside of procurement – despite the fact that no purchase with forfeiture funds over the past 30 years have ever gone through a procurement process.

Additionally, several Pa. district attorneys drive forfeiture-funded vehicles; some drive taxpayer-funded vehicles. The approximate $6K per year expenditure for the lease is a micro fraction of the DTF operating budget and nothing to do with the salary crisis.

Instead of supporting the DTF, the BOC suggests this office make additional cuts to solve the problem.  The suggestion is deeply troubling.  Should we cut the Computer Forensic Unit which goes after child predators? Should we cut the Sexual Assault Unit? We challenge them to publically declare what exactly they do not want to prosecute as part of their "support for public safety".

They then suggest we cut the "non-essential DA office functions" of our Outreach Coordinator and Public Relations Specialist. Cutting these positions would not solve the financial crisis. Additionally, their work has made this office a leader in outreach, prevention, and education – which is a far better investment in the community and has made this county safer.

Their work includes overseeing School Resource Officers and Youth Aid Panels in the county, coordinating a Truancy Diversion program for students and their families, publicizing topics and happenings of public interest and safety – such as a spike in overdose incidents and distribution of pure fentanyl pills that are manufactured to appear as prescription medication. Over 200 residents are registered to attend an upcoming SRO/community training on reducing violence/armed assailant incidents – a training organized by these "non-essential" employees.

Eliminating these position would make this county less safe and do almost nothing to sustain the DTF long-term.

We all hope the BOC remains engaged and focused on the well-being and safety of residents, and not just concocting diatribe to further personal vendetta. We all hope the BOC is aware of the major employee shortage at the Youth Intervention Center, for example. Now that seems an appropriate "media alert" – as opposed to a pointless rant based on, as even they admit, "secondhand reports."

(I have attached the Budget Services study chart, a letter DA Stedman sent to all municipal leaders in November 2018, and a memo DA Stedman submitted with his budget documents last summer.)