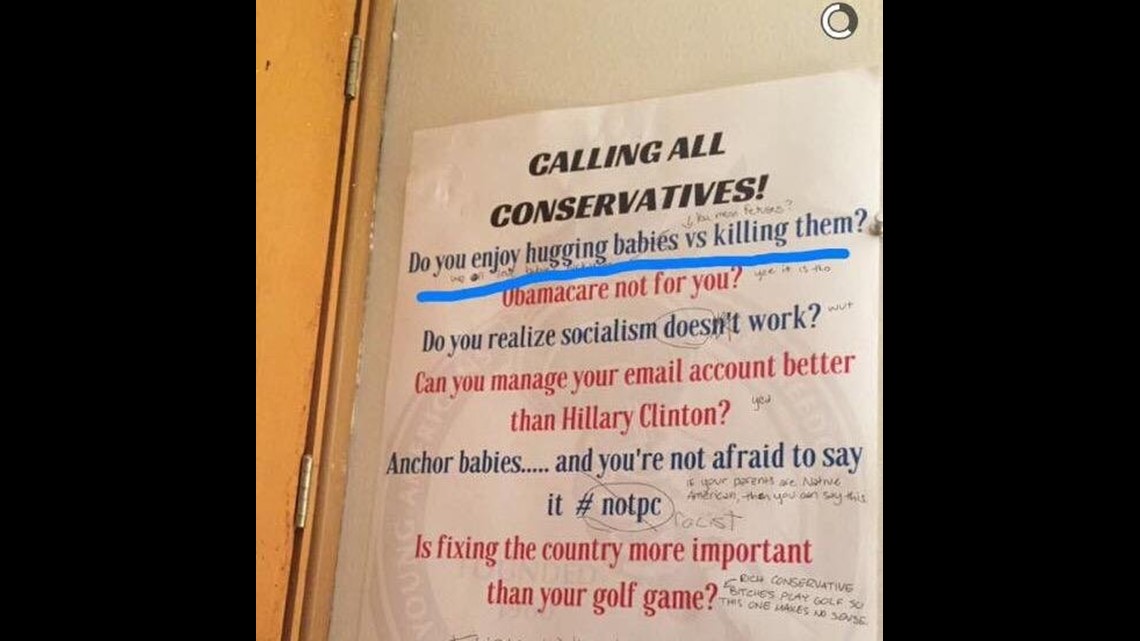 Gettysburg, Pa. - As the presidential field slowly narrows, political rhetoric is heating up and causing controversy. But at Gettysburg College, some students say it's too much for their campus.
A conservative student group, Young Americans for Freedom, says their flyers are being defaced with obscenities, and taken down for being offensive, although they parrot ideas being aired on the national stage. Messages written last week in chalk on campus sidewalks have also been erased.
"It felt like our presence wasn't welcome on campus," says the group's president, junior Will Stechschulte. "It's a blatant infringement on our freedom of speech by erasing our messages and literally washing away our ideas, and silencing us."
The flyer, titled "Calling All Conservatives," poses questions including "Do you enjoy hugging babies vs. killing them?" It also references "anchor babies," a term used by Donald Trump referencing illegal immigrants who have children in the U.S.
The group says the flyers are meant to provoke debate on a primarily liberal campus, but they didn't know how far the backlash would go. Vice President Alissa Lopez says she's seen personal attacks online.
"Being part of a club that's so controversial, it's going to happen," says Lopez. "And all I have to do is put on a brave face, walk out my door every day and say you're not affecting me, I believe what I believe and I'm not sorry that I believe in it."
Sophomore Julia Palmucci says she reported the flyers to the school because of the reference to killing babies. She says she believes the group meant them to incite controversy, not foster debate.
"It seemed very insensitive and that's very triggering, you need to think of your audience in this case," says Palmucci. "You have a lot of young college students, a lot of young women here who have been affected in some way by abortion, by the pro-choice movement, and to so casually throw that term out it could be incredibly triggering for someone."
Opponents say the group needs to be more respectful in their language.
"We weren't offended by the fact that our viewpoints were being challenged, we were offended by the fact that it was being done in a very inflammatory way," says junior Davis Healy.
The university's dean Julie Ramsey wrote a letter to students in response to the removal of the flyers. It says in part:
"I'm aware that the viewpoint conveyed by a group on campus, Young Americans for Freedom (YAF), is causing some students to feel personally offended, attacked, and perhaps even unsafe. The topics addressed and the language being used here are very similar to what we read and hear about in the national news daily.
Because we are a close knit community, it is particularly difficult when this national debate is replicated on our campus. But we have to acknowledge that we are not isolated from these national debates on our campus. In fact, I expect we will hear more about these issues in the next year as part of the ongoing presidential election process."
The group says they look forward to more open discussions on campus in the future.
"We want to create an open dialogue and really get people to talk about the issues our nation is facing," Stechschulte says.