KEEP THE GLOVES, HATS AND JACKETS HANDY!
A brisk night is ahead and the colder air will stay around for Thursday. Winds will not help matters as they gusts 25 to 30mph making it feel quite cold. Skies will gradually clear overnight allowing lows to drop into the 20s.
We'll see more sunshine for Thursday but temperatures will struggle to warm through the 30s.  The winds will continue to gust all day.  They will eventually ease up Thursday night.  With clear skies and calmer conditions, temps will plummet into the low to mid 20s.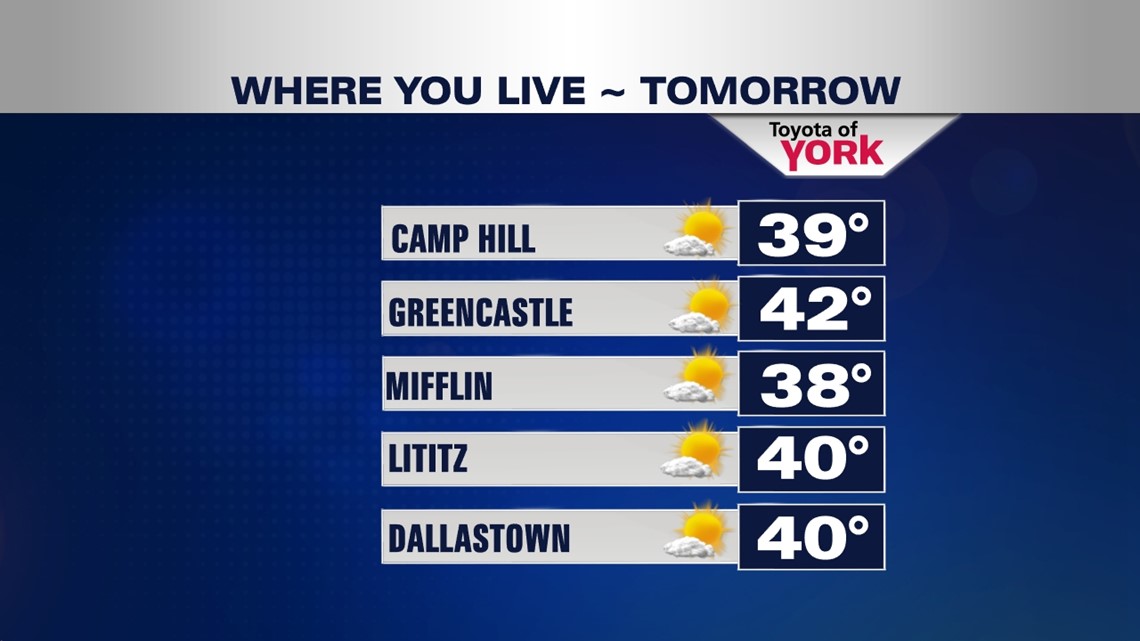 We start with plenty of sunshine for Friday but the clouds will roll in by the afternoon as the next system approaches from the west. Highs will warm into the mid and upper 40s.  Showers arrive overnight into Saturday morning.
Showers will be scattered on Saturday so keep the umbrella handy! Highs in the mid 40s, will be held down a bit because of the clouds and showers.

Most of St. Patrick's Day will be dry until late evening when rain or snow showers may move in as the next disturbance quickly moves in.  Highs will continue to run below average in the low 40s.
Cloudy with rain or snow showers as a stronger disturbance passes by us.  Highs will hover around 40.  Rain or snow will still be likely overnight into early Tuesday before moving out of the area.  Much quieter but remaining colder than average in the low to mid 40s both Tuesday and Wednesday.
MaryEllen Pann, Chief Meteorologist
Like me on Facebook: maryellenpannfox43
Follow me on Twitter:  @MaryEllenFox43