CHILL SETTLES IN:  The pocket of upper level cold air is settling in today, with the coldest air expected on Thursday.  With some energy aloft spiraling in during the day, expect a cooler and cloudy day with the chance for some showers from midday into the early afternoon.  The showers will be mainly rain, but some snow may mix in for a few.  We're not expecting any accumulations though.  Highs today will top out in the middle and upper 40s with a stiff west-northwesterly breeze.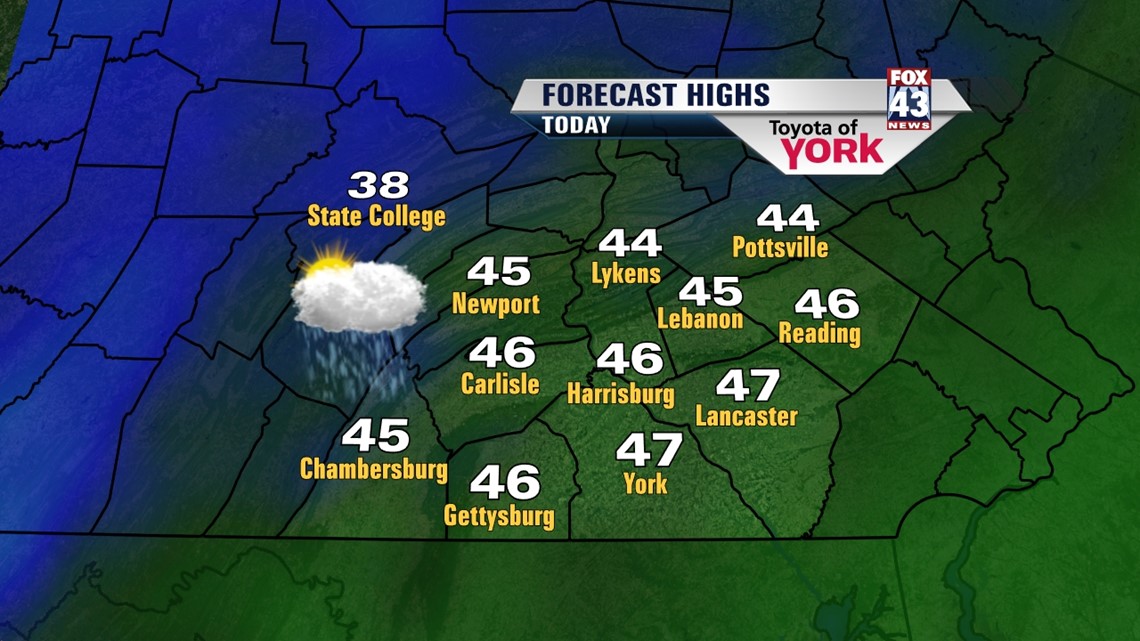 The clouds stay for the most part overnight as temps dip into the upper 20s under a cold wind.  We're even colder on Thursday, despite high pressure building in and sunshine returning.  Highs will struggle to get into the low 40s, with the northwesterly breeze sticking with us.
By Friday, we're starting to warm again as some milder air nudges a bit north.  We'll see some more clouds arrive as well.  Highs should top out in the upper 40s during an otherwise dry day.  The winds finally relax.
ACTIVE PATTERN:  The jet stream levels out or becomes what we call zonal for the weekend.  This allows more waves of energy to ride along it faster, which in turn brings us more storm systems.  However, the trade off is that these are usually weaker systems, despite the increase in number.
So Friday night into early Saturday, we'll see a clipper slip through, bringing the chance for rain with a few flakes mixed in.  For now, we think most of it shuts off right about when the parades start, but it will be a bit wet.  Temps will be in the upper 40s for highs.
Now the models disagree on the timing of the next few waves.  We'll keep a slight chance for a shower in on Sunday as a storm system slips by very near or south of us.  Highs stay in the upper 40s.
Monday is tricky too, depending on how Sunday's system plays out.  We may see some additional showers during the day.  However, models agree that Monday night into Tuesday, the jet stream takes a dip and a stronger storm system will move through.  Right now, we're on the warm side.  So we'll likely see some rain Monday night into early Tuesday, potentially tapering as some snow showers Tuesday.  Still lots of questions here, so we'll watch it closely.
HISTORICAL NOTE:  Twenty years ago today, we were amidst the Blizzard of 1993.  The snow storm brought a foot of snow too much of our area, with some spots seeing over 20".  Snow from the blizzard fell as far south as Alabama and Mississippi, spawning tornadoes in Florida, and shutting down many major cities along the east coast.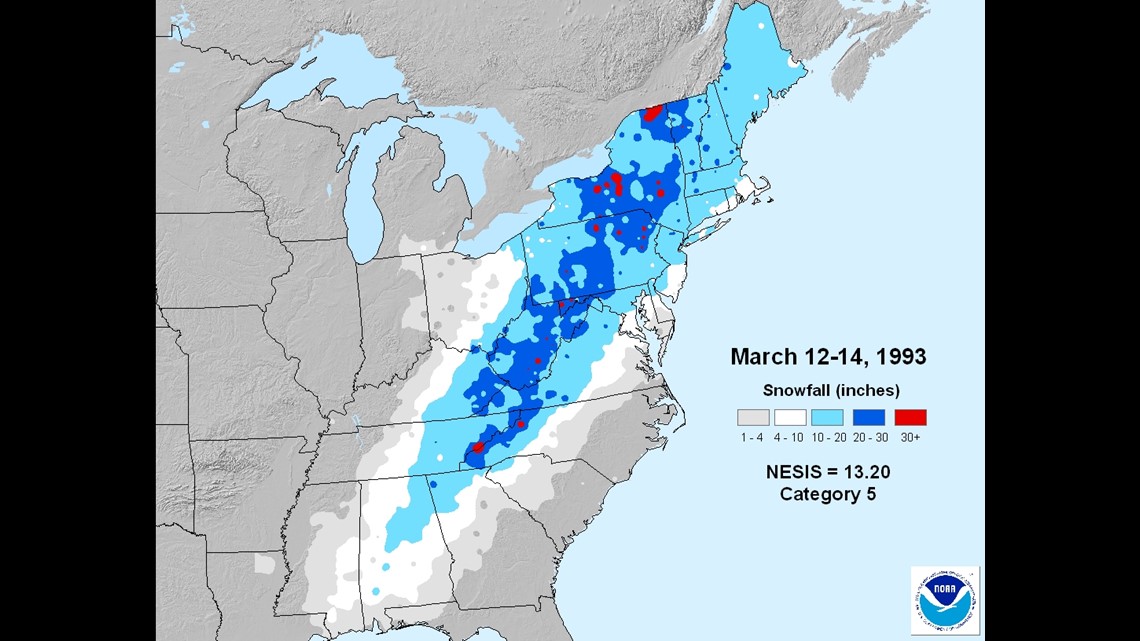 Have a wonderful Wednesday!