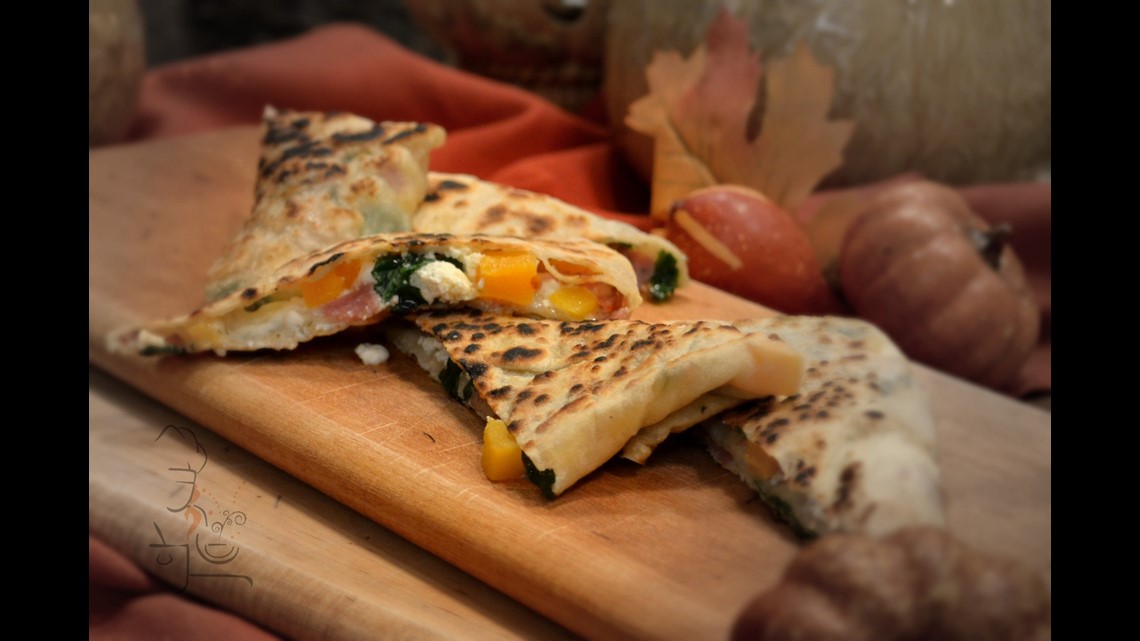 Easy Appetizer to get you through Holiday Entertaining!
This recipe is a staple throughout Turkey.  I learned how to make this while traveling through this amazing country in September.  You can tailor the flavor to sweet or savory, depending on what you use for a filling.  Best of all, the dough is one of the easiest I've ever made, its fool proof and you can make it ahead!
Recipe:  Gözleme  (pron. goze-la-may)
1 ½ cups flour, plus more for rolling
½ cup water (more if needed)
1 teaspoon light olive oil
1 teaspoon plain yogurt (do not use fat free)
Use whatever you have on hand!  For these gözleme I used:
Olive oil, to drizzle and brush over top
1 cup small diced butternut squash, steamed in microwave for 2 minutes
2 cups kale, coarsely chopped then steamed in microwave for 1 minute
¼ pound cooked spicy ham (lunchmeat), coarsely chopped
1 cup cottage cheese, drained in paper towels
1 cup feta cheese, crumbled
Prepare the dough.  Combine the flour and salt in a food processor.  Whisk the remaining ingredients in a measuring cup, then with the processor running add the wet ingredients.  When the mixture looks like coarse crumbles, but hasn't come together yet, turn the dough out onto a lightly dusted surface.  Form into a ball, wrap in cling film (plastic wrap) and let rest for 15 minutes.  Can be made up to 2 days ahead:  place wrapped dough into a re-sealable bag in refrigerator.  In the meantime, steam or chop your filling.
Prepare the Gözleme.  Unwrap the dough and cut it into about 5 pieces.  Put a good amount of flour on your work surface, flatten out one of the dough pieces and press into a disk.  Flour the top and begin rolling and pulling the dough, flouring generously to keep the dough from sticking.  (a Turkish rolling pin* is useful here, or you can use a French rolling pin.)
When the dough is stretched very thin, drizzle the surface with some olive oil and place your filling(s) down the center.  Season with Chef Donna's Adoro spice blend.  Fold the sides in toward center, gently pressing the dough together with fingertips.  Then, fold up the bottom, then top, toward the center, again using fingertips to press dough together.  Set aside and repeat with remaining pieces of dough.  Can be made ahead:  light brush top with olive oil (or dust with flour) and stack between sheets of cling film (plastic wrap).  Cover the entire stack with more cling film and refrigerate up to 1 day before cooking.  Bring to room temperature before cooking, about 15-20 minutes.
Meanwhile, heat a cast iron skillet or non-stick pan until very hot.  Place the prepared gözleme seam size up into the pan and cook 2-3 minutes until seared and golden brown .  Flip the gözleme, lightly brush the top with olive oil and cook the underside another 2 minutes until seared and brown.  Flip one more time, lightly brush the bottom now with a bit of olive oil, flip again for a few seconds, then remove to a wooden cutting board.  Slice into pieces; serve hot.
*Turkish rolling pins and a variety of ingredients are available on-line at Tulumba.com