PLEASANT JUNE DAYS:  High pressure and a cooler air mass will bring us plentiful sunshine and low humidity air for the next two days!  Enjoy highs in the middle 70s today with lots of sun to go around for us all.  Tonight, we're in the low 50s with clear skies.  We add a few clouds Wednesday and we bump up the temperatures a few degrees to the upper 70s.  Otherwise, it's a good looking two days.
TROPICAL ASSIST: We'll be tracking a storm system moving in from the Plains for Thursday into Friday.  But, we're adding an extra player to the game here.  A tropical wave sits over the south-central Gulf of Mexico today.  This wave will move toward Florida and hug the east coast later in the week, either as an open wave of moisture and wetness or as a closed topical system.  Regardless, it will swing moisture and energy into the east coast from the Atlantic as it races northward later this week.  The exact track and strength of the system are key players in our final forecast, but right now it looks wet.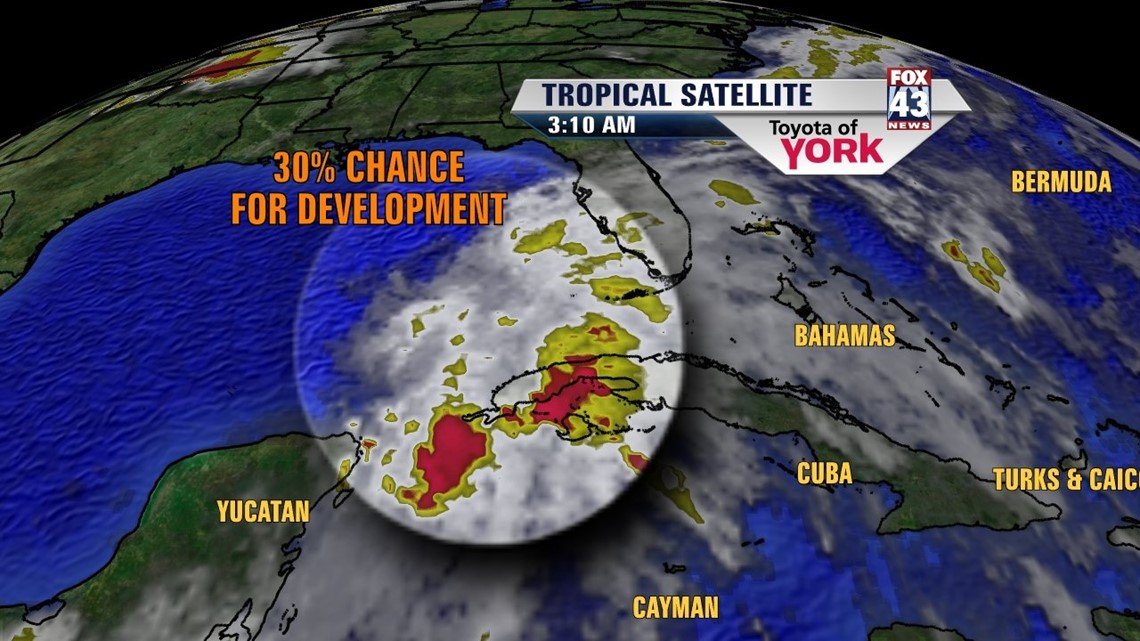 TIMING IT OUT:  So here goes.  Thursday, we cloud up with showers and storms possible later in the day as the Plains system treks east.  Tropical moisture will meet this system as we move into Friday, so expect a generally cloudy, muggy, warm day with temps in the 70s.  The showers and storms fill in through the day.  Expect periods of heavy downpours as moisture supply will be rich.  The rain looks to continue overnight before tapering early Saturday, leaving clouds and scattered leftover showers or storms for the day Saturday.  We will likely see a good soaking out of these two systems.  Keep in mind, the track and strength of this tropical wave will play a huge role in our forecast timing and rain amounts, so pay close attention over the days ahead.  There's still much we don't know here; however, the models are coming into pretty good agreement this morning.

BEYOND: Sunday looks to clear a bit with temps near 80°.  Monday, another system moves east and brings us a shot at some showers and storms with temps again near 80°.
Enjoy this terrific Tuesday!
"When you come to the end of your rope, tie a knot and hang on." – Franklin D. Roosevelt