The foundation, named for Brianna Dorgan, aims to prevent suicide and bullying.
Brianna passed away by suicide in December of 2020
"Let people know it's ok to not be ok," yelled Matt Dorgan, Brianna's father and the founder of Building Bridges for Brianna, during a pregame speech.
Standing around the pitcher's circle both Dallastown and Southwestern softball teams listened intently.
"Keep fighting I believe in you, you are a star. Just remember that. Keep fighting, through all your battles, you are worth it and you are not alone," Dorgan continued.
This is all possible as the Wildcats softball made a choice to honor Brianna with their annual fundraiser game. They raised $400, a large gesture to an even bigger cause.
"We ended up as a team deciding we should do Building Bridges for Brianna," says Dallastown senior shortstop Alexi Dowell. "As a current senior myself, I knew Brianna. I just knew that we should. It was a good idea to fundraise and spread awareness for mental health."
Pregame, each player was given a coin to remember that motto to keep fighting, by opening up and talking.
"We're breaking the silence, we're breaking the stigma around mental health," said Dorgan. "Three, four years ago, nobody really wanted to talk about it. Now we have 20 young girls, two different teams, picking mental health [which] means a lot, you know means we're actually we're getting the word out and people are willing to start talking about it again."
That is what Building Bridges for Brianna strives to achieve. Following Briana's suicide, the strides made since that cold winter, are displayed on the field. The teams wear bracelets in the dugout and have ribbons tied in their hair.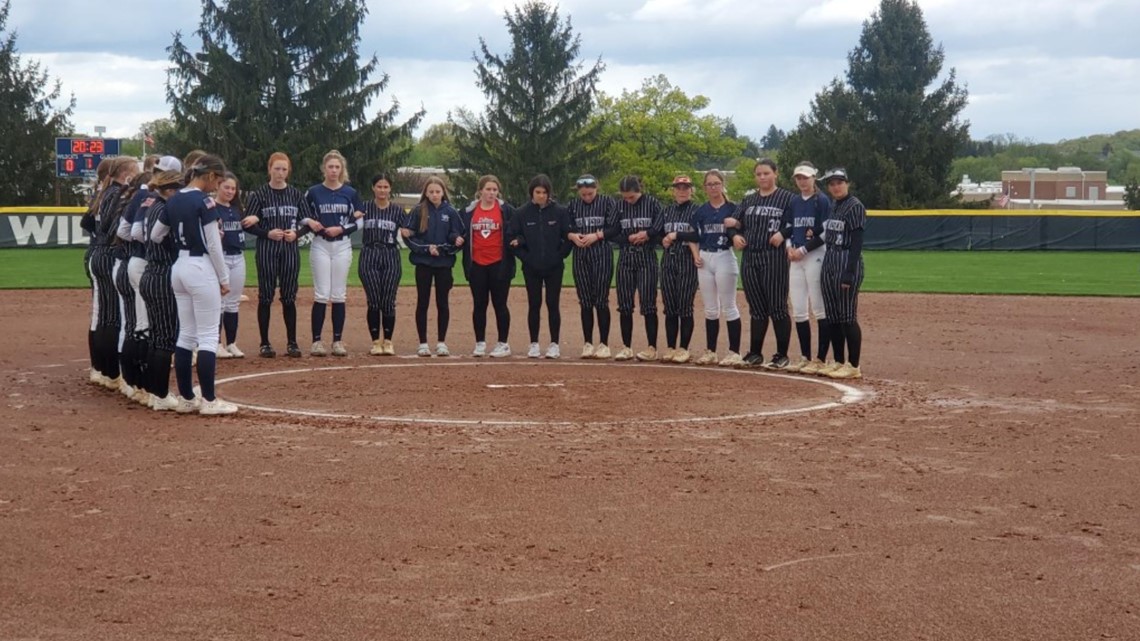 Small signs with a big message, that Brianna's memory inspires others to find the change they need.
"It's important because a lot of people have mental health [issues], says Dowell. "It's a big problem in society, and so today, we're hoping to spread their awareness to not have anything happen like that."
Off to the side, a father wonders about what could have been, yet admires the present.
"You know, she probably would have been on the team," Dorgan reminisced.
"It kind of brings it full circle. Now we're actually still living her honor because she wanted to be a therapist. But I guarantee we just helped 20 some girls to really understand that it's okay to talk about mental health," he continued.
That is a result that cannot be measured on a scoreboard.
Next up for "Building Bridges for Brianna is a mental health awareness night at the York Revolution game on May 12.