UPPER MARLBORO, Md. — Black Golfers' Weekend is all about introducing minorities to the game of golf and ultimately ensuring they have a seat at the table too. This is the second annual event and will take place at the Lake Presidential Golf Club in Upper Marlboro.
This year, the event will be hosted by Master Gee from The Sugarhill Gang and celebrate 50 years of hip hop. WUSA9 spoke with Master Gee and one of the event's co-founders, Amy Williams, to discuss the importance in increasing minority participation in the game of golf.
WUSA9 also spoke to golf professionals about the impact the game can have on children, especially minority children.
"Values taught in golf translate directly into life… honesty, integrity, responsibility, the perseverance, the sportsmanship...it expands outside the world of golf," said Elvie Soeparpto, the junior golf director at Paint Branch Golf Complex.
Ten-year-old Manny Jennings has won first place in two different golf tournaments. He started playing at just 3-years-old after his dad introduced him to the game.
"To build their confidence, self esteem and to let them know that you can do anything that you put your mind to," Jennings' dad said.
Christian Moten is only 8-years-old but already a junior pro on the course. He placed third in national championships and fifth in world.
"I would watch the pros a lot when I was younger and I would try to copy their swing," said Moten.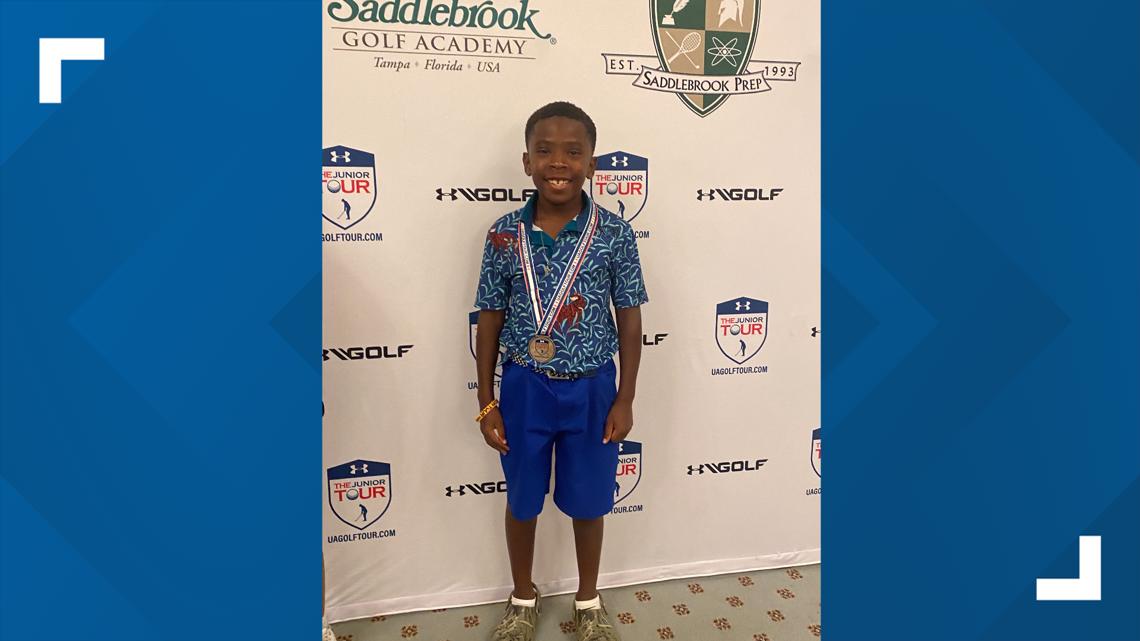 Moten said he would love to see more kids that look like him out on the golf course.
According to the National Golf Foundation there were 5.5 million on-course golfers that identified as Asian, Black, and Hispanic in 2022, but that's only 22% of the overall participant pool.
Christian's parents, Ericka and Ralph Moten, recently launched "Fore the Culture." It's an initiative to introduce golf to young kids of color. The couple says even if they don't go pro, or get scholarships for school it can help prepare them for the workforce.
"We saw the need we saw often it was just Christian out there the only Black boy playing amongst his peers so it was important to us to try to diversify the game of golf," said Ericka Moten. "It's making Black and brown children feel comfortable coming to golf courses playing and learning and taking lessons in order to prepare them for the corporate world."
Head golf coach at Howard University, Sam Puryear, agrees.
"We should expose all of our young people, Black and brown, to the game of golf and not get upset if they choose not to do it for a career or a living – you have to expose them," Puryear said. "Golf can play and probably will play an integral part in their development. And a lot of the deals will be done on the golf course."
So why is it that more kids of color aren't playing the game? Access is one reason.
"You got to find a golf course or driving range and not everyone is going to be able to have access to a country club," said Ralph Moten.
Will Martindale is the manager of the Paint Branch Golf Complex. It's owned by Prince George's County Department of Parks Recreation. He said this facility provides access to more than a 1,000 kids county wide, and nearly 90% are from a minority background.
"We take pride in being the most affordable facility inside the beltway," Martindale said. "We really provide really good access to juniors also seniors on a budget and we really try to be a home to all levels of golfers all economic backgrounds."
If you would like to attend any Black Golfers' Weekend events, click here.