YORK, Pa. — Picture this: you're in a comfortable beach chair and watching the waves crash on the shore. What makes this moment even sweeter is knowing you didn't drain your bank account to take that trip...or did you?
"Sadly companies already overcharge us whenever they can, whenever they can legally," said Gerald Kasulis, the Vice President of Business & Channel Operations North America at Nord Security.
Kasulis ran a little travel experiment. He looked at a variety of international trips using his actual location based in the United States.
Then he looked for the very same trips but used a Virtual Private Network, or VPN, based in another country. He found that, oftentimes, he got a much better deal using a location outside of the US.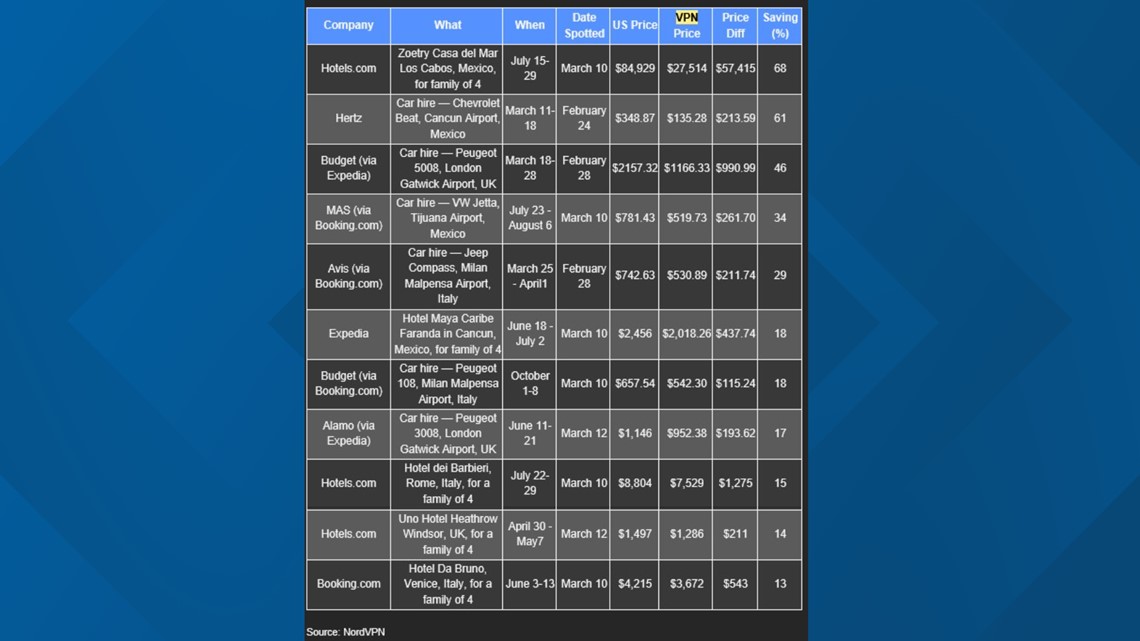 "You might be over-quoted, so you would be paying more than your counterparts buying the flights out of Europe," said Kasulis.
FOX43 Finds Out tried it for ourselves.
I downloaded a VPN app on my phone and used a VPN based in Mexico.
Then I searched for the exact same trip, at the exact same time in Cabo San Lucas on my laptop, which has an IP address based in the US, and on my phone using the Mexico VPN.
For the exact same room, on the exact same days, the prices were drastically different: $3,759 using my US-based laptop and 52,650 pesos using the VPN in Mexico which converts to $2979.36 US dollars.
That's more than a $700 dollar difference.
To make sure it wasn't a fluke, we tried the travel site Agoda and this time used a VPN in Canada. While the savings weren't as drastic - there was still a significant difference in price. This time just using the Canadian VPN would have saved us more than $300.
We also did the same test using the actual hotel websites, not a third-party site, and there was no difference in price. This also didn't work if you are booking any travel within the US. Of course, this "hack" doesn't always work either. You'll have to search and try different VPN locations if you have a certain destination or hotel in mind. Kasulis also said this could work for flights and rental cars as well.
Expedia Group and Booking Holdings own most of those third-party booking sites, like hotels.com, Travelocity, Orbitz, Agoda, Priceline, and Kayak. We reached out to those companies several times to ask if there was any explanation for the price difference - and we never got a response.
Kasulis believes it's because these companies know Americans are willing to pay more for international trips, saying, "Those travel companies, they just charge by your geographical location and ultimately Americans, they overpay."
Using a VPN based in another country is perfectly legal. Kasulis also suggests that before you search for any type of trip, wipe your cookies and browsing history. That way it's harder for any website to track who you are, where you are, and what you search. Which in this case could save you money.