When is the best time to buy a new tv?
Is it Black Friday? The Super Bowl? Or just some random day throughout the year?
And how can you be sure you're getting the best deal?
Whether shopping online or in a store, people in the market for a new TV have a lot of options to choose from.
"The top-notch TV right now is 4K and it gives you probably the best picture that you want," said Steven Myers, the Walmart Store Manager in East York.
Experts say there are three times of the year when people can shop around to get the best deal on a new big screen.
We know those doorbusters on Black Friday usually include some sort of TV deal.
That is usually what's known as a loss leader.
David Hagenbuch, a Professor of Marketing at Messiah College said, "Retailers want to get you in there for a lot of different things. If they make money, great. If they make a little bit of money or maybe even no money on it that's fine because you're likely to buy other things at the same time."
If crowds aren't your thing, keep in mind that springtime is usually another time you'll see deals.
Think right around tax time.
"That's the time frame that retailers are looking to try to clear out their older models before the newer models come in," said the professor.
Now is the time experts say you'll start to see prices drop.
Hagenbuch said, "Usually two weeks ahead is a time frame that people are buying those."
"Some of those will come down the Super Bowl and they usually keep that price for about 6 weeks on rollbacks," said Myers.
FOX43 finds out started keeping track of some tv prices at the beginning of January to see just how much prices dropped.
We tracked two different TVs: a Samsung model and a LG.
On January 6th, this 75 inch tv was listed on Samsung and best buy for $899.99.
On Walmart's website and Amazon, you can find it for 2 bucks less.
Fast forward to January 20th, the prices for all of them stayed the same.
Although Samsung is now advertising it as a "TV deals touchdown" it's the same price as three weeks ago.
Even though experts say now is one of the best times to buy a new tv, the price for this particular model has been lower, at least on one site.
camel, camel, camel tracks amazon listings, so you can track price trends to see if you're actually saving money or just falling for a marketing tactic.
According to that website, the lowest price for this TV was for $747.99, and it hasn't been that price since December.
That's more than $150 dollars less than it is right now.
It has gone up and down ever since.
Back on January 6th, LG and Best Buy were selling the 65 inch TV for the same price $549.99
Walmart listed it online for 3 dollars less and Target  was selling it for $899.99
All of those prices have now dropped.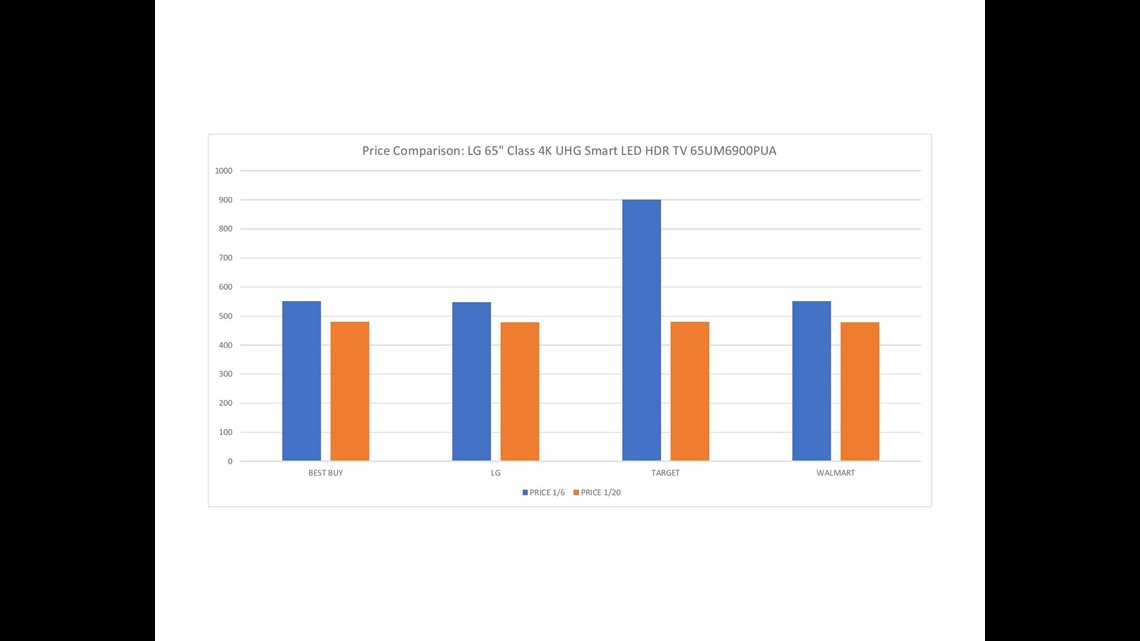 With now that 65 in tv is listed for $479.99 at every retailer but Walmart, which again is selling it for 3 dollars less.
Sure, if you bought that TV from Target, you might feel good about saving almost 50%.
However, it's not always about what you save, it's about the quality of what you're taking home.
Hagenbuch said, "If in 6 or 18 months, whatever later, the set is no longer working, you're going to forget if you got a good deal on it or save 20-30 dollars."
Besides tracking websites to see when you can get the best price, you can save money at checkout.
Here's a piece of advice from experts, don't get the warranty from the retailer.
Instead, you want a good manufacturer's warranty.
"Make sure the manufacturer feels good enough about its set that it's not just putting a 90 warranty on it," said Hagenbuch.
You can probably find those HDMI cables or other accessories cheaper somewhere else.
"Always shop around no matter what you're buying, but particularly for accessories like that."
Professor Hagenbuch wrote a blog post about his thoughts on buying a Buying a New TV.
Here's a TV he says still works from 25 years ago!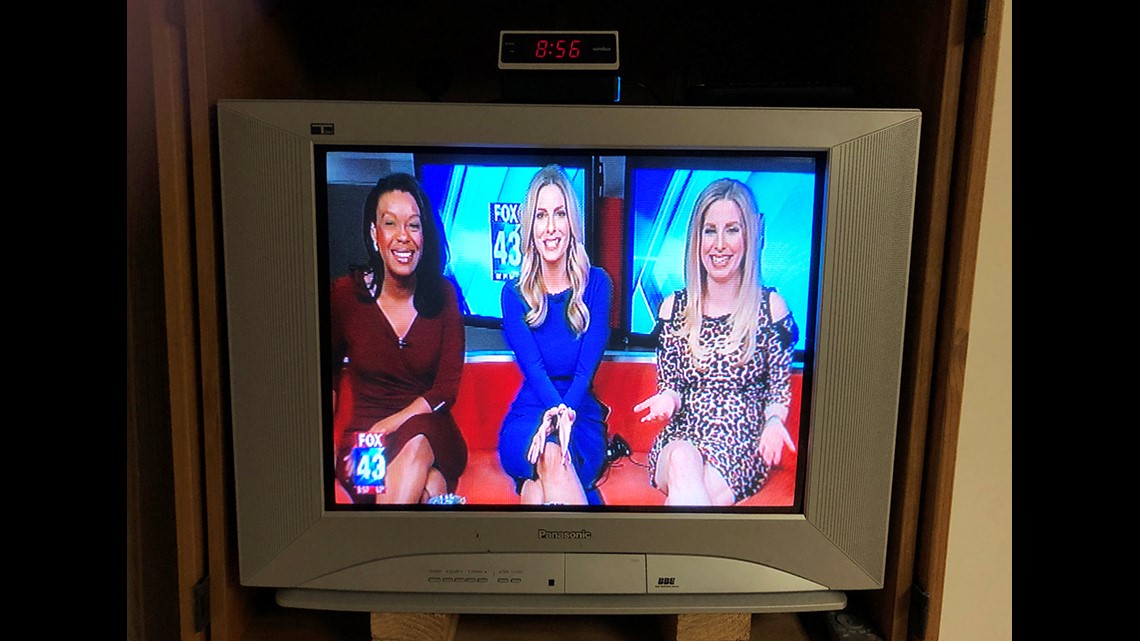 While this may not be the most ethical thing, people do buy TVs for Super Bowl parties and then return them shortly after.
That's probably not the best idea since some stores do have restocking fees on things like TVs.
You can also rent a television, there are plenty of rent-to-own retailers.
Just remember that over time, you'll pay more than what that TV is worth and if you only want to rent it for the big game, there is usually a 2-week minimum rental on electronics.
If you have a consumer issue you want Jackie to look into, FOX43 wants to find out! Let her know by sending a message on Facebook or email FOX43FindsOut@FOX43.com.