YORK, Pa. — There's just three days left to enjoy York City Burger Week!
The restaurant decided to turn the special occasion into a competition, owner Jessica Ayala said. The eight chefs each made and named their own burger. It could be made of any protein, but it had to be creative, different and show their individual style.
"It's been really fun, and it's been really fun to see all of the different chefs that we have there, all of their different interpretations," Connor Green, chef, said. "It really feels like an around the world with burgers, so to speak."
Green created a Banh Mi burger, modeled after the traditional Vietnamese cuisine. It has soy sauce and sesame oil mixed in with the ground beef to make the patty extra juicy and is served on a bun with Asian slaw and hoisin ketchup.
"I love making Asian-inspired stuff; it's my favorite flavor profile," Green said. "I was immediately like 'yes, I wanna do that.'"
Chef Dave Whaley took a different approach, creating the Spicy Dicken.
"...my sausage-making background made me think, 'what can I grind up and make different?' so I ground chicken with duck fat and then incorporated a couple other flavors, and to make it spicy I kinda made it into a nacho burger."
The nacho part of the burger comes from the pickled jalapenos, queso, pico and crispy tortilla strips served on top.
There are six other burgers on Revival's menu to try—and those interested have until Saturday, June 10 to make it through them all.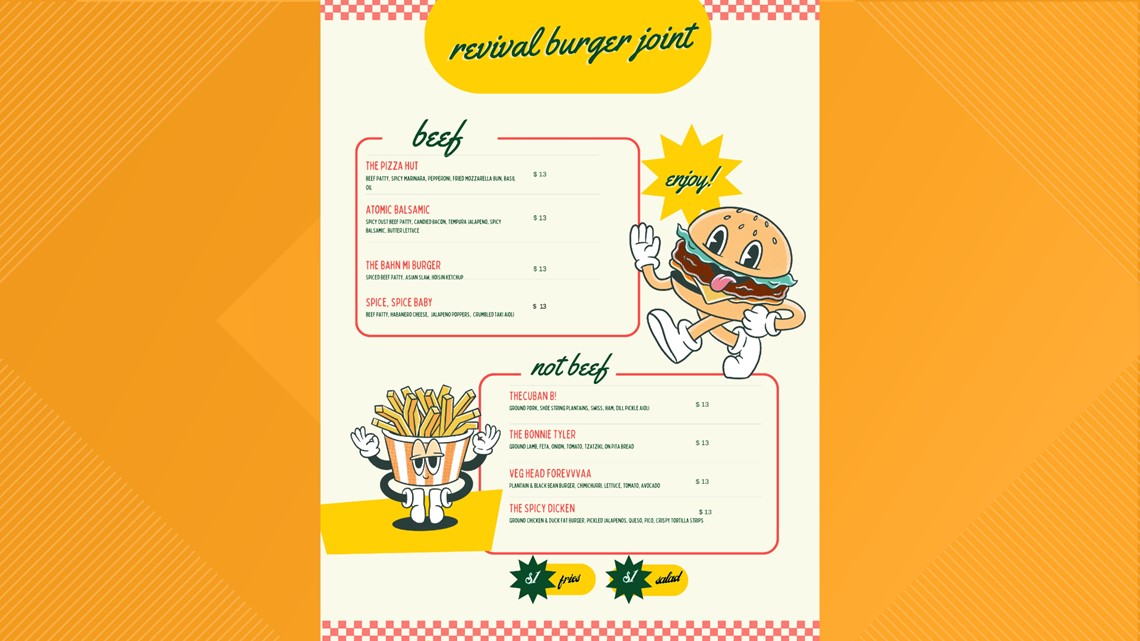 Even if you don't make it in time for Burger Week, the restaurant switches up their menu every three months to keep things fresh. Reservations can be made here.
For a full list of the restaurants participating in Burger Week, click here. Details and special Burger Week menus can also be found on Facebook.