PENNSYLVANIA, USA — March 1 was Mardi Gras, and Olivia's knows that the key to celebrating is indulging to the highest degree.
That's why this week, they're serving up a seafood extravaganza, with a dessert-inspired martini to pair.
Check out the recipes above and below.
Louisiana-inspired Shrimp and Polenta...

...crispy, lightly-breaded shrimp delicately placed atop a bed of polenta, flavored with fire-grilled corn and a healthy dose of seafood broth, then loaded with fresh clams, smoked salmon, and mussels.

Seafood Stock

1 pound, Alaskan Snow Crab legs
Shells and tails from shrimp
2 bay leaves
1 pound, carrots, chopped
1 pound, celery, chopped
1 pound, onion, chopped
1 sprig, rosemary
1 quart, water
In a large stock pot, bring all of the ingredients to a rolling boil. Then, reduce by 1/3. Then, strain and set aside to add to seafood broth.

Seafood Broth

1/2 cup, shrimp
2 ounces, smoked salmon
1 cup, clams
1 cup, mussels
8 ounces, seafood stock, drained
1 teaspoon, garlic, chopped
2 tablespoons, parsley, chopped
1 tablespoon, dill, chopped
1/2 teaspoon, oregano
1/2 teaspoon, Old Bay
2 tablespoons, fire-roasted red pepper, chopped
2 tablespoons, shallots, finely chopped
1/2 cup, broccoli rabe
2 tablespoons, sun-dried tomatoes, finely chopped
1/2 cup, berry tomatoes, cut in half
8 ounces, canned Italian tomatoes
1 tablespoon, jalapeños, finely chopped
1 tablespoon, garlic butter
4 ounces, white wine

Starting on medium to high heat, add the garlic butter to a pan. Then, add all of the ingredients except for the canned tomatoes, broccoli rabe, and broth. Be sure to constantly stir to sauté evenly. Then, deglaze with wine and add Italian tomatoes, broccoli rabe, and broth, stirring for approximately two to three minutes. Simmer for an additional two to three minutes. Finally, pour the mix over the prepared polenta and top with the shrimp.

Cocktail

Banana Cream Pie Martini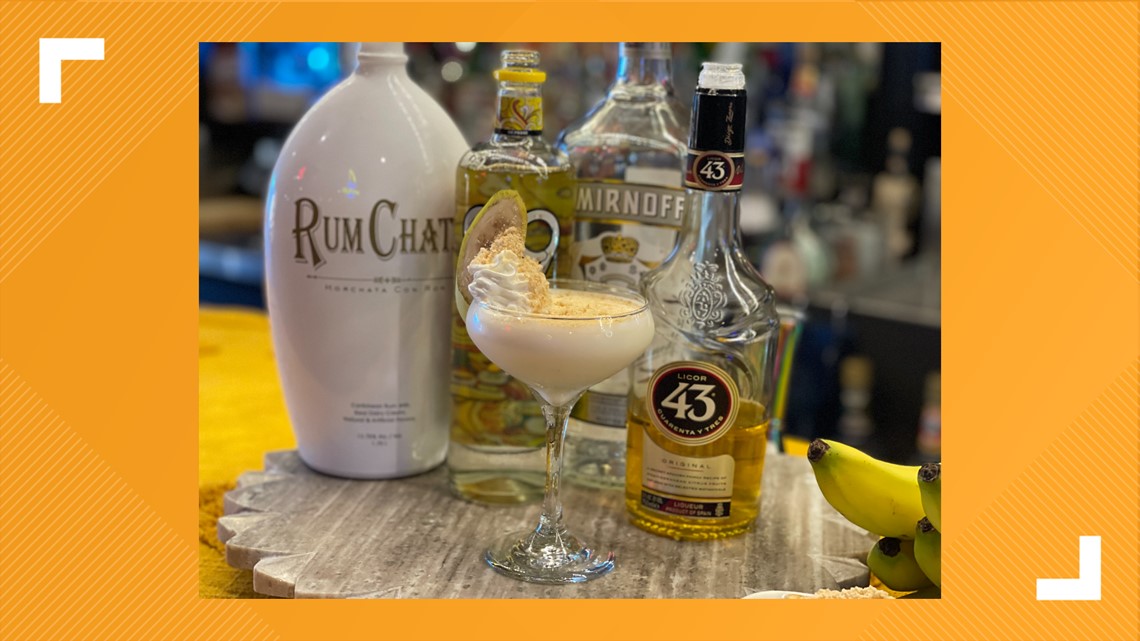 Smirnoff Vanilla Vodka
99 Bananas Liqueur
Rumchata
Liquor 43
Cream

Garnishes

Fresh banana
Cinnamon/sugar sprinkle
Crushed vanilla wafers
Whipped cream

Fill a glass with ice. Then, add all of the ingredients to a shaker and shake vigorously. Then, strain into a martini glass. Garnish with a banana, whipped cream, a healthy dusting of the cinnamon sugar, and crushed wafers.