PENNSYLVANIA, USA — Thursday is Saint Patrick's Day!
This means that finding the perfect meal and drink are top priorities for the coming weekend.
Luckily, the gang at Olivia's has got you covered with their recipes this week.
For the full recipes, check out the videos above and below.
Grilled Lamb Kabobs and Colcannon served along with roasted cabbage, bacon, and peas...

Roasted Cabbage, Bacon, and Peas

1 pound, green cabbage, chopped in large chunks
2 tablespoons, spring onions, diced
4 tablespoons, bacon, rendered and diced
1 tablespoon, roasted red peppers
1 teaspoon, rosemary, diced
1 teaspoon, sun dried tomatoes, diced
2 tablespoons, garlic butter
2 ounces, peas

In a roasting pan, layer cabbage, onions, peppers, sun dried tomatoes, garlic butter, and bacon. Roast for 8 minutes at 375 degrees. Remove, rotate, and place back in oven for approximately 8 to 10 minutes or until desired color is reached.

Colcannon (Irish Mashed Potatoes)

2 Yukon Gold Potatoes, peeled, then chopped into large chunks
1 yam, peeled, then chopped into large chunks
1/2 pound, cabbage
1/2 cup, yellow onions
Pinch sea salt
Pinch black pepper
Pinch parsley
3 tablespoons, spring onions
1/2 pound, sausage, cooked and greased drained
1/2 cup, broccoli rabe
1/2 cup, heavy cream
2 tablespoons, garlic butter
1 cup, chicken stock
1 teaspoons, rosemary

Boil potatoes until they are fork tender. Drain water. Add all of the ingredients into a mixing bowl. Whisk until smashed and all incorporated.

Cocktail

Irish Margarita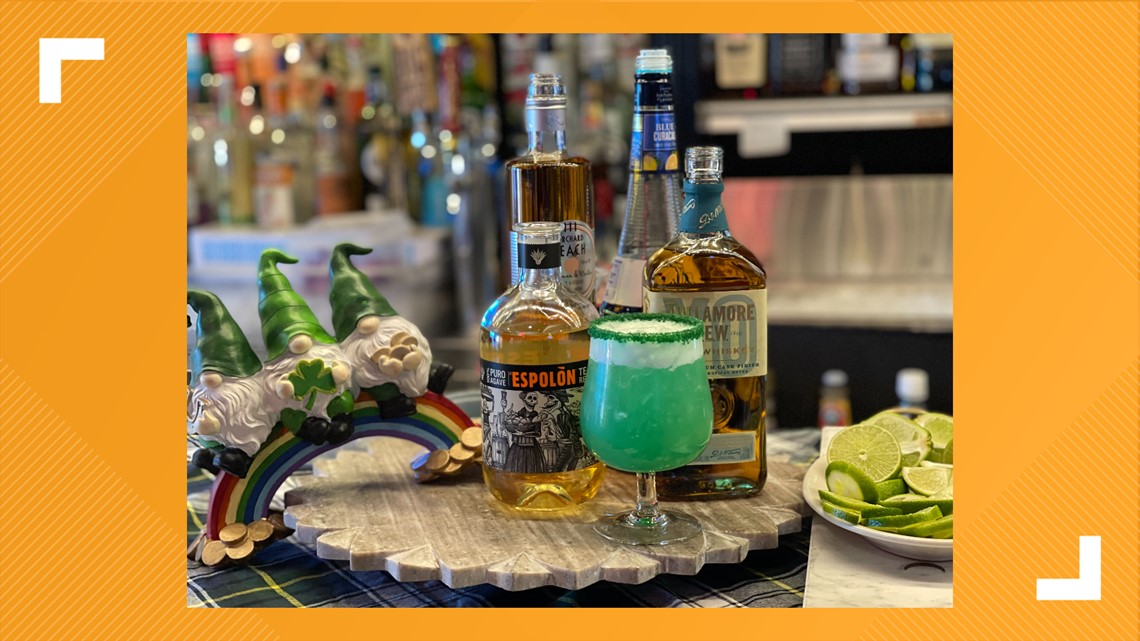 Tullamore Dew Irish Whiskey
Espolòn Tequila
Peach liquor
Pineapple juice
Fresh squeezed lime
Green sugar rim

Fill a glass with ice. Add all of the ingredients. Shake. Pour into a sugar-rimmed glass. Then, add fresh lime garnish.