PENNSYLVANIA, USA — It's officially summer.
That means burgers, hot dogs, steak, and...shark?
The gang at Olivia's expands our palates this week with this savory Mako shark dish. Then, you can wash it all down with a refreshing, summery cocktail.
Check out the recipes above and below.
Greek Galeos...a savory, summertime Mako shark dish grilled with lots of delicious veggies, served along with tomatoes and served over rice pilaf...

2, 8 ounces, marinated Mako shark steaks
1 cup, canned tomato chunks (Italian)
1 cup, fresh cherry tomatoes, halved
1 tablespoon, fresh garlic, chopped
2 ounces, extra virgin olive oil
4 ounces, onions, julienned
1/2 lemon, squeezed
4 ounces, fresh dill, chopped
Pinch black pepper
Pinch sea salt
2 ounces, pitted and chopped, Kalamata olives
2 tablespoons, garlic butter
1/2 cup, white wine
4 ounces, fresh carrots, julienned
4 ounces, garden peas

Mako Shark Marinade

4 ounces, extra virgin olive oil
1 lemon, juiced, squeezed, and peel included
2 ounces, sliced onion
1 tablespoon, capers
2 tablespoons, parsley
1 tablespoon, oregano
2 ounces, balsamic vinegar
1 teaspoon, kosher salt

Grill the fish on one side, then set aside. In a saucepan placed on medium high heat, add the garlic butter, white wine, salt, pepper, tomatoes, and the fresh garlic. Cook for approximately 2 to 3 minutes. Turn the heat back a bit to medium adding the lemon juice, extra virgin olive oil, peas, carrots, onions, capers, and olives. Then, top with the shark. Reduce the heat to low, also covering with a lid. Cook for approximately 5 to 8 minutes or until the shark reaches an internal temperature of 130°F.

Cocktail

Summer Sunshine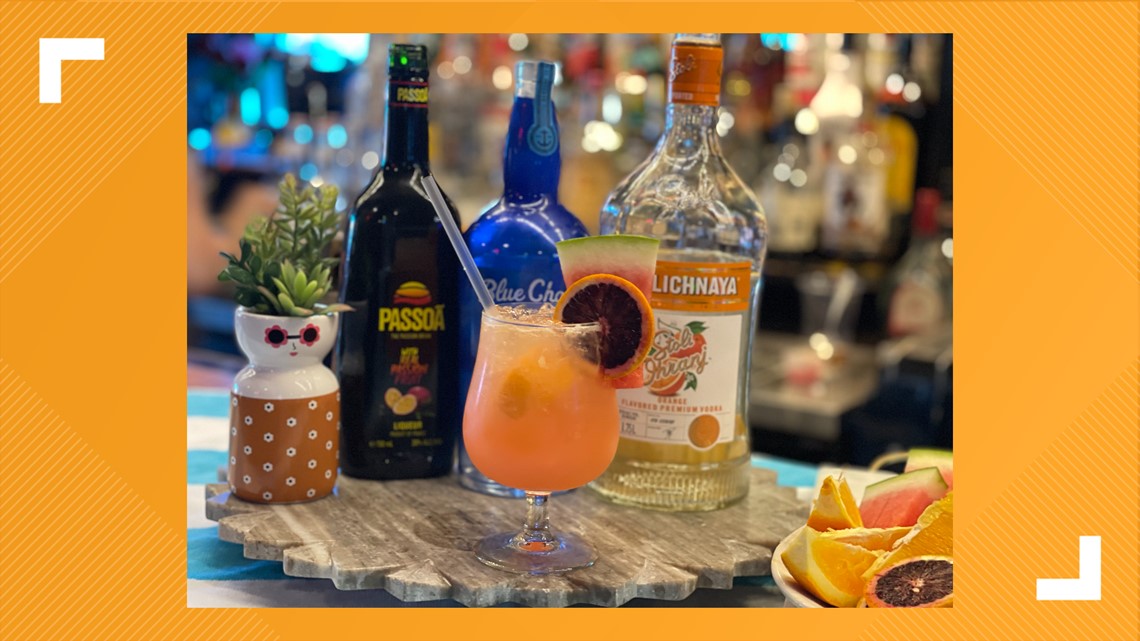 Stolichnaya Ohranj Vodka
Passoã Passion Fruit Liqueur
Blue Chair Bay Coconut Rum
Orange juice
Club soda
Fresh watermelon garnish
Fresh squeezed, orange wedges

Fill a glass with ice. Add the vodka, rum, passion fruit liqueur, fresh squeezed orange, and the orange juice. Shake. Top with club soda. Garnish with the watermelon, and the orange wheel.