PENNSYLVANIA, USA — Cinco de Mayo is right around the corner, and the gang at Olivia's knows just the right meal to make.
Check out the recipes above and below for directions on how to make this savory dish!
Cinco de Mole Ribs served with savory, Mexican-style street corn, grilled along with brussels sprouts and sausage all served over rice pilaf...

Cinco de Mole sauce

3 whole, chipotle peppers, dried
2 whole, guajillo peppers, dried
2 whole, ancho peppers, dried
2 cups, chicken stock
2 pieces/slices of bread, dried
1 cup crisp, tortilla chips
5 tomatillos, cut in half
4 tablespoons, garlic butter
2 Roma tomatoes, cut in half
1 tablespoon, garlic, finely chopped
2 tablespoons, cumin seeds
1 onion, coarsely chopped
1/2 head celery, coarsely chopped
1 carrot, peeled and coarsely chopped
1 tablespoons, thyme sprig
1/2 cup, raisins
1/3 cup, peanuts
1/2 teaspoon, ground allspice
5 cloves
3 cinnamon sticks
1/2 cup, dark chocolate chips
2 tablespoons, agave nectar

In a large pan placed on medium heat, toast all of the peppers for approximately one minute. Add the tomatillos, Roma tomatoes, onions, carrots, celery, and spices. Cook 2 to 3 minutes, stirring constantly. Add the chicken stock, bread, tortillas, chocolate, and raisins. Cook an additional 4 to 5 minutes, constantly stirring. Remove from heat. Place in a food processor, and purée until smooth. Plate ribs, rice, and roasted corn, then top with the mole sauce.

Cocktail

Strawberry Basil Margarita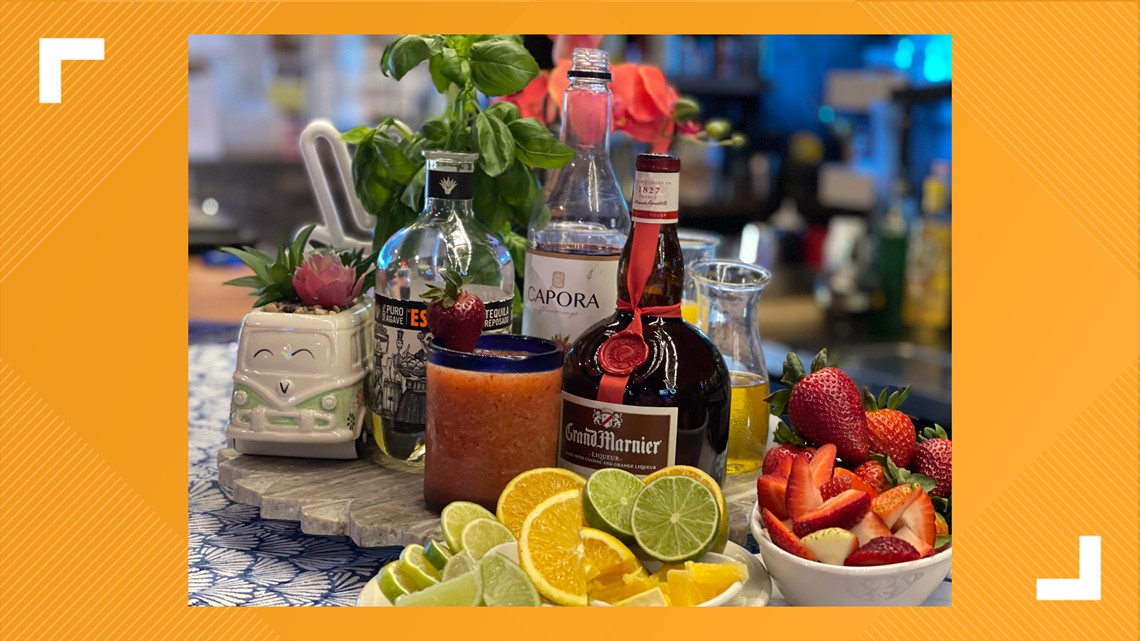 Tequila
Grand Marnier
Strawberry cane sugar syrup
Lime juice
Orange juice
Sweet 'n sour mix
Fresh strawberries
Fresh oranges
Fresh limes
Fresh basil

Place ice in blender. Add all of the ingredients (be sure to remove fruit rinds). Blend until puréed and well-incorporated together. Pour into a glass garnished with a fresh strawberry.