NEWPORT BEACH, Calif. — Chipotle Mexican Grill announced Tuesday it is adding Chicken al Pastor to its menu.
The new protein option is rolling out at Chipotle restaurants worldwide for a limited time.
Chicken al Pastor will be added at Chipotle restaurants this week, the first time the company has launched a new menu item globally. The limited-time chicken joins Chipotle's Adobo Chicken on the menu.
Chicken al Pastor can be added to any Chipotle burrito, burrito bowl, salad, quesadilla, and taco, Chipotle said.
Prepared in small batches throughout the day, Chipotle's Chicken al Pastor is seasoned with a marinade of adobo, morita peppers and ground achiote with a splash of pineapple and finished with lime and cilantro.
Chipotle added al pastor is one of the fastest-growing Mexican dishes.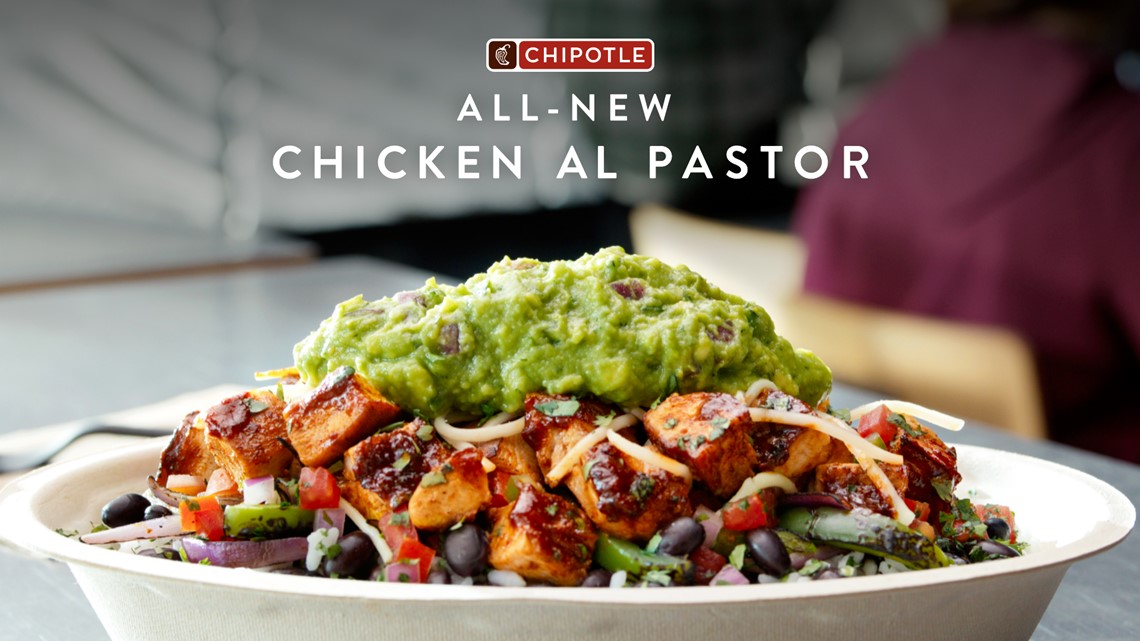 "Guests are looking to restaurants for unique menu items they cannot make at home, and al pastor has been gaining mass appeal in recent years," Chris Brandt, Chipotle's Chief Marketing Officer, said.
"We've put our own spicy spin on al pastor with our freshly grilled chicken and have created a truly delicious menu item that fans will crave. It's where fire meets flavor."
Chipotle said it is offering a $0 delivery fee on all Chicken al Pastor orders placed through the Chipotle app and Chipotle.com from March 16 through March 26 in the United States.
9NEWS+
9NEWS+ has multiple live daily shows including 9NEWS Mornings, Next with Kyle Clark and 9NEWS+ Daily, an original streaming program. 9NEWS+ is where you can watch live breaking news, weather updates, and press conferences. You can also replay recent newscasts and find videos on demand of our top stories, local politics, investigations and Colorado specific features.