YORK, Pa. — Music is meant for everyone.
That's the message Gretchen Dekker, an adjunct professor of music at York College of Pennsylvania and the president of the York Music Teachers Association, is driving home with the first Miller Make Music! Festival, set to take place on Saturday, Jan. 7 in York.
"This is an opportunity for everyone of all ages and all experience levels to make music," Dekker said. "It's exactly what the festival says. We're hoping that people will come down and be curious and be brave and have a lot of fun."
You need not have ever picked up an instrument to enjoy the event.
"We have made these drop-in events accessible for everyone, and everyone can make music. That's the point. Everyone can," Dekker said.
The festival will span six venues in one block of York's downtown area. Participants will check in at the Appell Center for the Performing Arts starting at 9:30 a.m. and receive a map and "passport" to guide them through the day. The festival ends at 4:30 p.m.
There will be 32 activities spread out across the Appell Center, Heidelberg UCC, St. John Episcopal, Creative York, Marketview Arts, Central Market and Harmony Café.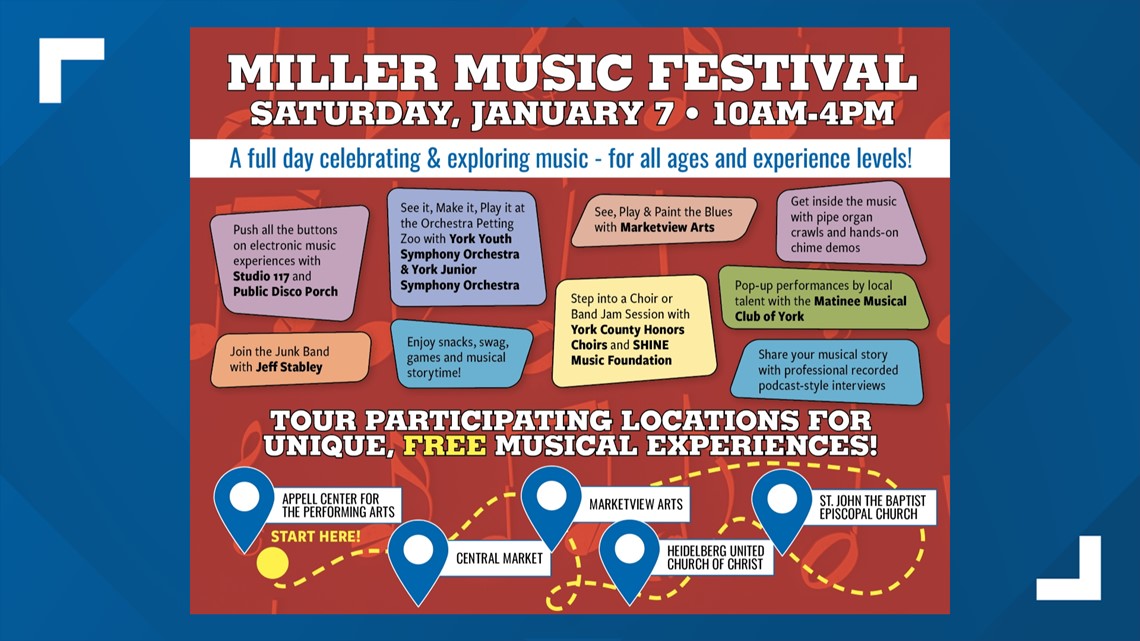 The organizers seek to help community members "build a bridge" through music.
They hope that eventually, York will be home to a collaborative group of artists and educators who are invested in creating a musical hub.
"Music is a language," Dekker said. "Music is a way to speak to one another without words. Music is a way for people from different backgrounds, different ages to come together and do something together in the community. It's important."
The event started as the Dorothy Sutton Performance Festival, which was a qualifying performance for music students. As participation began to decline, organizers decided to reimagine the festival as a celebration of music, with activities and events.
"This is the first time we're all really coming together, and we're coming together across different types of music making," Dekker said. "This is the first time we're really doing a cross-pollinated music event."
The driving forces behind the Miller Make Music! Festival hopes it will spark a sense of community and collaboration in York by celebrating music made by, for and with community leaders, members, families and students
Even though the festival has yet to kick off, Dekker and the team are planning another event for June 21, National Make Music Day. They plan to bring music to the street on the longest day of the year, celebrating loud and proud.
More details will be shared as the event draws closer.