A survivor of domestic abuse herself, Foxworthy became an advocate empowering victims of abuse and trafficking.
She now travels the country sharing her story and spreading a message of hope. Unstoppable You Ministries Inc. also hosts conferences designed to educate and spread awareness about human trafficking.
"The big part about Unstoppable You Ministries is that we want to be proactive on the front side instead of someone in a crisis now coming to us," Foxworthy said. "Let's educate and empower the community. Let them know what the red flags are, the signs. That familial trafficking, that children who are sex trafficked are usually trafficked by a family member."
The Human Trafficking Awareness Workshop will take place on Saturday, Jan. 28 from 1 to 4 p.m. at Grace United Methodist Church.
The workshop will include a showing of the documentary "Blind Eyes Opened" and an open dialogue about the film. The event will conclude with participation in the Red Sand Project in front of the church. Other community partners will also be on hand to offer resources to the public.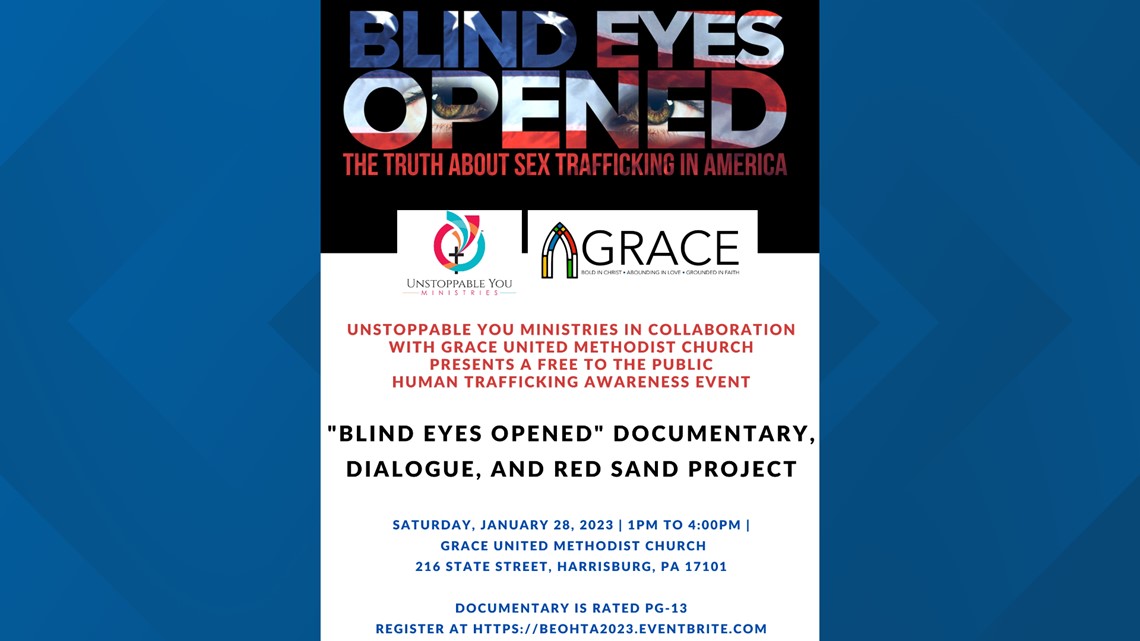 For those who can't attend the conference, Unstoppable You is always available online. Find their newsletter here, or follow along on social media.
"By being a part of the solution to this problem, we can all make a difference to that person who is a victim, a survivor, that they don't fall through the cracks to get the help that they need and deserve," Foxworthy said. "Unstoppable you, unstoppable me, unstoppable we. That's our motto, our tagline. Together we can make a difference."
People can also show their support for the movement with something as simple as their clothing.
"Blue is the ribbon color for Human Trafficking Awareness Month, and that in itself is a statement," Foxworthy said. "People will ask, 'Well, why are you wearing blue?' then you can say, 'Did you know that over 50 million people worldwide are affected by this heinous crime? Did you know that this crime brings over $150 billion globally, second to drug trafficking?' It's to foster that conversation."