NEW YORK, NY (SEPTEMBER 24, 2013) – Josina Reaves, a high school English teacher at Poly Prep Country Day School in Dyker Heights, Brooklyn will make "Millionaire" history on Wednesday, September 25, becoming the first contestant of the season – and the first contestant with new host Cedric "The Entertainer" – to make it up to the $1 million question on "Who Wants To Be A Millionaire!" Reaves will provide an answer to the 14th and final question on the show, but you'll have to tune-in on Wednesday to see if her answer will be correct and if the celebratory confetti will fall on the "Millionaire" set! With a correct answer, Reaves will walk away with $1 million. If her answer is incorrect, she will take home $25,000.
"It's really exciting to have a contestant make it all the way up to the $1 million question!", said new host Cedric. "It's especially heart-pounding because it's my first time asking the $1 million question," he added. "Josina is a smart player throughout the game and it's going to be a real nail-biter for everyone watching at home. I'm consistently impressed by the courage of the contestants to jump in and simply go for it! It keeps the game unpredictable and fun everyday — I'm truly having a great time hosting Millionaire!"
Josina Reaves has the potential to become the second woman to ever walk away with the top prize on the U.S. version of "Millionaire" (including primetime), joining Nancy Christy of Tulsa, OK, who won $1 million on the first season of the syndicated show in May of 2003.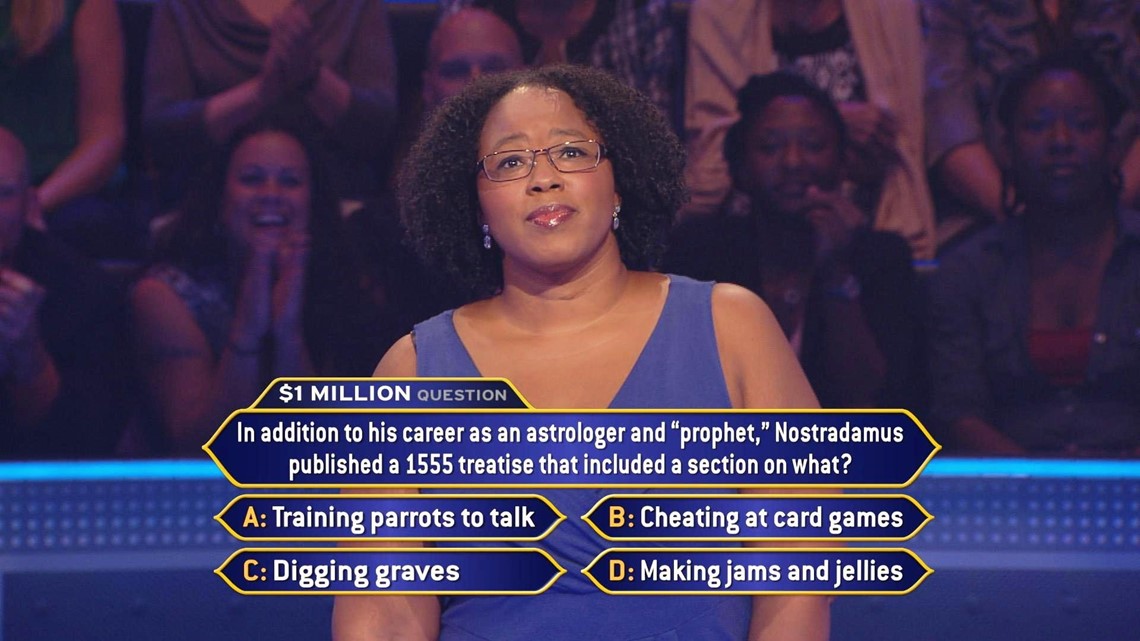 Tune-in on Wednesday, September 25 to see if Josina Reaves will be able to correctly answer the following question, worth $1 MILLION:
In addition to his career as an astrologer and "prophet," Nostradamus published a 1555 treatise that included a section on what?
A: Training parrots to talk
B: Cheating at card games
D: Making jams and jellies
As America's richest game show, "Who Wants To Be A Millionaire" continues to be the only game show to offer a $1 million prize to each and every contestant. Since "Millionaire" debuted in syndication in 2002, contestants have won over $80 million! "Millionaire" is produced by Valleycrest Productions Ltd. and is distributed by Disney-ABC Domestic Television. Rich Sirop is the executive producer. "Millionaire" is taped at Metropolis Studios (106 & Park) in New York City.