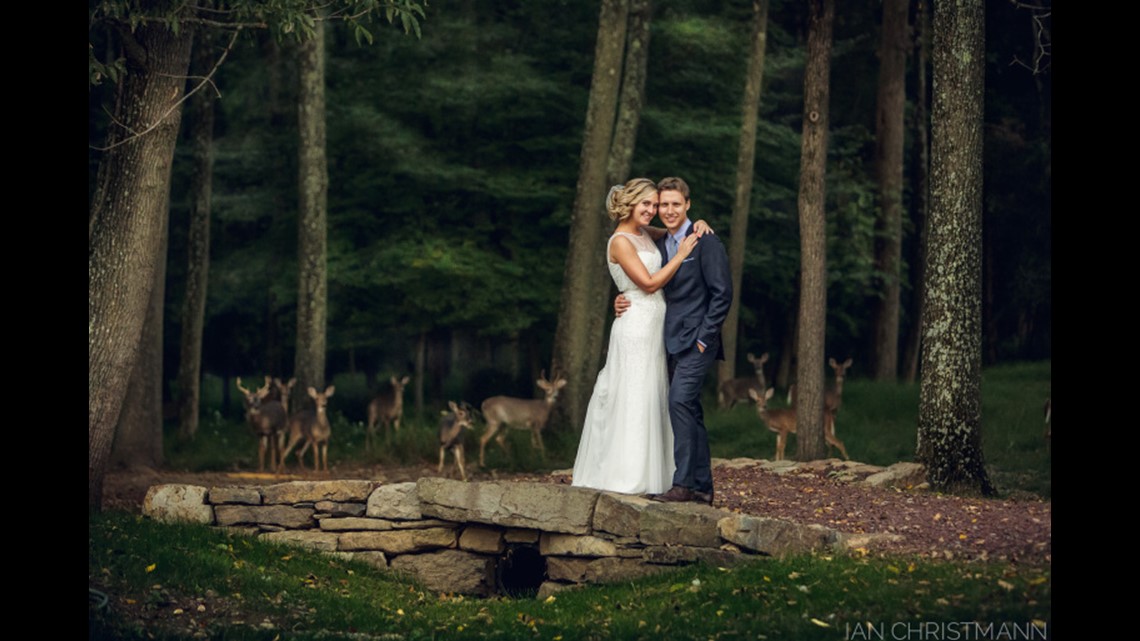 Wedding photographer Ian Christmann captured these stunning wedding photos at the Stockton, New Jersey wedding of Erick Fix and Lauren Ruff.
"During the dinner, we were surprised by a herd of deer that appeared at the edge of the woods," Christmann said on his photography website.  "The bride and groom graciously let me interrupt their meal to see if we could get a photo or two near the deer.  The deer were quite jittery as we approached so I didn't expect that we would be able to get that close."
Christmann's brother posted one of the photos to Reddit on Monday, where it quickly went to the top of the front page.
"It's been crazy," he said.  "Within five hours it was at the top, and it stayed there for three hours." The photos got more than 3 million views in just 24 hours, and soon everyone wanted to speak to the lucky couple.
"They're still on their honeymoon, they've been swamped with interviews," Christmann said.  "He actually proposed to her during a film and now their wedding photo is winning the Internet."
Erick, a screenwriter, proposed to Lauren on the set of "Callie Wants a Solo," a short film in which she played Danielle, a woman who is mistakenly proposed to by a man who thinks she is someone else.  Before the take, she has her back turned to the other actors and her fiance slips into the scene, proposing to her using her real name, Lauren, as cameras record her stunned, emotional reaction.