And the Emmy goes to Eric Martsolf, Brady Black Days of Our Lives!
Accepting his first ever Emmy at the Daytime Emmy Awards in June, Eric said, "My wife told me to write a script, write a script. I didn't. It must be awful to be right all the time."
Fast forward about a month at their California home, and I had to ask, "Is she always right?" Eric said, "She's right a lot. She was definitely right about the Emmy thing." Eric won the Emmy for Best Supporting Actor for his role of Brady Black. It's a part he's played for nearly eight years.
It's a huge win for Eric, who's road to that Emmy is pretty diverse. "My road to being an actor is insane. Literally, I started going out for musicals when I was in high school. Go CD!  My parents were very excited about it. I went from there to Hersheypark. I was a singer there for four years. I moved to New York and kept getting jobs. I sang on a Hawaiian cruise ship, went to Dollywood sang there, toured with Joseph and the Amazing Technicolor Dreamcoat and sang with the Osmonds," says Eric.
It was during that particular gig that he met his wife Lisa, a dancer and choreographer. "Then I met this one, and thought, 'Oh God, this will be fun.'" We seem to get along okay–16 years later. A couple years later, we decided to have a family, and be a couple crazy Pennsylvania people in L.A.," he jokes. But adjusting to the craziness of L.A. didn't come easy at first. Eric and Lisa reminisce about the times when they were catering and bar tending to make ends meet. At one point, they were living with a friend; sleeping on sofas. Lisa says, "We couldn't get him to leave the house." Eric chimes in, "I was nervous!"  He said, I`m not going out there. I was nervous!  I said, well you're gonna have to leave at some point," both laughing.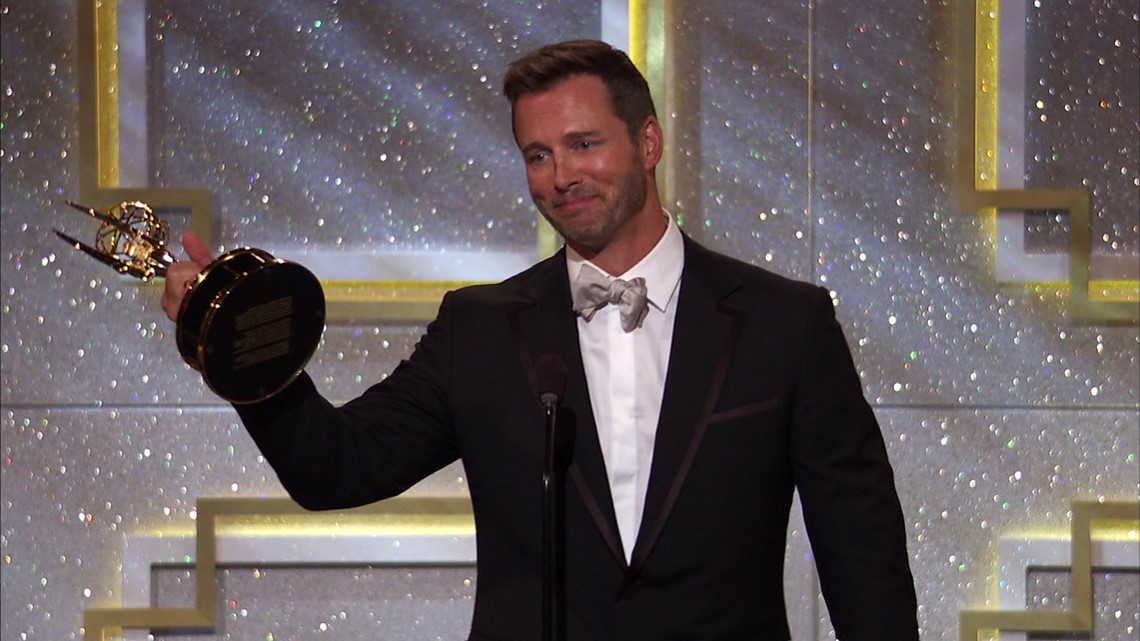 He mentioned them during his acceptance speech at the Emmy Awards Show. "Chase and Mason, I hope you are watching me on your iPads but I know you`re not.. I know you`re playing Minecraft and that's cool. But we're gonna watch this when I come home, because it's important." Well, it turns out, Chase and Mason were watching their Daddy that night, and they know the magnitude and weight of the situation. I asked them,"What do you thing that Emmy's all about?" They said, "It means a lot." "Yeah, why?"  "Because it's very special..and pretty heavy too."
Mason and Chase know this Emmy is for his role of Brady Black, but it's probably safe to say their favorite role their Dad's played, is that of a superhero. When I asked them about that role, they both enthusiastically said, "Yes, he was Booster Gold!" They're talking about Booster Gold on Smallville. It's also one of Eric's favorite roles.
He may not be a superhero in real life, but Eric and his wife Lisa have certainly worked their magic in Hollywood, not letting all the craziness get in the way of what's important to them. Eric says, "As long as you have somewhere to go at the end of the day…a home away from it…which is what we've done. That's why we're out here in the valley… that's why it took you like an hour to get here…that's the refuge. And that's what keeps us grounded as people, and gives our kids a sense of normalcy as well."
As for that prestigious symbol of Hollywood fame; it has found a place in their valley home…although, maybe not a permanent place just yet. "My wife is very cute. I think she was more excited about it than I was. She moves it around the house. It'l be on the t-v…the dining room centerpiece–I'm waiting for it to be in the bathroom at one point, I don't know," he says laughing.  Eric adds, "But she's been with me the whole way, so it's gotta be just as special for you. We won an Emmy. I didn't win and Emmy, we won an Emmy babe."
Here's the full interview with Eric and Lisa:
Eric is hosting a fundraiser event Labor Day weekend. He'll be hanging out with fans at Troeg's Brewering, Hollywood Casino, and then hosting a Sunday brunch in Hershey. Proceeds from ticket sales benefits World Vision. For more information on the weekend events, or to get your ticket, call (813) 484-1843 or click here.